We're smack in the middle of 2016. And in case you haven't noticed, a remarkable number of killer local albums were released in the year's first half. How many, you ask? Enough that you could probably make a year-end Top 10 list just from records that have teased and pleased our ears since January. And even then, you'd necessarily leave out a slew of worthy entries. With new albums from the likes of Madaila, Kat Wright and the Indomitable Soul Band, and others due out later this year, making that 2016 list in December is shaping up to be a real bitch. In a related story: When am I getting my shiny new music lackey, er, assistant, again?
As we did this time last year, let's hit pause on your regularly scheduled festival coverage to go back through the stacks and identify some of the best music of the year thus far. Unlike last year, which was sort of a hodgepodge approach, this year we're going roughly chronologically. This is a two-week exercise — see: lots of cool albums, above — so this week we'll zero in on albums released or reviewed between January and the end of March. Tune in next week for April through June.
In January, a spunky little band with roots in Burlington and Middlebury called Iron Eyes Cody released its debut effort, Goodness All Good Saints Have Died. The Future Fields-produced gem packed more pop-rock punch in its six songs than do many albums twice as long. The main draw is the interplay between vocalists Evan Allis and Renn Mulloy, who are sort of like a homegrown answer to Win Butler and Régine Chassagne of Arcade Fire. And there's just a whisper of that band's dramatic flair in IEC's deceptively complex arrangements, too — particularly on the anthemic "Animal."
2016 has been a strong year for local hip-hop in the early going — and we haven't even had a real Learic sighting ... yet. Barre's Bar None the Best announced their presence with authority on their debut, Green Mountain Sound. Produced by VT Union's Nastee, the EP was a snarling, in-your-face manifesto that, as Seven Days reviewer Justin Boland sagely put it, "straddles a strange, schizoid gap between wanting to uplift the community and wanting to shoot people in the face." Indeed, BNTB trade in raw, aggressive stuff — especially when boldly confronting Vermont's heroin epidemic on "Welcome to Vermont (Kick the H)."
Speaking of hip-hop, February saw the long-overdue debut from veteran local rapper S.I.N.siZZle, Living in Sin. The Ghanaian-born rapper has ranked as one of the area's finest MCs for years and finally has a worthy recording to back up that legacy. In March, the Lynguistic Civilians offered what, sadly, might be their swan song, Gratified Existence. If it does indeed turn out to be their final album, they couldn't have gone out on a higher note.
There might not be a more fearlessly enigmatic band in Vermont than Vultures of Cult. Whether crafting epic stoner-rock operas (Cold Hum, 2010) or briefly detouring into surf rock (SVRF EP, 2013), VOC intend to provoke — and pulverize. Pastoral, released in February, is perhaps their most ambitious work yet. The album is composed of a single piece exactly 20 minutes long that is by turns brooding and explosive. Picture Mogwai reimagined as a doom-metal band, and you're on the right track.
Montpelier's Mark LeGrand teamed up with his wife, Sarah Munro, on a quietly affecting album of duets in March, Tigers Above and Tigers Below. It was a loving, understated work that found joy and comfort in darkness and cemented LeGrand's place as one of the state's preeminent country songsmiths.
The Upper Valley continues to churn out top-notch rock, largely thanks to Windsor sorta-label and collective What Doth Life. Released in February, Carton's Total Modern Comfort was a scorching addition to the northeastern Vermont scene.
Booglaoo for Improvisors marked a welcome return for "iNprov" ensemble the le duo. Rooted in funk and soul, the instrumental album provides a relatively easy entry point to Burlington's experimental music community.
In March, groovy doom-metal trio Savage Hen released the first half of their debut full-length, Local Lore. It was a tantalizing taste from a band whose brutality is matched by its Swiss-watch precision.
Chanteuse Tiffany Pfeiffer returned to her jazz roots with a March EP, Stampede of Love, on which she lovingly re-creates a handful of lesser-known classics by the likes of Cole Porter and Hoagy Carmichael.
Criminally underrated avant-funk duo Soule Monde released their latest album, Smashed World, in typically quiet fashion in March. The fantastically groovy little five-song treasure chest ably showcases the peerless talents of organist Ray Paczkowski and drummer Russ Lawton.
Plattsburgh is showing signs of musical life due to a new cassette label, Rat Pâté Records, which unveiled a pair of intriguing releases in March. The first was Wine and Circuses from Comrade Nixon, a bracing collection of lo-fi punk that wears its classic influences proudly. In a similar vein, Hot Lunch by Bren served up a plate of snarling punkabilly. Those albums and a handful of others suggest blooming optimism in the Lake City scene.
Other early 2016 local albums worthy of a listen include: Def Ears, What It Is; David Rosane and the Zookeepers, Modern Folk; Close Encounters, All Too Human; Counterpoint, All Mixed Up! Counterpoint Sings the Music of Pete Seeger; Banjo Dan & the Mid-nite Plowboys, 18; Drunk & In the Woods, Coals & Fire.
BiteTorrent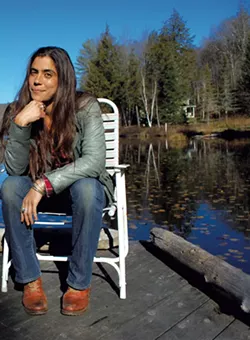 Peg Tassey
Miriam Bernardo
Speaking of great albums in 2016, the one I'm most anticipating this year is the in-the-works project from songbird Miriam Bernardo, titled simply Songs for Miriam. She has long been one of Vermont's most beloved vocalists, owing to her time in acts such as Amapola, Afinque, numerous varied collaborations with Michael Chorney and, most recently, Steady Betty. But Bernardo has never had a proper solo album, and her friends decided to do something about that.
Songs for Miriam is composed of 11 songs written specifically for her by other local songwriters. These include Chorney, Anaïs Mitchell, James Harvey, Colin McCaffrey, Mark LeGrand, Patti Casey, Peg Tassey, Peter Cressy and Robinson Morse. How cool is that?
Answer: pretty damned cool. Find out for yourself when Bernardo gives an intimate performance in support of the project this Thursday, June 30, at Buch Spieler Records in Montpelier. She'll sing stripped-down versions of the new material backed by Anachronist's Brian Clark and the Eames Brothers Band's Seth Eames — both of whom also contributed songs to the record.
Last but not least: Attention, nostalgic Burlington rock fans! Another darling of the mid-1990s scene is reuniting: Envy. The band is playing a reunion gig on Thursday, July 28, at the Monkey House in Winooski. (That sound you're hearing is my inner teenager squealing gleefully. It was an awkward period, OK?)
We'll have way more on this show in the coming weeks — as soon as I can compose myself. For now, just know that an Envy reunion is a big, big deal for those of us who worshipped at the altar of Club Toast in the '90s. And if you have no idea who Envy are, just ask an aging hipster.
Listening In
A peek at what was on my iPod, turntable, eight-track player, etc. this week. Follow sevendaysvt on Spotify for weekly playlists with tunes by artists featured in the music section.
Envy, Distorted Greetings
Delorean, Muzik
G.L.O.S.S., Trans Day of Revenge
Wye Oak, Tween
The Gotobeds, Blood // Sugar // Secs // Traffic