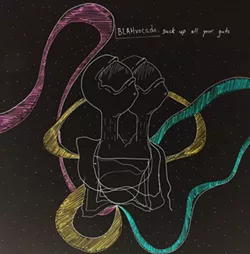 Courtesy Of Blahvocado
Blahvocado
If you click here, you'll find a review of JV, the new album from the Mountain Says No, half of whose membership includes Farm's Ben Maddox and Jedd Kettler. Given my longstanding affinity for Farm, it probably comes as no surprise to regular readers that I dig the TMSN album. That's not because it sounds like a Farm record, because, save for a couple of fleeting instances, it doesn't. I just enjoy and admire the way that Maddox and Kettler, in particular, make music. I'm of the opinion that Kettler is quite possibly Vermont's most underrated — and understated — songwriter. I'm also of the opinion that JV is one of the best Vermont records of the year so far.
That got me thinking: We're almost precisely halfway through 2015, and the running list I keep all year long of contenders for the annual year-end top-10 list already has more names on it than will fit. This is not a good problem to have. It's a great one.
So this week and next, I'm running through that list and highlighting some of the remarkable albums that have already made an impact in 2015 in this column. Some of these records may well find their way into the top 10 come December. Others won't, but that doesn't diminish how good they are. Any "best-of" list is subjective. And frankly, I always hate affixing that label, especially to music, because there is no quantitative way to measure art fairly or accurately. But the SEO gods must be appeased. So think of this as a "best-of" list if you must, but I'd prefer you think of it as a list of cool local records. All I'd really ask is that you take a few minutes and give some of these a spin. You'll be glad you did.
I know, I know. The name is god-awful. It's also perilously similar to another local band, Bravacado. But this little gem from 23-year-old songwriter and New Jersey transplant Matt Pignatore ranks among the most pleasant surprises of the year. It's rooted in the classic indie-rock strains of bands like Pavement, Modest Mouse and Built to Spill, but oozes a warped personality and humor that's alternately jarring and sensitive. Much like Pavement's Stephen Malkmus, come to think of it.
The Holy Life That's Coming, by prolific Brattleboro songwriter Chris Weisman (ex-Happy Birthday) was inspired by winter. And it sounds like it. Likely the fearlessly experimental Weisman's most accessible solo effort, the record's frosty, folk-pop charms are best suited for a cozy listening nook, ideally near a woodstove in January. But the breezy, Beatles-tinged melodies and sparse arrangements play well in the warmer months, too.
Local musician and Seven Days freelance writer John Flanagan and I had a lot fun dissecting and debating this one in a two-pronged review for 7D in April ("Double Take," April 1). While the album is not exactly in the wheelhouse of two left-footed, thirtysomething rock critics — read: aging indie-rock snobs, at least in my case — we came to the same conclusion. It's damned near impossible not to be seduced by the EP's bright hooks, shimmering jangle and throbbing house beats. Light and sunny and irrepressibly danceable, Future Protocol is simply ideal summer music.
In a similar vein as Future Protocol — stylistically, if not thematically — Madaila's The Dance seems destined to be a staple of summer playlists in 2015. Front man Mark Daly (ex-Chamberlin) is a force of personality, both onstage and on record. Madaila have quickly become one of Burlington's most popular live acts, with good reason. But don't overlook their debut album. It's nuanced and complex, to the point where you can easily get lost in all that ear candy. But it's first and foremost an exceptional pop record with more hooks than a pirate ship.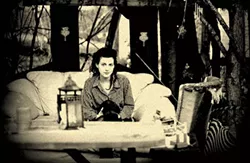 Courtesy Hana Zara
Hana Zara
Hana Zara's The North, a follow up to her splendid 2013 debut, Tatterhood, is a deeply moving work primarily concerned with loss in its myriad forms. Despite that weighty thematic bent, it is not a particularly sad or burdensome record. Rather, through keen, honest insight and deep empathy, Zara transforms grief and insecurity into something utterly beautiful and reassuring.
No Need to Beg by Phil Yates & the Affiliates is just a damn good rock record. And that's all. That's not meant as a slight to Yates — he wouldn't be on this list if it were. Rather, it's meant to highlight his knack for writing efficient, no-frills songs that succeed as much for their sticky melodies as their simplicity. There's no overblown production or obnoxious artistic posturing. Just damn good songs, played damn well, dammit. Especially if you're a fan of early Elvis Costello, check him out.
Bitter Gloom on a Golden Dawn by Vultures of Cult is a sort of a continuation of the stoner-metal band's 2012 record Fathoms. This is punishing sludge, crafted with monstrous drums and vicious guitars that forge layer upon layer of harrowing sound. But beneath that shattering noise, there is genuine craft and artisanship. Though not for the faint of heart, it's as fine an example of local metal as we've heard in 2015.
You're Gonna Be in Pictures
You know how I'm always bugging you local bands to have cool, press-quality photos at the ready in case we or another media outlet write about you? And you know how you always send me lousy pics from Facebook of you against a brick wall or in a basement? Well, cut that shit out. Also, we're both in luck, because you'll soon have an opportunity to have unique, high-quality photos of you or your band taken at Radio Bean in Burlington.
You probably know Jeff Howlett as the director and producer of the rock doc A Band Called Death. You may also know him from his time fronting BTV hardcore bands Slush, Non Compos Mentis and Five Seconds Expired. What you may not know is that he's also a tintype photographer and has been for 17 years. (Raise your hand if you expected that to be the Howlerman's hobby.)
Courtesy Of Jeff Howlett
Death on tintype
For the uninitiated, tintypes were introduced in the mid-19th century. I won't go into the science, but they're basically every eerie Civil War-era photo you've ever seen. This Thursday, June 25, Howlett and his pal Chris Morgan will be at the Bean shooting the scene — or anyone else who wants to have their pic taken, Ambrose Burnside-style.
Personally, I think this sounds pretty damn cool. Although I may live to regret this column item in coming weeks, when every photo we run of a local band looks like it was taken at the Battle of Gettysburg — and given some of your facial hair choices, that's more likely than you might think. m
Listening In
A peek at what was on my iPod, turntable, eight-track player, etc., this week.
Kacey Musgraves, Pageant Material
Superchunk, Come Pick Me Up (Reissue)
No Joy, More Faithful
Chris Stapleton, Traveller
High on Fire, Luminiferous