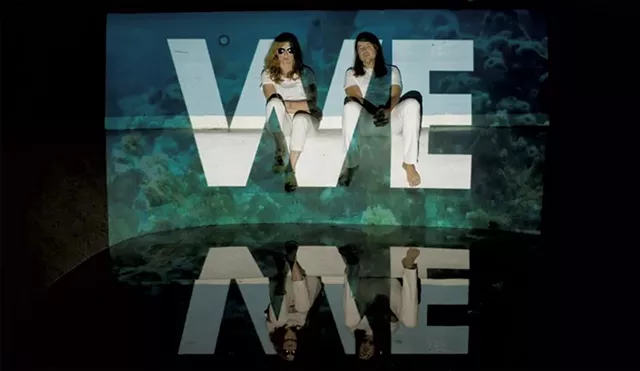 courtesy of amanda Gustafson
Amanda Gustafson and Eric Olsen
Lost and Found
This week, Seven Days continues writer Kate O'Neill's ongoing series "Hooked," which explores multiple aspects of Vermont's opioid crisis. In 2018, O'Neill's sister, Madelyn Linsenmeir, died of addiction-related health complications while in police custody. Her obituary, which O'Neill penned, subsequently went viral, likely because of its utter frankness and compassion. The reaction to Linsenmeir's obit is what moved this publication to take a deeper dive into the quagmire that is opioid addiction.
In this week's cover story, "Isolated," O'Neill looks at the struggles of rural opioid addicts. The piece ends on a somewhat hopeful note, with a quote from author Johann Hari: "The opposite of addiction isn't sobriety. It's connection ... For a hundred years, we have been singing war songs about addicts. All along, we should have been singing them love songs."
In a bit of serendipitous timing, Burlington rock band Swale appeared on NPR's "Weekend Edition" on Saturday, June 1, discussing a song with a message identical to Hari's: "If You Get Lost," from the band's 2012 album A Small Arrival.
Earlier this year, the group submitted the song as an entry for the network's annual Tiny Desk Contest. If you're unfamiliar with NPR's long-running Tiny Desk Concerts series, the organization brings famous as well as up-and-coming artists into its studio to play intimate concerts from behind a desk. Many have gone viral.
Since 2015, NPR has offered the masses a chance to perform their own Tiny Desk Concert. Past contest winners include Gaelynn Lee, Tank and the Bangas and Fantastic Negrito. This year's winner was Alaskan singer-songwriter Quinn Christopherson.
Of the thousands of 2019 submissions, several non-winners are getting a piece of the spotlight, Swale among them. The band's co-front persons, married couple Amanda Gustafson and Eric Olsen, spoke with NPR's Scott Simon on Saturday about "If You Get Lost," which Swale performed at Linsenmeir's memorial service in October.
"I wrote this song for a friend of mine who was in the wind, as we say," Gustafson told Simon. "I wanted to send him a message of hope — that there was always a way to come back home."
She continued, "The thing about addiction — losing an addict or living with an addict — it's heartbreak. And I think that's why this song kind of sounds like a love song. It is a love song."
Though I'm often inclined to describe and dissect a piece of music, I'd rather readers watch Swale's Tiny Desk Contest submission — which you can find on the band's Facebook page, as well as embedded in the online version of this column — and let the song stand on its own. Watch the video. Think about the lyrics. Think about your friends and family who are addicted. Call them up. Tell them you love them and you're there for them.
"It doesn't have to be the end," Olsen told listeners. The guitarist has himself struggled with heroin addiction. "There are ways out. There are solutions for the addict that still suffers."
Tank Girl

I hope you've all been enjoying the Burlington Discover Jazz Festival. If you haven't had a chance to get out and take in the sounds of the fest, fret not. BDJF concludes on Sunday, June 9, so there's still a ton of great stuff ahead. However, one performer had to unexpectedly drop off the lineup.
Birmingham, Ala., soul powerhouse St. Paul & the Broken Bones will not perform as scheduled on Thursday, June 6, at the Waterfront Tent. According to the band's Facebook page, front person Paul Janeway recently underwent an emergency appendectomy and is unable to perform.
But the show will go on! Middle support group Tank and the Bangas, out of New Orleans, are now the headliners. And Burlington/New York City soul-jazz ensemble smalltalker are still set to open. Because St. Paul & the Broken Bones are no longer on the docket, the price for the show has been dropped from $53.25 to only 10 bucks! That's a steal. Get on it, music fans!
Tank and the Bangas finally released Green Balloon, the long-awaited follow-up to their 2013 album Think Tank, in May. In preparation for the show, revisit Seven Days' 2017 interview with Tarriona "Tank" Ball.
Heart to Heart
File: Jeb Wallace-brodeur
Pitz Quattrone
On Friday, June 7, a group of Vermont musicians is gathering at the Barre Opera House to support their friend Pitz Quattrone. Known locally as a master of the didgeridoo, Quattrone underwent emergency heart surgery in early April.
"When you go in for random chest discomfort and two hours later the doctor says you need open heart surgery within two weeks, that is an attention-getter," Quattrone wrote in an email.
The benefit show, dubbed Rhythm of the Heart, features performances from Chad Hollister, Dave Keller, Chris Robertson, Shrimp, Amy Torchia, Tony Vacca and a set from Quattrone and his band, the Freelancers.
In a strange coincidence, Quattrone pointed out that legendary rocker Mick Jagger underwent the exact same heart surgery the very next day. Both musicians are back on their feet, dancing like nobody's watching — as seen in a pair of YouTube videos. Just weeks after his surgery, Jagger posted a video of himself dancing like a mofo that promptly went viral. In tribute to the Rolling Stones singer, Quattrone made a similar video of his own.
All the Rage
If you're looking to cut loose with some of the scrappiest, most raging bands in the Queen City, mosey on over to a private residence at 21 Decatur Street on Saturday, June 8. The mini-fest, called the Decrager, is a community-focused event featuring appearances from garage-punks the Bubs, indie rockers Julia Caesar, soul-rock outfit Henry Finch & the Capacity Ensemble, folk troubadour Eric George, electronic singer-songwriter Amelia Devoid, bluegrass group the Wormdogs and anti-capitalist folk-punks Marxist Jargon. The event also features a selection of art installations from Lee Anderson, Derek Proulx, Phinn Sonin and Joe O'Brien.
Listening In
If I were a superhero, my superpower would be the ability to get songs stuck in other people's heads. Here are five songs that have been stuck in my head this week. May they also get stuck in yours. Follow sevendaysvt on Spotify for weekly playlists with tunes by artists featured in the music section.
Jai Paul, "BTSTU (demo)"
Hoodie Allen, "Cake Boy"
Catherine Wheel, "Phantom of the American Mother"
Moon King, "USA Today"
Mark Ronson, "Find You Again (Featuring Camila Cabello)"