Courtesy of Sam Simon
James Kochalka
This weekend marks a momentous occasion for James Kochalka Superstar. The Burlington-based musician, comic-book artist and Vermont's inaugural cartoonist laureate has delighted audiences with his goofy, childlike music for more than 30 years. He's about to turn 50, and, to celebrate, he's performing his last show ever. At least that's how he's describing it. Never say never, right?
On Friday, May 26, the American Elf series author takes over ArtsRiot in Burlington for a celebratory night of whimsical mayhem called James Kochalka Birthday Star. Seven Days recently met with Kochalka at a café in Burlington's Old North End, where he explained why he's retiring, what he's been up to lately and what awaits us at this Friday's show.
"I never expected to live to 50," says Kochalka. "I can barely even imagine life beyond 50. I just feel like it's a good breaking point to do something different."
One of the last times he played was Election Night 2016.
"That was depressing because Trump won," he says. "I didn't want that to be my last show ever."
One of Kochalka's most famous songs is the hilarious and infectious "Hockey Monkey." He cowrote it for the Connecticut-based indie-rock band the Zambonis, who sing exclusively about pucks, sticks, skates and ice.
"I did that to tease them," says Kochalka. "I was like, 'I can write a better hockey song than you guys, and I don't know anything about hockey!'"
Though his life onstage may be coming to an end, Kochalka still plans to write and release music. As of right now, he says he's sitting on enough new material to fill two or three albums. Later, at his home, he even performed a new song for me on his piano, a hip-hop-inspired ode to partying called "Tap the Keg."
For those of you wondering if Kochalka will ever write a musical — I've definitely wondered myself — huzzah! He's written a parody sequel to Lin-Manuel Miranda's Broadway hip-hop juggernaut Hamilton. Titled Alexander Hamilton on the Moon, it places the departed founding father's ghost on Earth's lunar counterpart, where he and the other Hamilton characters find themselves reenacting the original musical — except, you know, they're on the freakin' moon. It's weird, and, trust me — he's not joking. He even rapped a bit of it for me: "My name is Alexander Hamilton / I'm better than you ever been / My play's so hyped nobody can get in."
In terms of his comics, Kochalka is not slowing down at all. He feels he's neglected his adult audience for the last decade, while he mostly wrote for younger readers. Be on the lookout for some adult-only books over the next year, such as a rerelease of SuperFuckers Forever, a six-part miniseries featuring his adorably crude wannabe superhero gang, the SuperFuckers. And then there's Mechaboys, a new comic Kochalka describes as Carrie crossed with Superbad.
Back to this Friday's bash. We'll hear from a number of acts associated with the birthday boy. Kochalka will play with his current band, which features Jeremy Frederick (Swale), Jason Cooley (Blue Button) and Creston Lea (Cloud Badge). He'll also perform with the Philistines Jr., who served as Kochalka's backing band in the mid-'90s. Philistines' front man, Peter Katis, may have produced some of your favorite records — if you're a fan of the National, Interpol or Frightened Rabbit, that is.
Some other local — and nonlocal — celebrity musicians might make surprise appearances. I heard that Moby once performed with Kochalka...
Also on the bill are New York City's "epic geek-rock" band, Uncle Monsterface, as well as locals Colin & the Clarys. Front man Colin Clary is rumored to have written quite a few songs about the man of the hour. Perhaps we'll get to hear some.
With his final show approaching, Seven Days asked Kochalka to reminisce about his first show ever. Though he couldn't quite conjure up memories of his first time out, he does recall a particularly rippin' show from his early days.
"It was at [242 Main]. I was doing high kicks, and my pants split open and my underpants split open. And everything came out," he says.
Here's hoping your pants are solidly stitched for Friday's performance, Mr. Superstar.
(Disclosure: Three members of Colin & the Clarys are Seven Days employees.)
Panda's Party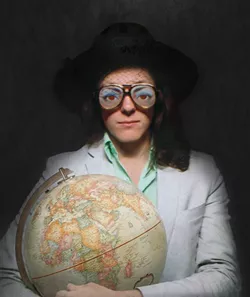 Courtesy photo
Josh Panda
Back in January, Burlington-based soul-rocker Josh Panda stepped down from his long-standing weekly residency at the Skinny Pancake in Burlington.
"[It] ran its course," Panda tells Seven Days at his home overlooking Lake Champlain. Though attendance was still solid from week to week, he felt it was better to go out on a strong note than to wait until no one was coming anymore.
It's been five years since Panda's last release, Live in Switzerland, and it's been even longer since his last studio album, Joshua Panda. He's seen quite a bit of change during that time, both personally and professionally. He married his manager, Ruth Hill. They bought a house. And now they're expecting their first baby. He also spent time developing the Josh Panda Party, his wedding and events band.
"[We play] all covers," he says. "That's never what I got into music for, but now I just own it."
Panda's original music has evolved, as well. The folk and Americana influences upon which he built the early part of his career are mostly absent from his current, soul-rock sound.
On Friday, May 26, Panda is officially releasing his new record, Shake It Up, at Nectar's in Burlington. He plans to play the new record straight through before debuting a number of brand-new songs. The High Breaks and DJ Steal Wool also perform.
He first began recording it about four years ago, and it's been complete for close to two. After shopping it around to labels, and the periods of stagnation that inevitable accompany that process, Panda finally decided to release the record independently.
"I've never been more proud of a record," he says. For the first time, he speaks not only as singer-songwriter and instrumentalist, but also as producer.
"This was the first time I've been able to think about every track and the overdubs, the panning and the tones," says Panda. "When I listen to each song, it's exactly how I want them to sound, and I've never had that before."
His band, the Hot Damned, is now officially a power trio after many years as a five-piece. The current lineup includes drummer Steve Hadeka and keyboardist Tyler Mast.
We'll be scheduling a proper review of the new album in the coming weeks. But as a little teaser, I'll say this: Shake It Up could very well be the local album of the summer. It vibrates with AM Gold energy and is just begging to be played at full volume while cruising down a dusty country lane in a 1971 El Camino.
Listening In
If I were a superhero, my superpower would be the ability to get songs stuck in other people's heads. Here are five songs that have been stuck in my head this week. May they also get stuck in yours. Follow sevendaysvt on Spotify for weekly playlists with tunes by artists featured in the music section.
New Edition, "Cool It Now"
Squeeze, "Pulling Mussels (From the Shell)"
Bow Wow Wow, "I Want Candy"
Sade, "The Sweetest Taboo"
Kamasi Washington, "The Rhythm Changes"