Courtesy Photo
The Freight Hoppers
Montpelier is the place to be this weekend as the Summit School of Traditional Music and Culture kicks off its annual Spice on Snow Winter Music Festival. Sprawling into practically every nook and cranny of the city's downtown area, the four-day festival brings a plethora of folk, Americana, old-time, Cajun and other traditional genres to the capital from Thursday, January 24, through Sunday, January 27.
Largely a free festival, Spice on Snow's lineup includes a few bigger shows for which you'll have to drop a few bucks. For instance, Louisiana-based Cajun fiddlers Joel Savoy and Kelli Jones, along with locals the Green Mountain Playboys, host a big ol' Cajun dance party on Friday, January 25, at Montpelier's City Hall Arts Center. The married headliners are highly regarded in the world of Cajun music. The Cajun French Music Association has twice named Savoy Fiddler of the Year.
Another big to-do is the lineup on Saturday, January 26, at Bethany Church. North Carolina string band the Freight Hoppers bring decades of expertise to the evening program. Woodstock, N.Y., folk-rock duo Mike + Ruthy — also known for their band the Mammals — and the Summit School's Young Tradition Touring Group add support.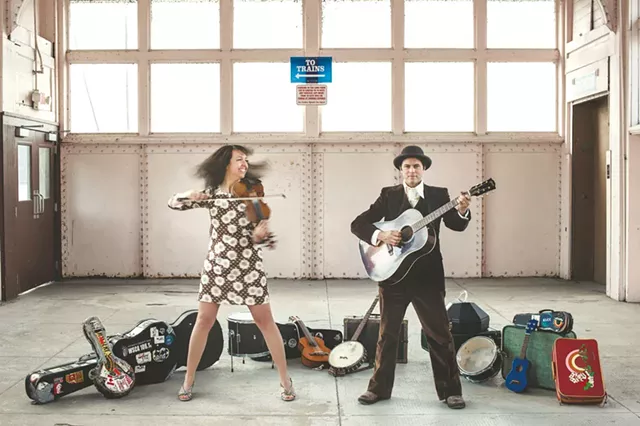 Courtesy Of Eric Gerard
Mike + Ruthy
Be sure to check out the smaller stages, as well. Capital city hot spots Sweet Melissa's, the Skinny Pancake, Charlie-O's World Famous and others host scads of local acts. Homegrown highlights include the Hokum Brothers playing a festival-opening set on Thursday at the Unitarian Church of Montpelier, honky-tonkers the Rear Defrosters Thursday at Charlie O's, and bluegrass outfit Two Cents in the Till on Saturday afternoon at the Skinny Pancake.
Not only does the four-day affair offer a wide variety of pure entertainment, it also provides the chance to get up close and personal with virtuosos through various workshops, such as old-time banjo, fiddle and duet singing. The fest is as immersive as it is expansive.
Visit summitschool.wixsite.com for a full schedule and list of performers.
Why Not Wednesday?
Hump day: the day that broke the camel's back, am I right? Actually, no, that doesn't make any sense. But it sounded good, didn't it? Seriously, folks, Wednesday is a tricky night of the week. Some think of it as a school night, but many others are already looking to blow off a little steam before the weekend hits.
Wednesday is also becoming a hot night locally for weekly residencies, the latest of which is Radio Bean's Midweek Mosaic. Led by Kat Wright guitarist (and fever-inducing vocalist) Bob Wagner, the ensemble convenes once a week to work you into a funked-up frenzy. Think of it as the Bean's Honky Tonk Tuesdays except with funk and soul music from seemingly all eras. The highlight, though, is watching the exceptional, world-class musicians freak out, riff and show just how much control they have over their various instruments.
The band also includes bassist Josh Weinstein (Kat Wright), pedal steel master Brett Lanier (the Barr Brothers) and drummer Sean Preece (the Welterweights). Expect special guests to drop by, such as last week's guest saxophonist, Dave Grippo.
Midweek Mosaic continues every Wednesday until further notice.
A Song of Ice and Water
Courtesy Of Ben Mayock
From "Steam, Water & Ice" by Ben Mayock
Experimental music incubator Community of Sound presents Lifeblood: Water and Sound, an evening of avant-garde, high-concept sound art. The event, slated for Saturday at Community of Sound's Howard Street studio in Burlington, features two brand-new performance pieces.
The first, from New York City-based composer John P. Hastings, is called "White (Vermont)." Based on the title, I assume you have a few low-hanging-fruit zingers you might want to share. Yes, demographically speaking, Vermont is hella white. But the piece actually has nothing to do with race. Hastings and a small ensemble of musicians plan to explore the concept of white noise, or, to use a layperson's term, static.
The particulars of Hastings' performance are being kept secret, but Community of Sound's Ben Mayock, architect of the evening's second piece, tells Seven Days that he and Hastings went around Vermont recording the cacophonous sound of many of the state's waterfalls. The field recordings converge with drone recordings and live instrumentation.
Mayock's piece, called "Steam, Water & Ice," is years in the making. Described as a multimedia "examination of water in its different states and how they exist in the natural world," the piece combines video, field recordings and a group of live musicians exploring the concepts of vapor, ice and liquid water.
"I've always been pretty obsessed with water," Mayock said in a recent phone conversation.
The Hinesburg-based artist explained that he needed the exact right conditions — namely, extreme cold temperatures and little to no snowfall — to capture some of the sounds used in his piece. Specifically, he needed to find a body of water completely frozen over but not covered in snow. He traveled to New Hampshire's Conway Lake near the Maine border and planted microphones in shallow holes he drilled himself. The mics picked up the "cracking, splitting and laser-gun" sounds made by the lake as the temperature plummeted over the course of two hours.
Expect Community of Sound to bring you many more abstract, experiential performances such as these throughout 2019.
Smooth Operators
I'm a big fan of the spate of themed dance parties lately popping up around town, and Club Metronome hosts two of them this weekend. On Friday, DJ SVPPLY brings us back in time 15 years or so to the days of early 2000s hip-hop with his party Move B*tch. Celebrate and remember your first iPod library, which no doubt featured tracks from Chingy, Nelly and P. Diddy (not Puff Daddy).
The following night, Moochie hosts No Ordinary Love: An R&B Party. Expect to hear "everything from Aretha Franklin to SZA," according to the event description. I'm assuming Sade will also be on the playlist, given that the event's title comes from one of the British Nigerian singer-songwriter's best-loved tunes. Also, the party benefits Planned Parenthood of Northern New England, so you'll be getting down for a good cause.
Listening In
If I were a superhero, my superpower would be the ability to get songs stuck in other people's heads. Here are five songs that have been stuck in my head this week. May they also get stuck in yours. Follow sevendaysvt on Spotify for weekly playlists with tunes by artists featured in the music section.
Home Body, "Forklift"
Skin Town, "Lucky"
Tesla Boy, "Reputation"
MXMS, "Gravedigger"
Boyfriend, "Marie Antoinette (feat. Big Freedia)"