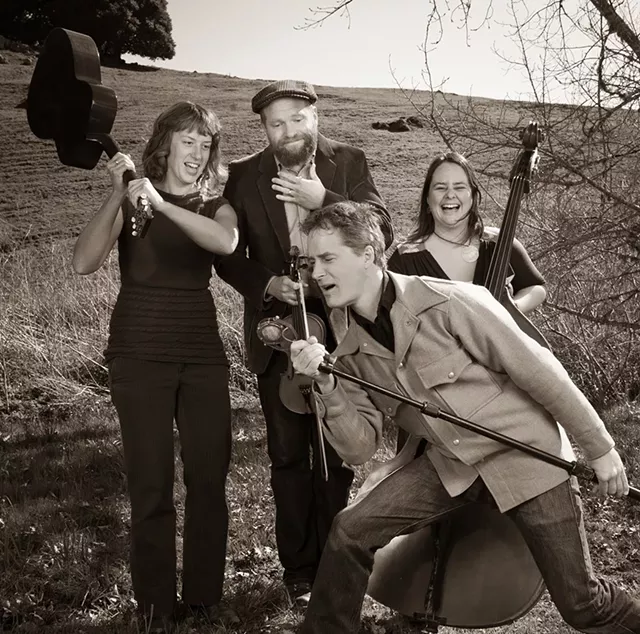 This just in: It's really cold outside. Or at least it's supposed to be. Last weekend saw near-record cold in our little part of the world. But by the time this paper hits the streets, temps are expected to be well above normal yet again. I'm no Tom Messner, but that's some seriously bipolar weather, even by Vermont's notoriously fickle standards.
I bring it up because this weekend is the sixth annual Spice on Snow Festival in Montpelier. Traditionally that fest, curated by the Summit School of Traditional Music & Culture, injects a welcome shot of Cajun heat into the frozen Green Mountains. That's true both from a musical and gustatory standpoint. The festival is equal parts music festival and foodie binge, featuring nationally renowned Cajun bands and chefs. But given how mild the winter has been so far — Valentine's Day notwithstanding, because Mother Nature clearly has a twisted sense of humor — one wonders if our collective musical appetites will crave southern spice as much as they typically would. I hope so, because this year's SOS Festival looks to bring record heat to the capital city.
Headlining the weekend long festival are the Foghorn StringBand. FS are one of the country's premier old-time revival acts. And though they hail from the decidedly non-Cajun environs of Portland, Ore., this rootsy band's roots extend from the Delta to Appalachia to Acadia and back to their native Pacific Northwest. That cross-cultural influence is evident in their energetic approach to old-time music. As noted bluegrass and roots-music scholar Art Menius wrote, "Foghorn Stringband stand at the top of today's vibrant old-time music revival and is a fine example of what an unending revival it is. Each album finds them deeper into the tradition, more familiar with the rich resources of roots music and more focused, but still propelled by that undercurrent of punk energy."
FS will play several shows throughout the weekend, as well as leading a number of workshops at the Bethany Church on Saturday, February 20. And if you can't make it to Montpelier — or even if you can — FSB play Nectar's in Burlington on Wednesday, February 17.
Co-headlining SOS is a supergroup of sorts called the Cajun Country Revival. As the lead line in their bio goes, "Two Cajuns and an old-time stringband walk into a bar..."
The two Cajuns are Jesse Lége and Joel Savoy, who are perhaps the most decorated Cajun musicians on the planet. Savoy has been nominated for nine Grammy Awards and won another as a producer. The Cajun French Music Association has twice named him fiddler of the year. And he's worked with the likes of John Fogerty, Linda Ronstadt, Steve Earle and T Bone Burnett, to name-drop a few.
Lége is no slouch himself. The Cajun accordionist's mantle is similarly littered with awards and superlatives, not the least of which includes his induction into the Cajun Music Hall of Fame. He's also regarded as one of the genre's finest and most distinctive vocalists, with a style aptly described as "high, clear and crying."
As for the stringband hinted at in the earlier bar joke setup, why that's none other than the Foghorn Stringband. Nifty, right? Rounding out the top of the (square) dance card are Kick 'em Jenny and the Sweetback Sisters.
Though Vermont is not especially known for Cajun and zydeco music, locals are well represented at the SOS. Appearing at venues throughout Montpelier are acts such as the Starline Rhythm Boys, Katie Trautz, Alec Ellsworth, Michelle J. Rodriguez, Chris Dorman, Cricket Blue, Dana and Sue Robinson, and the Green Mountain Playboys, among others.
The Spice on Snow Festival runs from Thursday, February 18, through Sunday, February 21, at various location around Montpelier. For schedule details and ticket info, check out the Summit School website.
BiteTorrent
If Spice on Snow doesn't offer enough rootsy Americana for you ... well, you might want to look into a twang support group, or consider moving to Nashville. Clearly, you have an addiction. In the meantime, though, do yourself a solid and swing by the Skinny Pancake in Burlington on Thursday, February 18, to catch the Matt Flinner Trio.
Flinner is regarded as one of the country's most progressive and groundbreaking mandolin players. And his trio with guitarist Ross Martin and bassist Eric Thorin is similarly admired. But don't take my word for it. Ask Matt Schrag, who, along with Jamie Masefield, is probably among the most progressive mandolinists in Vermont.
"Call it Americana music or new acoustic, or chamber grass, or whatever you want," Schrag writes in a recent email. "Whatever label you put on it, it is definitely something you've never quite heard before, played by virtuosos, and it really does blur the line between jazz and bluegrass, traditional and avant-garde."
BTW, Masefield is slated to sit in at the show, just in case you needed another reason to go.
---
Welcome home, Abbie Morin! Last fall the Burlington-based "foxy-folk" songwriter and guitarist Thomas Pearo sold their earthly possessions, quit their jobs and headed out on the road. They toured the country for a few months, including a stop at Daytrotter sessions, and then holed up in a Jersey Shore beach town to write and record a new record. It's a follow-up to her promising 2015 debut, Shadowproof.
Morin and Pearo are back in Burlington and will play a homecoming show with their full band at Nectar's on Saturday, February 20. That group includes violinist and vocalist Shay Gestal, bassist Mitch Manacek, drummer Andy Kareckas and saxophonist Taylor Smith.
Jazz heads, take note: Indie-soul vocalist Tiffany Pfeiffer releases her new EP at the Radio Bean in Burlington on Monday, February 22. Right now you're probably thinking, But Dan, didn't you just say jazz heads should take note? Can't slip anything by you! Called Stampede of Love, the EP is a straight-up jazz record that features some of the state's top instrumental hepcats, including bassist Rob Morse, pianist Shane Hardiman and drummer Gabe Jarrett.
It's a departure of sorts for Pfeiffer, who has made a name for herself with more indie and neo-soul-flavored fare since moving to Vermont several years ago. But Pfeiffer got her start as a jazz singer, which was evident in her prodigious vocal chops. For her to return to jazz, even on a short, five-song EP, is a tantalizing notion. Look for a review in the coming weeks.
Fans of "The Daily Show With Trevor Noah," also take note: DS correspondent Jordan Klepper comes to Burlington for a string of improv comedy shows with comedian Steve Waltien at the Vermont Comedy Club in Burlington on Friday and Saturday, February 19 and 20.
While Klepper is the headline attraction, Waltien is actually the local hook. He grew up in Shelburne and graduated from Middlebury College before moving to Chicago, where he is a comedy writer and a member of the Second City and the Improvised Shakespeare Copany Full disclosure: He's also one of my oldest and dearest friends and, quite honestly, the funniest person I know.
Last but not least, congrats to Waking Windows Presents' Brian Nagle — aka DJ Disco Phantom — and Ali Fogel. Those two crazy kids got engaged last week, after nine years together. No word yet on when the wedding will be, but I'd like to suggest it happen on the main outdoor stage at WW6 this May. Just an idea.
In related news, over the past couple of months, Nagle has been running a weekly Wednesday residency at Nectar's called Vinyl Night. The idea is similar to his old Record Club series at Radio Bean, during which folks could bring in records they wanted to hear or peruse Nagle's own crates. The twist is that each week he invites a local band or individual musician to do DJ sets. Past guests have included Rough Francis, Waylon Speed, Francesca Blanchard, Swale (and their kids), Madaila and Heloise & the Savoire Fair. Upcoming guests include Dino Bravo, Friends for A-Dog, Waking Windows, Villanelles and the Seth Yacovone Band.
But on Wednesday, February 17, local indie label Section Sign Records takes over DJDP turntables. In addition to tunes by label acts Pours and Vows, the highlight of the evening will be the first public listening on vinyl of Wren Kitz's looooooong-delayed, and thoroughly excellent, album, For Evelyn.
Listening In
A peek at what was on my iPod, turntable, eight-track player, etc., this week.
Kanye West, The Life of Pablo
Porches, Pool
Pinegrove, Cardinal
Joe Pug, Windfall
Deep Dark Woods, Jubilee