Courtesy Of Phin Totten
99 Neighbors
One of the most thrilling times of the year for local live music is Halloween. People let loose, ratchet up the creative energy and throw down some special sets. And since Halloween falls on a Wednesday this year, the spooky shows are spread over more days than they would be if the holiday landed on any other day of the week.
In last year's Halloween column, I broke down the week's eerie exhibitions day by day. But, given the extra days of freaky fun, this year I'll break things down by genre. Also, I'd say it's well within reason this year for you to put your costume on as early as Thursday, October 25, and just keep it on until, like, Saturday, November 3. This is especially good advice if your outfit involves heavy makeup or anything that requires a second set of hands to affix properly to your person. You're going to be checking out so many shows, why bother with the hassle of taking it off every night?
Before you plan your nightly entertainment this week, have a look at this selection of events. Keep in mind that there are far too many creepy concerts for all of them to be adequately cataloged in the confines of this column.
Hip-hop collective 99 Neighbors is planning what sounds like an epic throwdown called Graveyard Smash on Wednesday, October 31 — aka Halloween. In a setup much like its open-house takeover of ArtsRiot last summer, the group descends on Club Metronome with multiple stages throughout the space, as well as art and video installations. Special guests include MC Chyse Atkins and producer extraordinaire Loupo.
Colchester's Groennfell Meadery presents Halloween Is for the Dead on Friday, October 26, an evening of dark and devilish electronic music. Tantric-techno duo Metamorph headline, with support from goth outfit the Dead Souls, electronic body music band Nechromancer, and DJs Torex and Vetica.
Courtesy Photo
Tsunamibots
A collision of surf and punk music rocks Burlington's Manhattan Pizza & Pub on Saturday, October 27, when the Tsunamibots battle their archnemeses the Brand New Luddites. Surf-rockers Underwater Bosses open the show.
If you're craving metal — the most Halloween-y genre of all — you'll want to be at Radio Bean for Savage Hen's undoubtedly monstrous set on Saturday.
Lovers of soul music should devote their Saturday night to Foam Brewers' special lineup. Called 2018: A Space Odyssey, the event features neo-soul outfit JUPTR, who made their debut exactly one year ago at Foam's 2017 Halloween shindig. Garage-pop outfit the Fobs are also on the bill, as is the enigmatic EUROPA. Word on the street says the last group bears a striking resemblance to JUPTR, though the mystery band will play a selection of covers from electro-pop artists such as Disclosure, Daft Punk and Chromeo.
Folkie folks might consider popping into Charlie-O's World Famous in Montpelier on Friday. New Hampshire freak-folks People Like You return to the Capital City hot on the heels of their latest music video release, "Sounds of the House." The flickering clip draws viewers into the bowels of a creepy-ass haunted house.
And those who just want to kick back and shake their ass to some classic party hits should check out Club Metronome's Monster Mash-Up: A '90s Halloween Party featuring DJ Two Sev on Saturday. Expect to hear Spice Girls, Mariah Carey, No Doubt, Aaliyah and all your faves from the last great decade.
Happy Halloween, you crazy kids.
What's Your Story?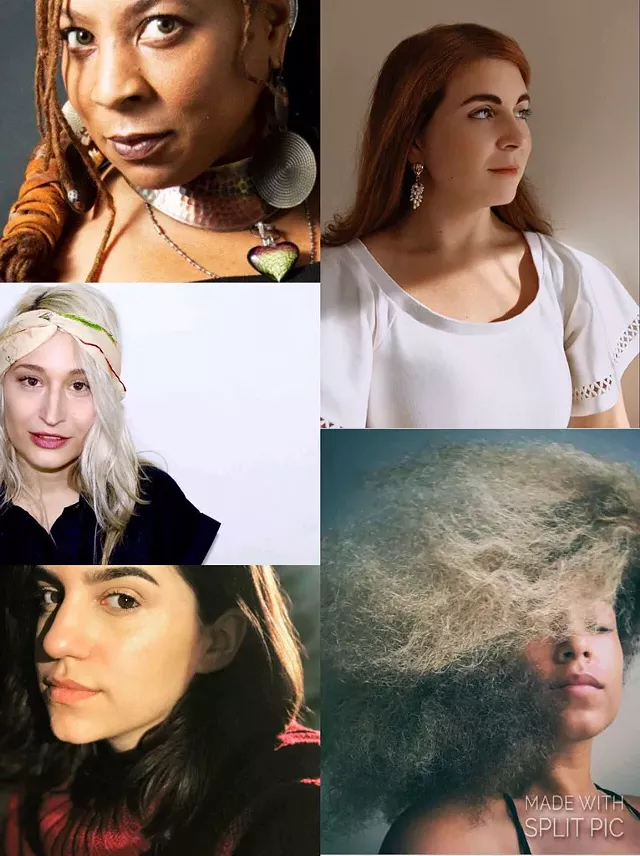 Courtesy Of Myra Flynn
Clockwise from top left: DonnCherie McKenzie, Lucia Stavros, Myra Flynn, Sabrina Comellas and Maria Neckam
Neo-soul singer-songwriter Myra Flynn is currently in the midst of an intensive 15-date Vermont tour. She's weaved her way through urban and rural music hot spots, performing solo and duo sets with Paul Boffa as well as full-band shows. But the centerpiece of her string of dates is Lark: A Pop-Up Songwriter Festival, on Friday, October 26, at the Light Club Lamp Shop in Burlington.
The lineup features all female-identifying artists performing "songs shedding light on everything from the heart to the head to the world," Flynn writes in an email to Seven Days. Four up-and-coming singer-songwriters join her: Sabrina Comellas, Lucia Stavros, DonnCherie McKenzie and Maria Neckam.
Flynn stresses the importance of storytelling and song lyrics as the showcase's focal point. In addition to playing a set, artists will conduct a brief Q&A after they perform. Audience members can submit questions via Instagram and Twitter or by posting in the discussion thread on the Facebook event page. Use the following handles to direct queries to each artist (listed in the same order as above): @little.bee.marie, @getloosh, @donncherie and @marianeckam. Questions for Flynn can be submitted to @myraflynn.
Visit myraflynn.com for additional dates this week — or flip over to Seven Days' calendar and club listings.
Living Legends
This week, Burlington has the honor of hosting not one, not two, but three living music legends who were pioneers in their respective genres. Not only is the godfather of dub music, Lee "Scratch" Perry, performing this week, but so are Bob Marley's famed backing band the Wailers and George Clinton & Parliament Funkadelic. The confluence of these enduring, influential artists in the Queen City is certainly a portent of ... something. Right? It's gotta be some kind of sign — though what it signifies is unknown.
The Jamaican reggae legends heat up Club Metronome on Thursday, October 25, and the funksters take on the Higher Ground Ballroom on Monday, October 29. Considering how long those artists have been in the game, you'll probably want to jump on your chance to see them while you can.
Listening In
If I were a superhero, my superpower would be the ability to get songs stuck in other people's heads. Here are five songs that have been stuck in my head this week. May they also get stuck in yours. Follow sevendaysvt on Spotify for weekly playlists with tunes by artists featured in the music section.
Lady Gaga and Bradley Cooper, "Shallow"
The Smittens, "Cats for Cats"
Massive Attack, "Teardrop"
BROCKHAMPTON, "STAR"
Björk, "Army of Me"