Courtesy Of Bow Thayer
Bow Thayer
Taking a Knee
If I'm ever officially made the Czar of Vermont Music, my first act will be to collect the local heads of rock-and-roll state and decree that they shall henceforth share a friggin' Google calendar so that we can do a better job of spreading out killer shows and festivals. Cuz this week — and the weekend, especially — is just ridiculous. To wit...
You might as well camp out at Shelburne Museum for a hat trick of shows that could represent the single biggest weeklong stretch in the venerable history of the Ben & Jerry's Concerts on the Green series. Thursday, July 30, the Decemberists come to town with support from a personal favorite, Lady Lamb. On Saturday, August 1, the Avett Brothers visit, with openers the Mike + Ruthy Band. Then, on Tuesday, August 4, it's Bonnie Raitt with guitarist Richard Julian.
Is iconic alt-rock more your thing? How's about Sonic Youth's Thurston Moore and his band at ArtsRiot on Saturday? (See the spotlight on page 68.) Can't get enough Grateful Dead? The same night, hop aboard the Lake Champlain Ferry in Burlington for Ship of Fools III, with Dead Set. And let's not forget about the mini-festival that I burned a whole column on last week, the Precipice: the Big Prom Ocean, which runs at Radio Bean this Friday and Saturday, July 31 and August 1, and looks to be a hell of a lot of fun.
In any normal week, just that collection of shows would be enough to anchor this column. But guess what? Those are the shows I won't be writing about at any length here. (Well, except maybe the Precipice, if there's breaking news in the next 1,000 words or so. Clock is ticking, Joe Adler...)
So if you've got plans this weekend that don't involve seeing some music — camping trips, vacations, weddings, funerals, whatever — cancel them and go see something awesome. And then report back to me and tell me how it was. I'm laid up with a badly injured knee, and it's looking like I might be on the shelf for a while. So I need to live vicariously through all of you. Just because my summer is suddenly blown doesn't mean yours has to be. Don't let me down...
Take Me to the River
If I could, I might spend the whole weekend at the Tweed River Music Festival in Waitsfield, which runs Friday, July 31, through Sunday, August 2. Founded and curated by local songwriter Bow Thayer — also the inventor of a nifty hybrid instrument he calls the bojotar — in recent years, the fest had occupied a scenic spread in Stockbridge. There, TRMF developed a well-earned rep as a lively, down-home celebration of twangy roots and Americana music. The festival went on hiatus last summer but is back this year in new digs — behind Kenyon's Variety, FYI — and a lineup that might best all of the previous Tweed fests combined.
I'm most thrilled by Lydia Loveless, whom I put roughly on par with Courtney Barnett, Sturgill Simpson and Father John Misty in terms of my current songwriter crushes. (See the interview here.) But the rest of the festival is aces, too.
Local outlaw dirt rockers Waylon Speed headline the Mainstage slate on Friday. They'll be joined by, among others, soulful blues rockers the Curtis Mayflower, Boston-based arena rockers Township, fellow Beantown sleaze-punks White Dynomite and Amherst, Mass., one-man band the Suitcase Junket. BTW, that last act is the pseudonym of Vermont native Matt Lorenz, who recently recorded a very cool session with the Signal Kitchen dudes at the Moran Plant in BTV, of all places. Late night, on the Campfire Stage, catch a set from Boston/Providence-based band Cannibal Ramblers, who describe themselves thusly: "Abstract ashcan deconstructive delta swamp grand mal seizure." And no, I don't what that means. But I'm intrigued.
On Saturday, highlights include local prog-ish upstarts Coquette, songwriter Christopher Paul Stelling (see spotlight on page 72), Nashville-by-way-of-Providence country traditionalists Joe Fletcher and the Wrong Reasons, songwriter Tim Gearan, Loveless, LA rock trio No Small Children and Thayer. Speaking of Thayer, dude has a new album out, Sundowser, that prominently features his Frankenstein's monster of a guitar — it's part banjo, part resonator guitar, part electric guitar. We'll review that record soon, but it's worth checking out in the meantime just to hear that thing. It's aliiive!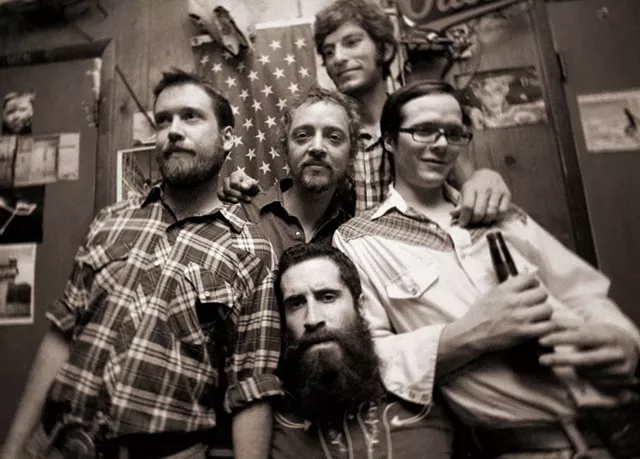 Courtesy Of Jp Harris & The Tough Choices
JP Harris & the Tough Choices
For many three-day fests, Sunday is kind of a wind-down day, a time to soothe hangovers from the previous nights of rocking. Not so Tweed River. Soul revivalist Jesse Dee is the headliner, but the undercard is packed, too. It features Vermont expats and current Nashvillians JP Harris & the Tough Choices, Amherst's Rusty Belle, lovely songwriter Caitlin Canty and our own Anders Parker & Cloud Badge, to name but a few.
BiteTorrent
Regular readers know my affinity for the Full Moon Masquerade, which remains one of the best parties in town. The next installment is this Friday, July 31, at Signal Kitchen. It features electro-indie phenom Slow Magic, column favorites Madaila, local DJ Gold Cheng and a David Symons-led duo, Accordianistan, which — and I'm not making this up — is chamber music played solely on accordions. (You can also catch that last group at the Light Club Lamp Shop on Thursday, July 30.)
Fuck it. I might defy doctor's orders and go to this one. Masks are mandatory, so who would know? (Though I suppose my limp and giant leg brace might give me away ... damn.)
Just around the corner from SK, nurse your hangover with coffee and baked goods at the annual daylong August First Block Party on Saturday, August 1. The musical menu includes Brett Hughes & the Honky Tonk Crowd, the Tenderbellies, Abbie Morin and Mal Maiz. Yum.
Meanwhile, in Rut-Vegas ... the annual Punk in the Park Festival celebrates its 10th anniversary on Saturday. Punk in the Park is, well, exactly what it sounds like: a dozen local and regional punk bands rock Rutland's Main Street Park all day long. These include Providence's Frenzy of Tongs, Keene, N.H.'s Lobotomobile, and local bands Haggard Bastard and Middleson, among others.
If you never made it to a Bacon Thursday at Nutty Steph's in Middlesex, this Thursday, July 30, is your last chance. The series — as well as all live music at the granolary — is ending this month. The final BT will be a daylong affair styled after the Radio Bean birthday bash, featuring 10 acts, including Jazzyaoke — again, just what it sounds like — jazz guitarist Art Herttua, gypsy-jazz outfit Cookie's Hot Club, jazz keyboardist Andric Severance and reggae band Soulstice with Tomasas Rum Bath. It's slated to go all night or, as I'm told, until the bacon runs out.
Last but not least, over in Montpeculiar, Mark Mulcahy is playing the chapel at the Vermont College of Fine Arts this Sunday, August 2, with local indie outfit Anachronist. Mulcahy was the lead singer and founder of seminal 1980s New Haven, Conn., alt-rock band Miracle Legion. That group was a regionally popular act that flirted with national success — owing in part to frequent, and not entirely inaccurate, comparisons to R.E.M. Not unlike Big Star, they were underappreciated in — and maybe ahead of — their time, but remain highly regarded among those who know the band's music. For proof, consider a 2009 tribute album to Mulcahy following his wife's untimely passing, Ciao My Shining Star: The Songs of Mark Mulcahy. That record featured contributions from the likes of the National, Thom Yorke, Michael Stipe, Dinosaur Jr., Frank Black, Ben Kweller and Juliana Hatfield.
All of that said, readers of a certain vintage might best know Mulcahy from his time in Polaris, otherwise known as the band that wrote all of the music for the great mid-1990s Nickelodeon TV show "The Adventures of Pete & Pete."
Some week, huh?
Listening In
A peek at what was on my iPod, turntable, eight-track player, etc., this week.
Mike Krol, Turkey
Various Artists, Ciao My Shining Star: The Songs of Mark Mulcahy
Wavves X Cloud Nothings, No Life for Me
Wilco, Star Wars
Tame Impala, Currents