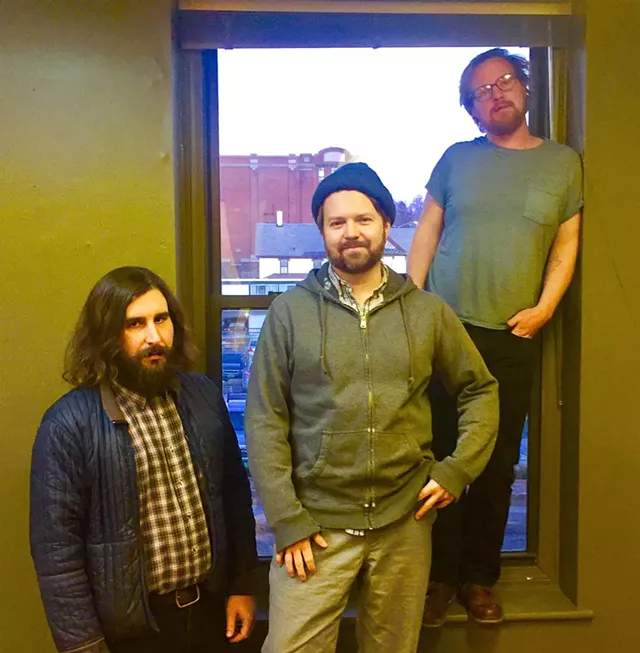 Courtesy of ErinCassels-Brown
Eastern Mountain Time
If you've kept up with Soundbites over the last few weeks, you've probably noticed that I'm keen to mention events that support a good cause. Given the anxiety over the current social, political and cultural climate, it's an important time for artists to step up for underrepresented issues and populations. We're lucky to live in a community of passionate, industrious creators who want to use their art for the greater good.
On that note, a new monthly music series debuts at the Monkey House on Sunday, February 26. Eastern Mountain Time's Sean Hood, along with the Monkey's Ali Fogel and Matt Rogers, curate the series, entitled "The Show Up Shows." The first installment features performances from indie rockers Little Slugger, singer-songwriter Erin Cassels-Brown, Lily & the Baby and Hood's sad-boy country band Eastern Mountain Time. Comedian Annie Russell emcees. One hundred percent of admissions go to the American Civil Liberties Union.
Additionally, visual artists Dale Donaldson, Danny LeFrancois and Haley Fenn will display and sell their work as part of a silent auction. And you should come hungry, because purveyor of Polish foodstuffs Luiza's Homemade With Love serves up some yummy nom-noms. One dollar of every food purchase goes to the ACLU.
So, as the series' title suggests, you should show up. Your presence will absolutely make a difference in some of the uphill battles our country currently faces. The series continues on Sunday, March 19, and Wednesday, April 19, to benefit Planned Parenthood of Northern New England and 350 Vermont, respectively. Future artist lineups are coming soon.
Ain't Their First Rodeo
Courtesy of LucyJohnson
Torpedo Rodeo
On Friday, February 24, former Vermont surf-punk band Torpedo Rodeo reunite at the Monkey House after nearly four years apart. DJ Disco Phantom opens.
The band retired in 2013 when guitarist Max Krauss left Vermont to pursue his education out west. He's since returned to the East Coast and currently lives in New York City. In an email to Seven Days, Krauss says that he and former bandmates Nick Sherman and Jeremiah Johnson are whipping up a couple of killer sets. He describes them as a "triple-decker rock-and-roll face-melt sandwich," with Disco Phantom as "the buns" and TR as "the meat." Sounds delicious and nutritious.
We can also expect a new album from TR sometime this spring. They're sitting on a pile of older material that's never been released, and the band is working on getting all of that music ready for the listening public.
Krauss describes TR's music as "a vehicle for our suspended adolescence," which, he assures, "has yet to expire."
Growing up serves its purpose, I suppose. But I like where Krauss is coming from.
BiteTorrent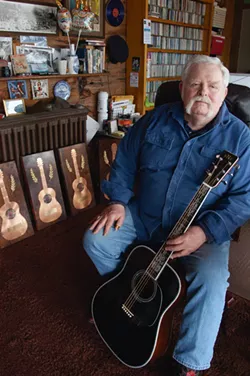 File: Matthew Thorsen
Rick Norcross
Waking Windows is seeking volunteers for its seventh annual music festival in downtown Winooski. The WW crew is interested to know what skills and experience you bring to the table — specifically, if you're able to stand for four hours and whether you can lift 40 pounds, among other things.
Most volunteer positions require a minimum time commitment of four hours. WW needs crossing guards, assistance with setup/takedown and general hospitality. And a note to college students: Make sure your workload for the weekend is manageable. Finals tend to fall the week after the festival, which runs from Friday, May 5, through Sunday, May 7. Head to WW's Facebook page to complete an application/survey.
Celebrate Mardi Gras next Tuesday, February 28, with some sizzling Cajun and zydeco music at Hotel Vermont, courtesy of Young Tradition Vermont. Planet Zydeco, Yankee Chank and Katie Trautz & Alex Ellsworth deliver the Deep South vibes. All proceeds benefit the YTV's Tom Sustic Fund, which offers aid to families with children who suffer from life-threatening conditions. Visit youngtraditionvermont.org for more details.
Monthly avant-garde music series Pushing a Brain Serial returns to the BCA Center on Saturday, February 25. The series is an extension of two previous events, 2015's Pushing a Brain Uphill and 2016's Pushing a Brain Uphill II. Nonprofit group Burlington Gull organizes and curates the series.
PABS aims to put femmes and other non-dude-identifying people in the spotlight. This month's installment features free-improvisation legend Bonnie Kane, as well as the debut performance from Threes, an experimental supergroup of sorts, consisting of the le duo's J.B. LeDoux and Gahlord Dewald, as well as Signals curator and master of all things off-kilter Greg Davis. The next installment of PABS is on Saturday, March 25, with a lineup to be announced. Visit burlington-gull.com for more info.
Rick Norcross of the western swing band Rick & the All-Star Ramblers performs a special solo engagement at the Ethan Allen Homestead Museum tavern on Sunday, February 26. Norcross performs selections from his last five albums and spins yarns about his life in and around Vermont. The Ramblers' latest album, Green Mountain Standard Time, is a lively collection of square-danceable originals and standards. Only 50 tickets were released due to the venue's limited capacity. Proceeds go to support the museum. Check out ethanallenhomestead.org for additional info.
Burlington's newest nightlife spot, Social Club & Lounge, celebrates its grand opening this week. It's located at 165 Church Street, aka the accursed spot on lower Church that's housed a slew of nightclubs since Club Toast shuttered its doors in the late '90s. The most recent occupant, Zen Lounge, closed its doors in 2016.
The three-day opening event kicks off on Thursday, February 23, with DJ Aota. The night is double-billed as College Night and Thunder Thursday. Are these two themes in competition with each other? Friday night is similarly doubled-billed as Fusion Fridays as well as Ladies' Night. I'm not sure what kind of fusion will be happening, but I'll go out on a limb and guess that it's not jazz fusion. And finally, Saturday is billed as Social Saturdays. I guess that means it's the only night of the week that the club requires its patrons to be sociable. We shall see.
Every Monday, the Light Club Lamp Shop hosts the Lamp Shop Lit Club, a series of curated and open-mic literary readings. This Monday, February 27, it brings us "Voices of Color," which prioritizes speakers and readers of color. Scheduled to appear are Reuben Jackson, who hosts Friday Night Jazz on Vermont Public Radio, as well as Manza, Senowa Mize-Fox and Carlton Anderson. Listening In
If I were a superhero, my superpower would be the ability to get songs stuck in other people's heads. Here are five songs that have been stuck in my head this week. May they also get stuck in yours. Follow sevendaysvt on Spotify for weekly playlists with tunes by artists featured in the music section.
GUM, "Notorious Gold"
IRAH, "Fast Traveling"
Royal Canoe, "Walk Out on the Water"
Little Dragon, "High"
St. Lucia, "Help Me Run Away"