Courtesy of Jim Lockbridge
Martha Pullen
It's been just about two months since the beloved Burlington DIY venue 242 Main rocked its last show ever. That is, possibly rocked its last show ever. While there's still no news as to the future of the club, there is some news regarding its past.
Seven Days previously reported that local documentarian Bill Simmon, in conjunction with Burlington Parks & Recreaction, Big Heavy World and Vermont Community Access Media, is hard at work on a documentary about 242 Main. But Simmon probably didn't expect the project to spawn another work that similarly captures the nostalgia and memories of the legendary venue.
Martha Pullen, the development and finance manager of the Vermont Youth Orchestra, is currently compiling stories, testimonials and photos for a still-untitled commemorative and historical book about 242 Main. She describes the project as writing a book with 500 of her closest friends. Rough Francis' Bobby Hackney has signed on as the book's graphic designer.
"I really missed that time in my life when I could walk in 242 and feel like I was coming home," says Pullen over the phone. She was active in the 242 scene during the late '90s and early '00s, playing bass in bands such as Shipwreck and Last Night's Surrender. She also served as a youth member of 242's advisory board.
Pullen's vision began percolating in 2016 after being interviewed for Simmon's documentary. Feeling nostalgic, she began rifling through old photos and recordings from the good old days. Her experience at the final 242 show in December galvanized her concept.
"What became clear to me that night was that every kid who walked through those doors was important to that community," says Pullen, who expressed feeling disconnected from the scene in recent years.
She's interested in hearing about individual, personal experiences from others. A survey on her website, 242mainstories.com, asks questions such as: What year did you start going to 242 Main? What did your parents and/or other friends think about you hanging out at 242 Main? Did you run into any problems or issues with the space or community?
With that last question in mind, Pullen mentions that the book will not sugarcoat 242's story. Recently, a controversy swirled regarding women's experiences at 242.
"Obviously, I'm a woman, and I had some bad experiences, and I'm sure I will talk about those in the book," she says. "But, overwhelmingly, it was a place where I felt the most powerful compared to anywhere else in my life."
Pullen refers to the project as a labor of love. While she hopes to at least break even, she feels it's more important to get these stories out there than to make any money. In the event that the book does turn a profit, she plans to donate the money to charity.
Anyone who has stories about their experiences throughout 242's 30-year run can submit them through Pullen's website.
Dark Days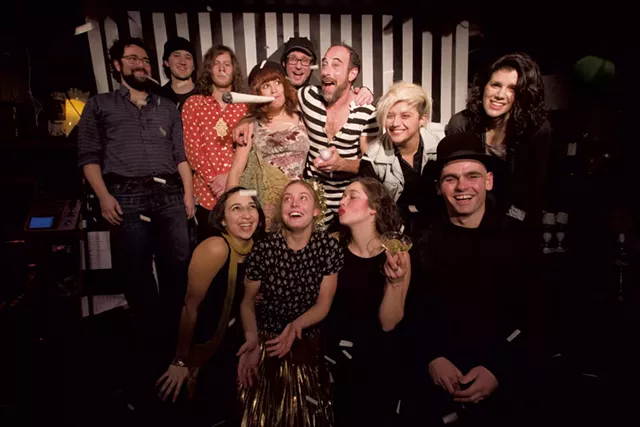 Courtesy of KevinBloom/BloomMachinePhotography
Unbearable Light Troupe
Thursday, February 2, is one of the silliest and most superfluous holidays: Groundhog Day. It's the day when that vexing little varmint, Punxsutawney Phil Sowerby, disregards all scientific and meteorological methods to determine just exactly how much more winter we'll have to endure. I'm not sure about you, but I've had quite enough of those who deny science of late. Maybe I'm blowing it a little out of proportion. Or maybe I'm just being cheeky.
If you're looking to check out a fun, quasi-Groundhog Day-related event, you might consider the Shadow Ball, an "umbral cabaret and cast of shadowy characters," at the Light Club Lamp Shop in Burlington. The mysterious event — and by mysterious, I mean that I received very little information about it — features Lamp Shop proprietor Lee Anderson's the Unbearable Light Troupe. The event was described as a "psychedelic, post-apocalyptic vaudeville" in a 2014 video of the troupe performing at the Bonnaroo Music and Arts Festival.
Here's a clip from a press release Anderson emailed me regarding the event: "From the phases of the moon to the shade of a tree on a summer day. From Punxsutawney Phil Sowerby to the deepest parts of the Jungian unconscious ... shadows are everywhere." Jeez, I just got chills.
Expect to see shadow puppetry and shadow dances. And I'm hoping we'll hear some songs about shadows. If I might make a few requests, I'd love to hear interpretations of "Shadows" by Rufus Wainwright, "Shadow Boxer" by Fiona Apple and "Deeper Shadows" by Jaakko Eino Kalevi. If it's not too much trouble.
The Unbearable Light Troupe performs on Thursday, February 2. And then, just like the movie Groundhog Day, the whole thing happens again the next day. Catch that special encore performance on Friday, February 3, also at the Lamp Shop.
Bite Torrent
New club alert! You know 165 Church Street, the accursed spot that once housed Club Toast and, since then, hasn't found a business to stay there for more than a few years? Since the days of Toast, it's been through many iterations, including Club Extreme, Millennium, Second Floor, Lift and most recently Zen Lounge, which closed its doors in 2016. Soon, Social Club & Lounge will take up residency in the haunted space. I mean figuratively haunted, of course. What will the new hot spot be like? We all wonder. I reached out to the club's owner, David Corron, but have yet to receive a reply. I hope to have more information soon, including when we can expect the club to open.
In my first Soundbites column a few weeks ago, I put out a call to musicians and bands to share with me their worst touring experiences. I received nary a response. I guess that means all you musician types have had nothing but pristine, lily-white touring experiences during which you did nothing but skip joyously through meadows of wild flowers, braiding each other's hair, arriving safely and punctually to your destinations with no drama or trauma of any kind. To put it bluntly: bullshit.
I know at least one of you reading this right now has a whale of a tale of a tour that went horribly wrong. I want to hear about it. Because, as I previously stated, I love stories involving pain, embarrassment and humiliation — you know, as long as enough time has passed that we can all laugh about it.
BREAKING: The Waking Windows crew has announced the initial lineup for the seventh annual Waking Windows music and arts festival in downtown Winooski. The complete lineup of 100-plus bands, artists and comedians is forthcoming. But for now, headliners include: Real Estate, Dan Deacon, !!! (Chk Chk Chk), Pond, Screaming Females, Charlie Parr, Frankie Cosmos, milo, Downtown Boys, Big Thief, Bloodshot BILL, Rough Francis, Octo Octa, Jaw Gems, Ian Sweet, Ed Schrader's Music Beat and Doug Tuttle. Montréal's Blue Skies Turn Black, New York City's Dull Tools and Vermont's NNA Tapes and Friends & Family host featured showcases. WW7 runs from Friday, May 5, through Sunday, May 7, at various locations throughout Winooski.
For more, stop by DJ Disco Phantom's weekly vinyl-night residency at Nectar's in Burlington on Wednesday, February 1. The WW crew will be on hand selling weekend passes and spinning tunes by WW7 acts.
Listening In
If I were a superhero, my superpower would be the ability to get songs stuck in other people's heads. Here are five songs that have been stuck in my head this week. May they also get stuck in yours. Follow sevendaysvt on Spotify for weekly playlists with tunes by artists featured in the music section.
La Roux, "Sexotheque"
Miike Snow, "Plastic Jungle"
Wilco, "Nothing'severgonnastandinmyway(again)"
KING, "The Greatest"
The Weeknd, "I Feel It Coming"