For years, the opening night of the South End Art Hop has been one of my favorite times of the year to be in Burlington (the others: Halloween, the opening night of the Burlington Discover Jazz Festival and that glorious night in May when the college kids go home). But I have to confess that, in recent years, the bloom is off the rose a bit for me when it comes to the Queen City's premier arts-travaganza.
There's no denying that Art Hop is a great event. It's the single biggest opportunity for local visual artists to reach mainstream audiences, and that's a very good thing indeed. And especially in the last couple of years, the opening night of the weekend-long festival has grown to rival any other single BTV event on the calendar in size, scope and popularity — SEABA's website proudly trumpets the fact that Art Hop draws some 30,000 visitors, "the majority from outside Burlington." In short, it's a beast. And maybe that's part of my problem.
I would never begrudge anyone's success — and SEABA has certainly been hugely successful in growing Art Hop. But part of me can't help but long for Art Hop's grittier past. There was a time, not so long ago, when the event truly felt like a counterculture phenomenon. It was unpredictable and exciting and maybe even just a little dangerous. (Numerous friends have told me about a time when booze-filled limousines would ferry revelers up and down Pine Street.) Now Art Hop is safe and family friendly. Sanitized. And that's not necessarily a bad thing. It just kinda bums me out, is all.
I'm not calling for a return to booze cruises around the South End Arts District — though I'm not not calling for that ... ahem. [Editor's note: Pine Street will be closed to traffic from Marble Avenue to Howard Street.] Rather, I'm simply hoping to find a bit of that seedy underbelly from years past. The question is, where? As with most crises of faith, the answer lies in rock and roll.
One positive in the explosion of Art Hop is that there are more opportunities to see cool live music than ever before. Yeah, yeah. I know visual arts are supposed to be the main draw. But for me, music has always been an equal lure. So let's hop around and see if we can't recapture some of that ragged rock magic.
We'll start with the headline attractions. ArtsRiot has become the star around which the South End Arts District orbits. Fittingly, the arty hot spot has probably the biggest music showcase of the festival's opening night, in celebration of the venue/restaurant's third birthday. In the early evening, venerable local turntablist DJ Cre8 spins outside. As darkness falls, the party moves indoors, where you'll find local funky bunch Grundlefunk, Portland, Maine's "ratchet jazz" outfit Jaw Gems, Canadian indie rockers the Luyas and former Apollo Sunshine front man Sam Cohen. Also, because he's everywhere, always, DJ Disco Phantom spins, as well.
Across the street in the tent behind the Maltex Building is the Magic Hat 9tacular. This show features multiple 2016 Seven Daysies award winners Kat Wright and the Indomitable Soul Band and yacht rockers the Full Cleveland.
Both of those shows are quite likely to be mob scenes. If you're looking to skirt the crowds, amble down the street to Speaking Volumes, which always offers one of the liveliest Art Hop parties. This year should be no exception. The show features a quartet of hard-charging local rockers, including Heavy Plains, the Bony Tenants, 1881 and Montpelier's Lake Superior, the last of whom have a new record coming out later this month.
But to really find the hidden gems at Art Hop, you need to venture off the beaten path a bit. Perhaps start at Switchback Brewing on Flynn Avenue, where offbeat local rockers RedAdmiral light up a warehouse party. A few doors down at 180 Flynn, catch psych rockers Quiltro with songwriter Ryan Ober and rockers Pony Truck.
Heading back north, stop off at the Burlington Electric Department for lovable indie-folk duo the Leatherbound Books on the outdoor stage — and pay your delinquent light bill, deadbeat.
Eight Space Artist Collective on Howard Street hosts perennial Art Hop favorites, the Afro-Brazilian percussion band Sambatucada. Meanwhile, at Sequoia Salon on Kilburn Street, fuel up with coffee and jazz from hepcats Paul Asbell and Clyde Stats.
Local experimental-rock quartet Sad Turtle will be busy Friday night. They play an early set at the Green Door Studio — always a good bet for lively rocking at Art Hop — followed by swamp rockers the Mountain Says No. ST then play Pine Street Studios, along with indie songwriter Wren Kitz and local anarchist street band the Brass Balagan. Also, I'm told there will be a flea circus.
BiteTorrent
Luke Awtry @lukeawtryphotography
Madaila
Moving on, congrats to local psych-pop phenoms Madaila and the fine folks at Nectar's. Last Sunday's block party, Madaila on Main, was an absolute blast. As of this writing, there's no word on attendance figures, but I can't imagine the event could be classified as anything other than a huge success, if only because it opened the door to another unique concert setting in Burlington. There was just something impossibly cool about invading Burlington's busiest street. Here's hoping the fest, or something like it, becomes an annual staple.
---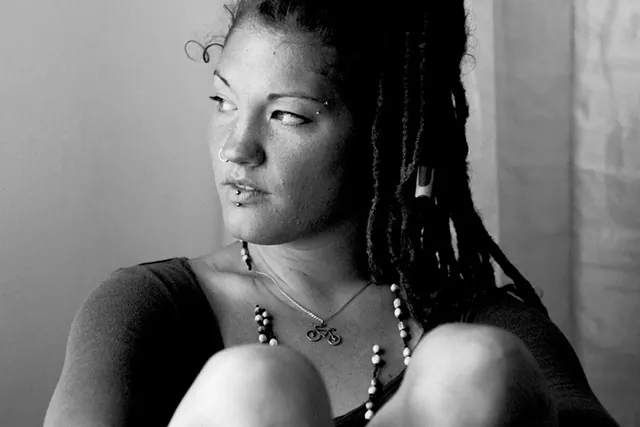 If you're looking for a low-key way to spend the occasional Tuesday, I'd suggest checking out the new monthly 2 for Tuesdays series that kicks off at the Stone Corral Brewery in Richmond this Tuesday, September 13. In an email, organizer Don Sheldon of Valley Stage Productions writes that each month he'll present a touring artist along with a local songwriter at the brewery in a "listening room" environment — in other words, STFU and listen to the music. The debut artists are Michigan folk-pop songwriter Abigail Stauffer and local indie-folk favorite Zack DuPont.
Last but not least, there were a couple of small errors in my column two weeks ago about A-Dog Day. The first was that the Tony Hawk Foundation did not supply all of the gear for the summer skate camp, as I reported. THF did provide helmets. But the Friends for A-Dog Foundation supplied everything else, because they're cool like that.
The second error is that I mistakenly stated that Andy "A-Dog" Williams had been matched with two bone-marrow donors. As Williams' girlfriend Jozie Furchgott Sourdiffe informs me, they found only one match. And the odds of finding even that one were 20 million to one. At the time, the bone-marrow registration database had 19 million registrants, which makes finding a match even more miraculous.
My apologies for the errors. To help me make it up to FFAD, take a minute and look into registering as a bone-marrow donor at bethematch.org.
Listening In
A peek at what was on my iPod, turntable, eight-track player, etc. this week. Follow sevendaysvt on Spotify for weekly playlists with tunes by artists featured in the Music section.
Mal Devisa, Kiid
Whiskey Shivers, Whiskey Shivers
Madaila, Traces
Khruangbin, The Universe Smiles Upon You
Angel Olsen, My Woman