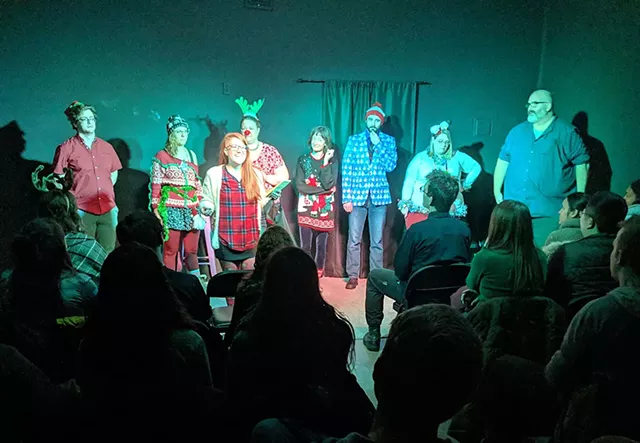 Courtesy Photo
Revelry Theater
Revelry's Reverie
In a recent phone conversation with Seven Days, Revelry Theater founder Anthony Apodaca said that one of the most frequent things he hears about his petite performance space is that people don't know it exists. Though located in Burlington's bustling South End Arts District, the venue has flown somewhat under the radar since its inception in September 2018.
This week, Revelry Theater celebrates a bit of a relaunch. No major changes have been made to the space or its programming. The 35-seat spot is still a unique, intimate place to experience standup, improv, storytelling and other eclectic comedic events. But it recently underwent a transition from a private LLC to a Vermont domestic nonprofit corporation and plans to become a fully licensed 501c3. Apodaca serves on its newly created board, alongside Jenna Emerson and Daniel Trigg.
Most DIY arts and entertainment producers in the area work on shoestring budgets. The transition offers Revelry's community a chance to offer donations to help keep the theater in the black.
"I always imagined it to be a community project, and this is a way to ask the community to put their money where their mouth is," Apodaca said.
He also notes that an influx of cash donations not only helps to offset the cost of keeping the lights on but also directly benefits local producers. Revelry offers anyone in the community an opportunity to use the space free of charge, whereas most venues require a booking fee. And after an event's first 20 tickets are sold, the remaining revenue from ticket sales goes back to the producer.
"We never really planned to make any money, but it's important to keep costs low to make it accessible," Apodaca continued.
The theater hosts a two-night relaunch on Friday and Saturday, June 21 and 22. The first evening features back-to-back events Flask Improv Night and Stand Up, Out Loud. The following night includes a session from short-format improv troupe Boom City, a curious storytelling and improv event called Butterfly, and the return of Sex w/Jenna. For that last one, Emerson hosts a slew of comedians, improvisers and activists who create a hodgepodge of sex- and relationship-related performance art.
Revelry is normally a BYOB venue, but Zero Gravity Craft Brewery and Switchback Brewing Co. sponsor this weekend's celebration.
Making Time
Friday is Make Music Day, an international celebration of, well, making music. Originating in France more than 35 years ago, the international movement highlights a day of free, volunteer-run music events all over the world. According to the org's website, more than 78 North American cities are set to participate, with a total of 4,728 concerts on the books.
This year, Vermont is no slouch in the Make Music Day department. Concert locations range from Bennington to Greensboro, often taking place at multiple locations in the same town. Given that the event occurs on the first official day of summer, most performances take place outside in the (hopefully) glorious sunshine on pedestrian thoroughfares such as Burlington's Church Street Marketplace and other city street corners.
While too many concerts are happening to fully highlight them all, here are a couple for your consideration.
Assuming we luck out weather-wise, pop down to Ferrisburgh's Kingsland Bay State Park for a full day of tunes. Locals Rik Palieri, Jason Baker and Dwayne Benjamin play rain or shine. The Addison County park is on a lovely patch of lakeside land and is somewhat underrated, in my opinion.
Burlington's August First Bakery & Café hosts a sidewalk showcase featuring two sets from rock group the Squandered Minds plus an appearance from Beatles cover band the Liverpool Social Club.
And those out Montpelier way should head to City Hall Plaza to catch Malagasy singer-songwriter Mikahely and the swingin' stylings of the Standard Deviations.
Visit makemusicday.org for a full list of locations and performers.
Shifting Gears
Courtesy Photo
Cory Henry & the Funk Apostles
A little outside the usual regional scope of this column, a pretty rad music and arts festival kicks off this week at the Hopkins Center for the Arts at Dartmouth College in Hanover, N.H. The 10-day event, called SHIFT 2019, features a selection of talks, film screenings, theatrical productions and concerts from Friday, June 21, through Sunday, June 30.
The opening night's main event is a performance from dance machine Cory Henry & the Funk Apostles. Fans of seriously smooth and sexy Stevie Wonder-esque funk should take note. And be sure to check out the extended lineup at hop.dartmouth.edu.
Zoning In
On Monday, the Burlington City Council voted in favor of changing zoning regulations in the South End, which would potentially allow Higher Ground to relocate from South Burlington to Burton Snowboards' Industrial Parkway campus.
Listening In
If I were a superhero, my superpower would be the ability to get songs stuck in other people's heads. Here are five songs that have been stuck in my head this week. May they also get stuck in yours. Follow sevendaysvt on Spotify for weekly playlists with tunes by artists featured in the music section.
Baby Bash, "Suga Suga (featuring Frankie J)"
ABBA, "Waterloo"
Jai Paul, "He"
DJ Shadow, "Nobody Speak (featuring Run the Jewels)"
Birds & Batteries, "Out in the Woods"