Courtesy Photo
Jennifer Hartswick
If you haven't yet feasted your ears on any of the Burlington Discover Jazz Festival's delectable offerings, you still have plenty of time to binge-listen. But don't dawdle, because the 10-day festival wraps up on Sunday, June 10.
Opening weekend, June 1 to 3, was a blast. My personal highlight was watching New York City-based saxophonist, vocalist and bandleader Camille Thurman absolutely annihilate the oft-covered Cole Porter tune "My Heart Belongs to Daddy" at the FlynnSpace. With the support of the effervescent Darrell Green Trio, Thurman left no key unpressed on her horn as she delivered one mind-bending solo after another.
With the closing weekend looming, here are a few highlights to consider as you're planning your BDJF endgame.
Two back-to-back tributes make Thursday, June 7, an action-packed evening. The Unknown Blues Band and friends pay their respects to late local legend Big Joe Burrell at Club Metronome. And at Hotel Vermont's Juniper, trumpeter Ray Vega teams up with a group of players to honor the late, great John Coltrane.
Courtesy Photo
Patricia Julien
On Friday, June 8, San Franciscan vibraphonist Sasha Berliner teams up with Vermont native trumpeter Jennifer Hartswick, University of Vermont music professor Patricia Julien and festival artist-in-residence Anat Cohen for a panel discussion regarding women in jazz. In 2017, Berliner published an open letter to the jazz patriarchy at large regarding sexism in the genre, and it started a microcosm of the #MeToo movement within the jazz community.
Following the missive, Berliner and 13 other artists — including vocalist Imani Uzuri, bassist Linda May Han Oh and ethnomusicologist Tamar Sella — formed the We Have Voice Collective. Together, they issued a code of conduct for behavior within the performing arts community, particularly in improvisational music. It defines concepts such as what consent really means, what constitutes a workplace and how sexual harassment is defined — all of which are exceptionally important topics.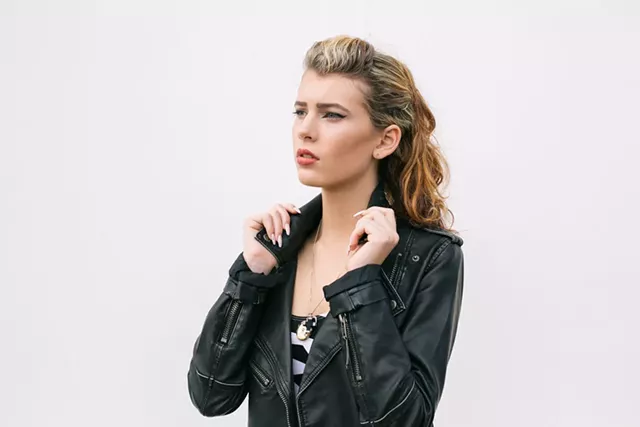 Courtesy Photo
Sasha Berliner
The biggest party on Saturday, June 9, is the Belizbeha reunion at the Waterfront Tent. Mainstays of the local scene from the '90s into the early '00s, the acid-funk ensemble reunites every few years or so to rip it up. Also on the bill are soulful blues trio Dwight & Nicole and psych-pop quintet Madaila. And following the show, a '70s funk group called the Medallions — who share a lot in common, looks-wise, with Madaila — take on after-party duties at Club Metronome.
And finally, if you aren't watching Rhiannon Giddens' and Amythyst Kiah's takeover of the Flynn MainStage on Sunday, June 10, I recommend you simply wander around and let the sound spilling out of bars, restaurants and clubs draw you in. You shouldn't have to walk more than a block or two off of Church Street to find something dope.
Hack and Slash
On Wednesday, May 30, ticketing website Ticketfly shut itself down amid a potential data breach. Initially labeled with the vague and ominous descriptor "cyber incident," we now know that personal information from approximately 26 million customers was "compromised" — including my own. Using the website haveibeenpwned.com, I discovered that there's a good chance I am one of the millions of concertgoers whose name, address, email address and/or phone number has been hacked. Luckily, as the financial information website MarketWatch points out, there's no evidence that credit card or password info was compromised.
Ticketfly went partially back online on Sunday, June 3, and ticket sales have resumed. But for the preceding four days, websites of venues from across the country were shut down or unable to process online ticket sales, including South Burlington nightclub Higher Ground, as well as Nectar's and Club Metronome in Burlington. If you were having trouble purchasing tickets and had no idea what the hell was going on, now you know.
On Sunday, Higher Ground posted the following message on its Facebook page: "Ticket links for all events (including offsite shows at [the Shelburne Museum] and Burlington Waterfront) are back up and running. Our website, however, is still down. We will continue to push out ticket links through our social media channels. Thanks for sticking with us on this."
As of press time, online tickets were up and running for Higher Ground, Nectar's, Metronome and other known Ticketfly venues in various national markets.
Petal to the Metal
Last week, Seven Days released the full list of 2018 Seven Daysies finalists. If you don't know what that is, it's our annual celebration of the best Vermont has to offer as chosen by you, the readers. From burgers to vocalists to wedding venues, you made the nominations, and starting Monday, June 11, you can vote for your faves. Congrats to all the people, products, services and businesses represented!
As per usual, there were some grumblings about certain nominees in certain categories. Without getting into particulars — because I don't think that will serve anyone well at this point — I want to stress the importance of voting in next year's open nominations round. That's when you can really influence what ends up on the final ballot. Everyone starts out on a level playing field, and if you don't rock the vote, well, you don't have much right to complain.
To dispel a potential misconception: You can nominate yourself. Like, this isn't a middle school election where you're not allowed to vote for yourself. We promise not to give you detention for slipping your own name into the digital ballot box. If you think you or your business are the best, you should nominate yourself!
I'd also love to see more people actively lobbying in the open nominations round, particularly in the music community. Many people launch full-scale campaigns during the final voting round, but I'd argue that it's even more important to participate in the first part of the process. Just a few thoughts for next year. I guess I'm a sucker for friendly competition, and it's always better with more players.
Listening In
If I were a superhero, my superpower would be the ability to get songs stuck in other people's heads. Here are five songs that have been stuck in my head this week. May they also get stuck in yours. Follow sevendaysvt on Spotify for weekly playlists with tunes by artists featured in the music section.
Tommy Cash, "Pussy Money Weed"
Years & Years, "If You're Over Me"
Myra Flynn, "Hostage"
The Mountain Carol, "The Party's Over"
Ritual feat. Delilah, "Too Deep"