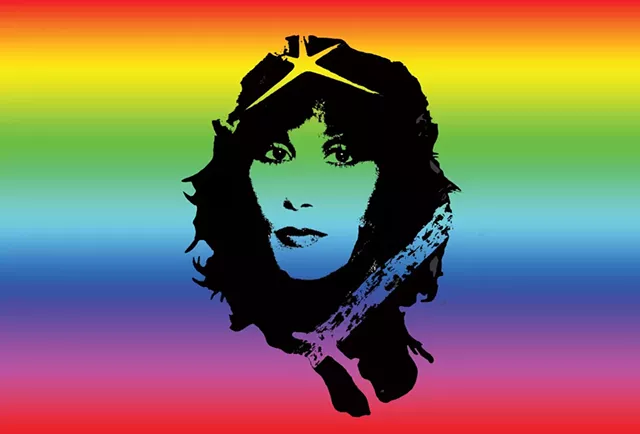 John James
Cher Guevara
800-Pound Guerrilla
I know it seems like every few weeks or so I preface a feature or a section of this column with a statement along these lines: We're lucky to have such a vast selection when it comes to local nightlife. Well, it's true, damn it! Sure, the entire state is not a highly concentrated adult playground of bars, clubs and chic eateries. But you have to live pretty far out in the boonies to be beyond a 30-minute-or-so drive of some form of live entertainment.
Burlington, of course, bursts at the seams with music, theater, dance and comedy happenings. But there's one thing missing from the Queen City — actually, from the whole state. I'm referring to Vermont's lack of an LGBTQ bar.
I don't think there's any point in pretending we don't remember 2017's Mister Sister fiasco and the column I wrote that perhaps fanned the flames that had more or less cooled to glowing embers. The Winooski-based watering hole broke Vermont's 10-year dry spell of not having an LGBTQ bar, but it was only around for a few months before tanking. Tabula rasa.
We'll never know whether Mister Sister's closure was due to the controversy surrounding its name — which some claimed was a transphobic slur — or because Vermont's small (and aging) population isn't substantial enough to support a full-time queer bar. (Or maybe it was something else entirely.) However, an event last weekend might have suggested that the state is ready to try again.
A few weeks ago, an event page started circulating on Facebook for something called Inaugural Guerrilla Queer Bar Takeover. Other than a date of Saturday, August 11, only the following information was listed: "It's the first guerrilla queer bar takeover of Burlington! This will be updated with the location shortly before the party." Um, what?
It turns out the term Guerrilla Queer Bar — or, more typically, Guerrilla Gay Bar — is a title given to similar events all over the country. Here's the gist, as explained on Guerrilla Queer Bar of Burlington's Facebook page: A date is set for a Guerrilla event, and interest is generated via social media. Then organizers select a non-gay bar — sometimes pejoratively referred to as a straight bar — as the location, and attendees of the Guerrilla event show up and "take over" the space. In other words, this event could have happened at literally any bar in Burlington, since none is specifically queer.
To me, it sounded like a gathering you'd find on meetup.com — only with catchy, pointed marketing. For instance, an image of gay icon Cher is styled to look like Argentine revolutionary Che Guevara. And it turns out the warfare-style branding worked pretty darn well. By the end of last week, more than 500 people had checked either "interested" or "going" to the event. Five hundred people? That's a lot. That's almost double the capacity of Higher Ground's Showcase Lounge, which occasionally holds the First Friday queer dance party.
On Saturday morning, the location was announced: Three Needs Brewery & Taproom. Fun fact: The dive-y neighborhood hang just revamped its back patio with some sweet lounge furniture, so I was keen to sprawl out on one of the new, plush couches and see what all the fuss was about. The event's enigmatic organizer included a picture of his T-shirt on the event page so attendees would be able to find him, should they wish. Being a journalist, it was my No. 1 priority.
Shortly after the event's start time, a friend and I popped by to check it out. I can't say I've spent enough Saturday nights at the Needs to gauge whether it was more crowded than usual — but it was by no means empty. Scores of people milled about — though there was no way to know who was there to "take over" and who had come just to throw back a few and shoot some pool.
I quickly located pop-up event host Evan Litwin, who works at the University of Vermont. (Please be advised that the Guerrilla Queer Bar Takeover is in no way connected to or sponsored by UVM.)
"I started thinking, This is exactly what Burlington's waiting for," said Litwin. "What I wanted to create was an event that brings people of all ages, all sexual and gender identities together.
"We don't need to wait for somebody to create that space for us," he continued. "We can create it wherever we want. We're lucky enough to live in Burlington, where we can take space in predominantly hetero- and cis-normative environments and be safe."
Litwin says that his decision to launch the recurring event at the Needs was specific and intentional. Aside from meeting criteria for physical and financial accessibility, the bar sits about a block away from the site of 135 Pearl, Burlington's beloved, long-running queer bar that closed in 2006.
"We're not gaining financially from this," Litwin stressed. "We're not cutting deals [with bars]. We're not organizing this to benefit anyone but our community. [And] we're not letting people say, 'No, we can't accommodate you.'"
To be clear, Guerrilla Queer Bar Takeover is not the only LGBTQ club event in town. Burly Bear regularly hosts events at Red Square, such as its upcoming everyBODY, EVERYbody event on Sunday, September 9. The Monkey House in Winooski is home to drag and burlesque event Untapped. And Esox hosts a queer happy hour every Sunday afternoon.
What's remarkable about the Guerilla Queer Bar Takeover is the magnitude of interest the untested party garnered in a relatively short amount of time. Now, did 500-plus people actually descend on the Needs? No, but Litwin reckoned that approximately the same number of people showed up who had said on Facebook that they were "going."
"Everyone fits here," he said. "There are people who are gender-nonconforming and asexual. This is a space for them. This is exactly where we want them to be."
Philosophically speaking, I think the ethos behind Guerrilla Queer Bar Takeover is inspiring and admirable. But the more I thought about it, the more I wondered about the mechanics of the event. Hear me out.
Say you are a queer person and you're looking for community. How exactly does someone walk into an event like this and safely land with others who are there for the same thing? As far as I know, there's no way to tell just by looking at someone whether they're queer, trans, asexual, straight or whatever. After all, attendees are insinuating themselves into a space potentially full of people unaware that any event is even happening in their midst.
I suppose you could just walk up to people and ask if they're there for the takeover. But that can be daunting — especially for someone who's been shunned or shamed in public spaces. If the event is community focused, in short, how do people find their community? As the event continues to grow, hopefully these questions will be answered.
The next Guerrilla Queer Bar Takeover will take place on Friday, September 7 — location TBA, of course. Of note: The event coincides with Vermont's pride weekend celebration.
Listening In
If I were a superhero, my superpower would be the ability to get songs stuck in other people's heads. Here are five songs that have been stuck in my head this week. May they also get stuck in yours. Follow sevendaysvt on Spotify for weekly playlists with tunes by artists featured in the music section.
Emily Wells, "Johnny Cash's Mama's House"
Rationale, "Prodigal Son"
Planningtorock, "The Breaks"
Sam., "Don't Call Me"
Aztec Camera, "The Crying Scene"