Courtesy of Luke Awtry PHotography
Barika with Kat Wright on the Lakeview Garage roof
Before we dig into the remaining days of the Burlington Discover Jazz Festival, I have a plea: Oh, great and mighty Sun, what have we, the common mortals who walk the muddy plains of this floating blue marble called Earth, done to anger thee? Have we offended you? Why do you hide your nurturing glow from revelers who search for a mere spot of sunlight in which to frolic? As we set out for another weekend of BDJF, we beseech you, oh radiant sphere of plasma, please do not hide yourself. For 'tis truly more enjoyable to bask in your warmth than to cower under awnings to stay dry and to pull tight the drawstrings of our collective hoodies to conserve body heat.
Now, back to business...
Despite the low temperatures and on-and-off drizzles, the first weekend of BDJF was wonderful. A few highlights:
Pink Martini were a delight at the Flynn MainStage last Friday. The 11-piece band included the requisite jazz instruments — nylon-stringed guitar, trombone, conga, etc. — but also English horn, a rarity for a standard lineup. Vocalist China Forbes sang in numerous languages, including English, French, German and Farsi — mostly about getting heart-stomped. She and the group's founder/pianist Thomas Lauderdale delivered witty and sparkling patter throughout, frequently poking fun at their lovesick repertoire. C'était divin.
The tribute to Wayne Shorter last Saturday at Juniper drew the biggest crowd I've ever seen at that venue. I'm definitely not a crowd scientist, but I'd say there were at least 150 spectators — probably more. Though you won't catch this precise group — Ray Vega, Brian McCarthy, Rob Morse, Geza Carr and James Harvey — performing the same set during the remainder of BDJF, certain members have some additional dates.
For instance, you could head to Juniper on Wednesday, June 7, to see Vega and his Latin jazz quintet. On Saturday, June 10, Harvey headlines the City Hall Stage on Church Street, and Morse brings his new project, Robinson Morse's Sound of Mind, to Radio Bean. Check out our review of their debut album, Enough Is Plenty.
And then there was Barika's intoxicating performance atop the Lakeview Garage behind Hotel Vermont. I'd guesstimate that close to 400 attendees hiked up to the structure's fifth floor for this special show. The group's psychedelic, West African fusion filled the downtown air, and our sources tell us it could be heard at least as far away as the intersection of North Avenue and North Street.
Just before the end of their set, Kat Wright joined the band for a mind-blowing performance of "There for You," a collaboration that appeared on Barika's most recent full-length record, When the Time Comes. If you missed their rooftop gig, you can catch them this Friday, June 9, at Nectar's.
As I wove my way through the crowds of adults, teenagers, children and dogs, I repeatedly overheard the same sentiment: more parking-garage rooftop concerts, please. Is there anything we can do about this? With any luck, we have a long summer ahead of us...
For clips of some of these performances plus a ton of others, make sure to check out this week's episode of "Stuck in Vermont," which airs on Thursday, June 8.
Jazz Fest: Second Weekend Preview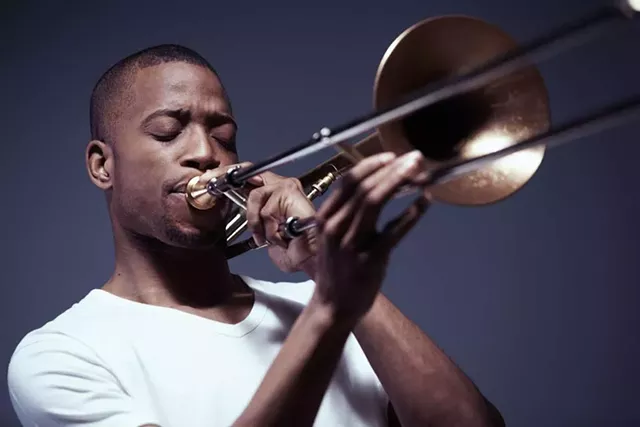 Courtesy photo
Trombone Shorty
We're just past the halfway point on this year's BDJF. If you've yet to discover any jazz, you still have time. So, what looks good for the fest's remaining days? As is always the case, way too much for a comprehensive preview. But here are a few things that look especially delectable to me.
Last week, I focused on a number of free shows. This week, you're going to have to drop a few bucks for some of my recommendations.
The Waterfront Tent shows should be at the tippy-top of your to-see list. (What is it about partying in a giant tent that somehow feels extra special?) Trombone Shorty & Orleans Avenue party like it's Mardi Gras on Thursday, June 8. New Breed Brass Band and BlakDenim start the celebration, and DJ Fattie B fills in the gaps.
Speaking of tent shows, I'm pretty much freakin' out about Arrested Development, though I'm not quite sure what we can expect. Given that the hip-hop group peaked in the early '90s, I'd say a heavy dose of nostalgia. But, technically speaking, the bulk of their catalog was produced post-2000, when the band re-formed after several years of hiatus. So who knows?
Opening duties for AD fall to the charismatic composer Michael Mwenso and his band the Shakes, as well as local tribute act Operation: Prince featuring Craig Mitchell and the Purple Ones. Methinks some stretching, a high-protein meal and a 5-hour Energy are good ways to prep for this show.
Those are but two of a bajillion other happenings. Some other noteworthy picks: On Friday, June 9, catch the AccaFella at Radio Bean. This Sinatra-crooning old-timer is probably the only person ever to call Seven Days and leave us a musical voicemail. You could watch New York City's Rude Boy George give your favorite New Wave tunes a ska makeover on Saturday, June 10, at Red Square. And on Sunday, June 11, maybe sit down to dinner at Leunig's Bistro & Café with the swing-sational Lewis Franco & the Missing Cats.
Check out discoverjazz.com for complete listings, locations and show times.
BiteTorrent
There's a new booking and promotion crew in town called Hope All Is Well, which aims to "bridge the gap between DIY and legitimate promoter[s]." Seven Days contributor Amelia Devoid has the full scoop in her weekly Playtime series on the 7D arts blog, Live Culture. Check it out this Friday, June 9, for details about whom we can expect to see at the collective's debut presentation.
Did you get a chance to listen to Swale's "Release Your Records"? It's the lead single from their new album, There's No One Here, due out July 7. The new track debuted on Live Culture last Friday.
Not unrelated: We'd like to debut more local singles on LC, perhaps on a weekly basis. Does your band have a new tune coming out — maybe preceding a new album — at some point in the near future? Shoot it my way.
Robert Lighthouse, a Swedish-born master of Mississippi Delta blues, makes his Vermont debut next week on Wednesday, June 14, at ArtsRiot in Burlington. A group of area music makers, dubbed the Vermont Blues Allstars, join him for this special performance. Players include drummer Steve Hadeka, bassist Alex Budney, rhythm guitarist Eric Segalstad and saxophonist Matt Davide. Joe Adler and Marcie Hernandez's new indie-folk project, a.m. rejoice, opens.
Listening In
If I were a superhero, my superpower would be the ability to get songs stuck in other people's heads. Here are five songs that have been stuck in my head this week. May they also get stuck in yours. Follow sevendaysvt on Spotify for weekly playlists with tunes by artists featured in the music section.
Air, "Sexy Boy"
When Saints Go Machine, "Pins"
Lo Moon, "Loveless"
Gary Lewis & the Playboys, "Count Me In"
Metronomy, "The Look"