They grow up so fast, don't they?
It seems like only yesterday that beloved Burlington hipster haunt Radio Bean was but a fledgling, funky hole-in-the-wall on North Winooski Avenue. In some ways, I suppose the little-coffee-shop-that-could is still exactly that. But since Lee Anderson opened the shop in November 2000, it has become so much more.
For those who didn't bother to do the math, this weekend Radio Bean turns 16. (Insert lame joke about the café getting its driver's license here.) As has become one of the Queen City's grandest traditions, this Saturday, November 5, the Bean will again host a daylong birthday bacchanalia featuring free coffee, free pancakes and, as always, nearly every damn band in town. This year that's more than 80 acts spread over three stages — two at the Bean and one at the adjacent-ish Light Club Lamp Shop.
In the interest of full disclosure, I should mention that — for reasons still unclear to me — I'm among the scheduled performers this year. But there are at least 79 real musicians you should go see. For example...
The top of the marquee features the current kings and queen of the local realm, Madaila and Kat Wright and the Indomitable Soul Band, both of whom are releasing highly anticipated — and, spoiler, fucking rad — albums this month. Other notables include Grundlefunk, Heloise and the Savoir Faire, Swale, Mal Maiz, Guster's Ryan Miller, Binger, Steady Betty, Blue Button, Cave Bees, Paper Castles, Barbacoa, Michael Chorney, the DuPont Brothers, the Eames Brothers, Kat Wright & Brett Hughes, Silver Bridget, Osage Orange, and so, so many more.
Here's another interesting tidbit: The event page on Facebook lists the Honky Tonk Tuesday Bands — plural. I do believe that means that both Hughes' OG honky-tonk crew and the current iteration helmed by Eric George will be playing. I wonder if they'll trade tunes on the two Bean stages? If not, they should. (Another disclosure: There are roughly 37 personal conflicts of interest in that last paragraph alone. Don't you love Burlington?)
For years, I've fantasized about doing what I've taken to calling the Radio Bean Birthday Marathon. That means showing up at 8 a.m. when Party Star/Dino Bravo traditionally open the show — usually after partying all night — and staying through until closing time. It would be a monumental feat of endurance and alcohol, er, coffee consumption. Though I've sworn I'd attempt it one of these years, I believe the moment may have passed me by. Aging rock critics need their beauty sleep for optimum snark. But this is why God invented assistants.
Seven Days' factory-fresh assistant music editor, Jordan Adams, will attempt the Bean Marathon this year. Why? To quote George Mallory, "Because it's there." Also because I'm making him.
Kidding. Adams is undertaking this challenge of his own volition/insanity. You can read all about his adventures on our arts blog, Live Culture, next week.
Happy birthday, Radio Bean!
Poll Watchers
By the time we reconvene here next week, American voters will have collectively decided upon the next leader of the free world. Or the country will have descended into a fiery hellscape of chaos and disorder. Or all of the above. I'm scared.
If election night — Tuesday, November 8 — is indeed the final night of the American experiment, we might as well spend it partying. Hard. And few local bands party with as much sloppy, patriotic fervor as Burlington's the Dirty Blondes. The band hosts its fourth election party, Exit Poll, at Nectar's on Armageddon, er, election night.
Normally, this would be when I disclose that DBs co-front woman, Diane Sullivan, is a Seven Days employee. But if Donald Trump wins, he'll likely revoke the First Amendment and use the puréed carcasses of journalists as mortar for his Mexican border wall. So, to hell with journalistic ethics.
In addition to the Blondes — who, I'm told, have practiced at least once for this show — the evening will include appearances by locals Rue M. (formerly Rue Mevlana), Astro Cat, James Kochalka Superstar, Crazyhearse, Dino Bravo and Asperos Saicos. But wait, there's more!
Velvet Patsy will offer a rendition of "America the Beautiful" and Patrick Longley will play "The Star-Spangled Banner" on guitar. Adds Sullivan via email, "God knows what other things might happen."
Actually, I'm not sure even He — or She — does.
BiteTorrent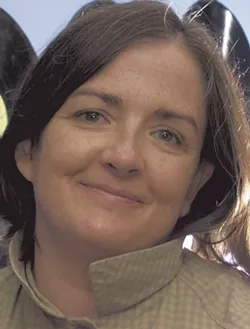 Congratulations to Kathleen Kanz! Last Friday, October 28, Kanz won the 2016 Vermont's Funniest Comedian contest at the Vermont Comedy Club in Burlington. Kanz is among the state's most respected and longest-tenured comedians. She founded the Green Mountain Comedy Festival and has been one of local comedy's most important figures both onstage and off. But, until this year, she had never advanced past the VFC's first round.
Here's something else that's pretty nifty: Kanz is the first woman to win the contest. In doing so, she gets a slew of prizes, the coolest of which is an audition for the New Faces showcase at the Just for Laughs festival in Montréal. Oh, and get this: Kanz was the first person to give local comedian Natalie Miller a spot in a standup show, many years ago. Miller and her husband, Nathan Hartswick — aka, the First Couple of Vermont Comedy — now own the VCC. How's that for full circle?
Congrats also to the four other 2016 VFC winners: Josh Star (second place); Tim Bridge (third); Mike Thomas (fourth); and Tracy Dolan (fifth). All will appear at the Best in Show showcase at the 2017 GMCF.
Improvisational music heads, take note: This Friday, November 4, the Monkey House in Winooski hosts a pair of intriguing improv bands. The headliners are Gigantosaurus Rex, a NYC-based trio that blends livetronica and intelligent dance music with progressive jazz and even spoken word.
Openers are local "iNprov" ensemble the le duo, who are still riding high on the release of their 2016 album, Boogaloo for Improvisors. That was one of the more fascinating and accessible recordings to come out of the Vermont experimental scene this year.
Last but not least, mark Saturday, January 21, on your Google calendar right this very minute. That night, at Higher Ground in South Burlington, late, great local rockers Rocketsled will reunite for one night only in honor of the great — and maybe late? — 242 Main.
We'll have more on all of this closer to the show. But fans of the 1990s Queen City heavy music scene will undoubtedly remember Rocketsled fondly. Fun fact: My 7D predecessor, Casey Rae, was their front man. Details of the show are still in the works. But four or five era-appropriate acts are expected to be on the bill. One band that is confirmed: BTV punks Jesus Nut, which is making my inner 15-year-old positively giddy. Stay tuned...
Listening In
A peek at what was on my iPod, turntable, eight-track player, etc. this week. Follow sevendaysvt on Spotify for weekly playlists with tunes by artists featured in the Music section.
Lydia Loveless, Real
Lambchop, FLOTUS
American Football, American Football
Leonard Cohen, You Want It Darker
Jimmy Eat World, Integrity Blues