Courtesy of Lee Anderson
Radio Bean
Full of Beans
It's kind of hard to believe, but Radio Bean turns 15 this weekend. That's a significant milestone, especially for a joint that was perilously close to going under as recently as its 10th anniversary. So I've been thinking a lot about the Bean in recent days, about just how the hell 15 years have passed and what that really means on scales both large and small.
To the latter, here's a quick personal story: I moved back to Burlington in 2002 in large part because of Radio Bean. I had been living in Boston, ostensibly to try my hand as a musician in a bigger town — stop me if you've heard that story before. But I had a hard time finding other musicians to connect with there. I found it cold and isolating. I would come home to Vermont fairly regularly and often found myself at the Bean, usually to watch a band called the Lazy Songwriter, which featured my siblings and my old friend Arthur Adams. I loved the band — and still do, on those occasions when its members reunite.
But I was equally enamored of the vibe and sense of community at the Bean itself. It struck me that everything I'd been vainly searching for in Boston was right in that funky, brick-walled room. I soon moved home, commandeered Arthur's band when he moved away and have never looked back.
For many years after, the Bean was a second home. That little band of mine grew up on its cramped stage. I've fallen in love there more times than I can count. I know many others who fell in love there and are now married. I learned a bunch of honky-tonk songs along the way, and forgot even more of them. I've seen many of my most favorite shows there. I've mourned there.
As I get older, I find I don't hang out at Radio Bean nearly as much as I used to. Yet, when I do, it feels as comfortable and welcoming as ever. The faces have changed and so has the shop. But so much remains blessedly the same. It's not a stretch to say that my life would be very different if Radio Bean didn't exist. And my story is not unique.
Maybe you didn't move to Burlington explicitly because of the Bean. But you might have come here, or stayed here, because of the scene that's grown up around it, and because of how that culture has manifested in innumerable ways around Burlington and beyond. The Bean is a melting pot, an incubator, a petri dish. It's impossible to count the number of bands that have been born and raised at the Bean, or the personal, professional and artistic connections that have been made there. As a result, the artistic and cultural landscape in Burlington has been vastly changed for the better since Lee Anderson poured his first cup of coffee behind that cluttered counter.
It's said that a rising tide lifts all boats. I've been saying for the past several years that the music scene in Vermont, and Burlington especially, has never been more vibrant, diverse and dynamic. We have more great clubs and great promoters and great artists right now than ever before. To say the quality and quantity of local music has never been stronger is not lip service. I honestly believe that. I also believe that it's possible to pinpoint when that musical tide started rushing in. It was 15 years ago, when a quirky dude from Minnesota maxed out a bunch of credit cards to open a funky coffee shop at 8 North Winooski Avenue in Burlington.
This Saturday, November 7, Radio Bean will host its annual daylong birthday bash. As of this moment, Anderson and co. haven't unveiled all of the specifics of the party. But they don't really need to. We know what will happen, starting at 8 a.m.: Practically every band in Burlington will appear on that stage at some point during the day or night. If tradition holds, Dino Bravo will lead things off, quite possibly after partying all night and into the morning. And then some 80-plus acts will play, either in the Bean or in the adjoining Light Club Lamp Shop. There will be free coffee and pancakes. Someone will fall in love. Someone else will have an idea for a band. I'll probably have one too many Five Dollar Shakes and then forget my card at the bar. And it will be one of the best days of the year in Burlington.
BiteTorrent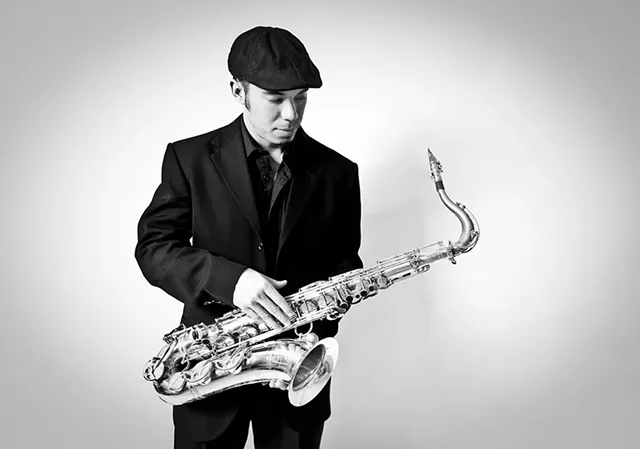 Courtesy of Brian McCarthy
Brian McCarthy
Jazz fans take note: Local sax ace Brian McCarthy is debuting a unique chamber-jazz show called "The Better Angels of our Nature" at the FlynnSpace on Friday and Saturday, November 6 and 7 — including a matinée on Saturday.
History buffs might recognize the title of the program as an Abraham Lincoln quote. No, Honest Abe was not a jazz fan, since the genre hadn't been invented yet. But he did preside over certain fundamental historical events that would pave the way for that to happen.
Historian Shelby Foote described the Civil War as opening America "to being what we became ... good and bad things." Among the good things is that, in the aftermath of the war, America's cultural compass was reset, eventually leading to a flood of artistic advancement in the African American community. That includes what is likely the country's most significant artistic contribution: jazz.
McCarthy's program, commissioned by the Vermont Arts Council, Vermont Community Foundation and the National Endowment for the Arts, consists of popular songs from the Civil War era reinterpreted through a jazz lens, as well as original material based on historical figures and events. A preview track on his website, "Battle Cry of Freedom," is a good example. McCarthy's version gives the song's famous melody a hard bop twist and funky syncopation, transforming the tune into something both oddly familiar and completely new.
Though it's not known for live music, Finnigan's Pub in Burlington has quietly had a pretty good run of local shows lately, including the recent return of Wave of the Future with the Mountain Says No last weekend. The music continues this Friday, November 6, with rockers Blue Button and Heavy Plains.
Speaking of good runs, the Skinny Pancake has had some awfully interesting stuff in recent weeks, especially for indie-rock fans. That trend continues this week when locals Paper Castles, Wren Kitz and Violet Ultraviolet set up shop there on Saturday, November 7.
Courtesy of Waylon Speed
Waylon Speed
Last but not least, Waylon Speed are opening for Futurebirds at the Higher Ground Showcase Lounge on Thursday, November 5. That's pretty cool on its own. But what's really cool is that the cats from Future Fields are recording the show for a live album. What's really, really cool is that the recording will actually become a double vinyl live album to be released in spring 2016 — presumably pressed at drummer Justin Crowther's Burlington Record Plant. Perhaps you're wondering what the second record might be? A live acoustic set from the Marble Valley Regional Correctional Facility in Rutland.
Listening In
A peek at what was on my iPod, turntable, eight-track player, etc., this week.
Def Leppard, Def Leppard

Car Seat Headrest, Teens of Style

Sun City Girls, Torch of the Mystics

Patrick Cowley, Muscle Up

Bee Caves, Animals With Religion