File: Matthew Thorsen ©️ Seven Days
Matt LaRocca
You've probably noticed that the Seven Days music section is a lot smaller than it used to be. Hell, the whole paper is smaller, given that we aren't currently listing events of any kind in print. Not that there are many to list these days.
And instead of having a weekly music feature and an installment of this column, it's been one or the other since the pandemic set in. That means we haven't had nearly enough space to cover some of the fun, cool things local musicians have been working on lately. Read on for quick hits and tidbits of musical happenings.
BiteTorrent
In case you were wondering, Record Store Day 2020 is still on, but in a slightly different way. The celebration of independent record stores was supposed to happen back in April, as it usually does. But concerns over the pandemic prompted the event to be pushed back to June — and then again to Saturday, August 29. This week's event is actually the first of three. In order to (hopefully) keep crowds small, Record Store Day will be rolled out over two additional Saturdays: September 26 and October 24. So get out there and support your local record stores! I'm sure they'll appreciate it.
It's with a heavy heart that I bid adieu to one of my favorite local artists, Ebn Ezra. Real name Ethan Wells, he recently released his final work under the moniker, an EP simply called Piano. Entirely instrumental, it puts glossy electric piano sounds up front, gently weaving emotional landscapes like an '80s film score. Wells writes in an email that he's begun working on a new project with a new name that should be available to listeners soon. His 2017 album, Pax Romana, was among my favorites of that year. Check out his music at cadentrecords.bandcamp.com.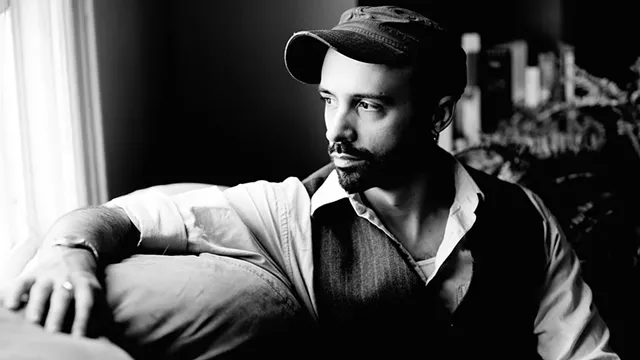 Courtesy Of Kyle Saunier
Kyle Saunier
Remember the VT Quarantine Collective? The eclectic ensemble, helmed by composers Kyle Saunier, Matt LaRocca and Christopher Hawthorn, debuted in May with a sprawling, experimental composition called "here behind the glass." The group is back and bigger than ever with a new video collaboration with indie-pop singer-songwriter Francesca Blanchard.
Showcased in a "border-crossing project of enormous proportions," according to an email from the collective, the group reimagines "Make It Better," the title track from Blanchard's recently released album. Beginning with a small ensemble of musicians, some of whom perform with the Vermont Symphony Orchestra, the video slowly unfurls into a choral, orchestral explosion, constructed from videos shot individually by participants in their homes. Blanchard's original version was already powerful, but the new clip jacks it up to a whole new level of awesomeness.
Speaking of the VSO, its collaborative performance with Lyric Theatre, part of the Flynn's new Hurly Burly series, was postponed from Sunday due to weather concerns. The show will likely be rescheduled for some point in the near future.
Can we talk for a second about the new alcohol curfew in Burlington? In case you missed it, the Burlington City Council decided last Thursday to curtail alcohol sales at bars and restaurants at 11 p.m. until Monday, September 14, in anticipation of the return of area college students. I'm not sure how they arrived at that arbitrary cutoff, and I'm pretty sure the coronavirus doesn't care what time it is when it infects people. The measure is meant to ensure people's safety, but it can only ensure pissing people off. Ah, politics.
Plattsburgh/Saranac, N.Y., psych-pop group the Mountain Carol just dropped a new two-track EP, Brother Bloom. Recorded at Leilani Sound in Burlington, it includes a reworking of the band's song "Essex Ferry," which first appeared on its 2018 LP, Starkiller and the Banshees."
The band's Matt Hall notes via email that it will continue to rework and release existing songs on future releases, writing, "We just like to take the songs at different tempos and styles depending on how we are feeling at that moment." He also hints that another full-length album is imminent. If you aren't familiar with this trio of oddballs from across the lake, now's a good time to check them out.
Higher Ground presents a pair of highly anticipated drive-in shows this weekend at the Champlain Valley Exposition in Essex Junction. Vermont-born country singer Jamie Lee Thurston takes the stage on Friday, August 28, while Nicole Nelson (Dwight & Nicole) and Bob Wagner (Kat Wright) present Million Dollar Bash, a tribute to Mavis Staples and Bob Dylan, on Saturday, August 29.
If you haven't checked out HG's drive-in events at the Expo, you should get on it, because this is one of the last weekends. Right now, only Columbus, Ohio, folk band Caamp are booked, on Tuesday, September 22. The band was meant to play at Higher Ground in April. The shows, which benefit the Vermont Arts Council and Burlington City Arts, are the closest thing to a true concert experience you're likely to find this season.
Riot-rockers Rough Francis are set to appear on the soundtrack to Vicarious Visions' new remake of Tony Hawk Pro Skater 1 + 2, out on Friday, September 4. NOISEY just released a promotional video featuring the band playing its contribution, "Deathwire," a track from its 2020 LP Urgent Care. Watch it on YouTube.
University of Vermont spaz-rockers Pons just dropped a new track, "Subliminal Messages." Body-jacking beats, shouted lyrics and psychedelic swirls of sound converge for an intelligent and confrontational take on dance music, a specialty of the young trio. As the group's Jack Parker points out in an email, "'Subliminal Messages' deals with themes of paranoia surrounding technology and the frustration of someone being an overbearing presence when you're just trying to be left alone." Pons also plan to drop a new LP, INTELLECT, in September. Listen to "Subliminal Messages" at ponsbandofficial.bandcamp.com.
The Ripton Community Coffee House, a staple of Addison County's rural music scene, is going virtual. On Saturday, September 5, folk singer-songwriters Cliff Eberhardt and Louise Mosrie break in the new online format. Find the streaming link at rcch.org.
Sizzling blues and rock outfit Sarah King & the Guilty Henchman recently dropped a striking, pastoral video for the traditional tune "Columbus Stockade Blues." Directed by Christian James, the clip is set entirely on a working Addison County farm and features "some rather large co-stars who kept things entertaining," as King points out by email, referring to some accompanying equine beauties. See it on YouTube.
Listening In
If I were a superhero, my superpower would be the ability to get songs stuck in other people's heads. Here are five songs that have been stuck in my head this week. May they also get stuck in yours.
Will Keeper, "Queen"
Dragonette, "Stupid Grin"
Kiesza, "Crave"
Kylie Minogue, "I Should Be So Lucky"
Kelley Polar, "Cosmological Constancy"
Correction, September 1, 2020: An earlier version of this story contained an error regarding Plattsburgh band the Mountain Carol's track, "Essex Ferry." The song appears only on its album Starkiller and the Banshees and two-track EP Brother Bloom.