Matthew Thorsen
Eric George
Open mic nights are a staple of any thriving music scene. Aside from giving folks who may not have another outlet an opportunity to share their art, open mic nights tend to stoke the community's creative fires. They're a great place to network, support your friends and, frankly, be seen by your local-music-loving neighbors. Especially for new artists, exposure can be hard to come by. And few open mics have helped introduce as many new acts to Burlington audiences as those hosted by Radio Bean.
Beginning in February, major changes are coming to the venue's open mic. For starters, it's going weekly again — on Monday nights, specifically. Owner Lee Anderson and co. also plan to experiment with a new format that has the potential to be groundbreaking — or, at the very least, to reinvigorate a fundamental element of the Burlington scene.
For years, the Bean's open mic was more or less the go-to for Queen City singer-songwriters. I have tons of fond memories from the early 2000s watching my brother and his bandmates play the weekly gig. Back then, I was still underage, and the coffee shop was one of the only places I could regularly go to see live music in a casual setting. (The importance of all-ages music venues and the dwindling number of them is a discussion for another time.)
Around 2015, the Bean halted its weekly open mic, which had been running for nearly a decade and a half at that point.
"It was getting a little bit stale, with the same people coming each week," Anderson said in a recent phone call. "It was becoming monopolized by a few people."
"It stopped feeling like a community of supportive artists and [began feeling] more like a competition for 15 minutes onstage," local twang master Eric George said by phone.
According to the folk singer — who also plays in the Bean's Honky Tonk Tuesdays house band, Ponyhustle — the session had gotten to the point where people would show up early to get their names on the sign-up sheet and then take off, only to return a few minutes before their set.
George reincarnated the open mic in 2017, about two years after its initial cancellation. In his revamped, monthly version, he eliminated the sign-up process, opting for a name-out-of-a-hat method. In other words, you wouldn't know when you were going on until just before. That ensured people would stay present and not just dip in and out as it suited them.
George acknowledged that the monthly schedule caused some confusion: Because some months had five Tuesdays, it wasn't always clear whether the event was held on the fourth Tuesday or the last Tuesday.
"I think in order for [an open mic] to work, it requires some regularity," George said.
And regularity it will have — sort of. As previously noted, the session is returning to weekly status. But it's not at the Bean anymore; it's two doors down at the café's sister space, the Light Club Lamp Shop. Dubbed Open Circuit, the event will follow the spoken-word gathering Lamp Shop Lit Club, which also takes place every Monday.
Rotating themes will ensure variety. The first Monday of the month is called Songsters. It's likely going to feel the most like a traditional open mic night. Solo singer-songwriters will take the stage, along with a curated selection of a few invited guests.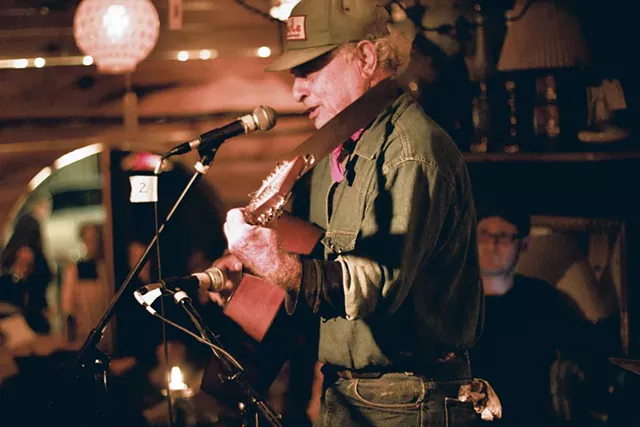 Courtesy Of Bloom Machine Photography
Tom Banjo
The second Monday is all about PCP: puppets, crankies and pantomimes. (If you got excited thinking PCP referred to something else, please seek treatment.) Shadow puppetry seems to be enjoying a surge in popularity: Portland, Ore., troupe Night Shade and Chicago's Manual Cinema have both performed locally in the last year or so. And then there are cranky shows, a similar art form in which images drawn on a roll of paper are hand-cranked within a screen, creating a scrolling sense of motion. Local singer-songwriter Tom Banjo is Vermont's go-to purveyor of this old-timey form of entertainment.
Also, can we just talk about pantomime for a second? It's got to be one of the most unfairly ridiculed pastimes. I'm looking forward to seeing that stigma fade away.
Third up is Backline. It's just like Songsters, except this one is for full bands. Everything a group needs to play — amps, mics, etc. — will be set up and waiting for them.
The fourth Monday, Electrolight, is perhaps the most unconventional. Anderson describes his vision for it as a show-and-tell for synthesizer nerds. Synthists will set up stations around the room, and attendees can visit with them to see what kind of neato, tech-based stuff they've got going on. Short performances commence afterward.
Finally, should a month have a fifth Monday — as April, July, September and December do this year — the evening will feature a "Star Search"-style competition. A panel of local "celebrity" judges will choose a victor, who'll then walk away with a small prize and a much-deserved ego boost.
Exciting times are clearly headed our way. The new, themed approach seems likely to ensure variety and ingenuity from scores of local artists. Now, go get to work!
Listening In
If I were a superhero, my superpower would be the ability to get songs stuck in other people's heads. Here are five songs that have been stuck in my head this week. May they also get stuck in yours. Follow sevendaysvt on Spotify for weekly playlists with tunes by artists featured in the music section.
Kris Gruen, "Body in Motion"
The Pointer Sisters, "Jump (For My Love)"
Fine Young Cannibals, "Johnny Come Home"
Robyn, "Cry When You Get Older"
The Coup, "Pimps (Freestylin' at the Fortune 500 Club)"