Courtesy of Naomi Chandler
Pons
Pink Elephants
During a recent phone call with Jack Parker of local bands Pons and boys cruise, neither of us could remember if we'd ever been to a real circus. I've seen artsy-fartsy, new-age circuses such as Cirque Éloize and Cirque du Soleil, and I grew up watching minor celebrities perform underwhelming stunts on "Circus of the Stars," but I don't think I've ever witnessed a traditional elephants-in-a-pyramid, clowns-unicycling-on-a-high-wire type of circus. That's likely because, in my lifetime, traditional circuses haven't really been a thing — probably due to the rising awareness of animal cruelty, as well as acceptance of marginalized folks who were once called "freaks."
Even with the circus' checkered past, there's something undeniably magnetic about the concept. The pomp, the kinetic excitement of crowds huddled under a giant tent, worldly entertainment dropping in on otherwise sleepy burgs: It all adds up to a magical time. That's why Pons, boys cruise and fellow University of Vermont band Don Rico are teaming up for an extra-special event called Big Top on Saturday, January 18, at the Higher Ground Showcase Lounge.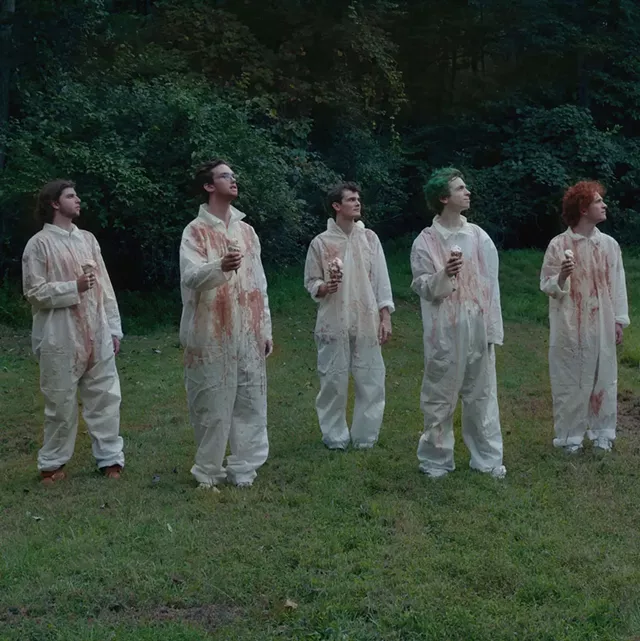 Courtesy of Madeline Carr
Don Rico
"I do like the idea of weird, kind of out-there entertainment," Parker said. "We knew we wanted to make [the event] sort of more than just your typical show. We figured a weird, fever-dream circus night would be a good way to keep people entertained."
In addition to performances from all three bands, each of which deliver "weird and chaotic" sets on the regular, according to Parker, the night will feature interstitial performance art and other unconventional club acts, including a magician.
"It's a nostalgia trip," Parker said. "We're trying to create this weird, baroque atmosphere."
Two things you won't see: fire spinners and aerial artists. Apparently the venue put the kibosh on the truly dangerous stuff right from the get-go.
If you haven't heard Pons, boys cruise or Don Rico, you should get on that. The three rock outfits each released a record in 2019: Dread, Jerry and Don Rico's Next Album, respectively. Parker said Pons are currently elbow deep in creating their debut full-length, a quick follow-up to their 2019 EP. He also said Pons are planning to pull a Big Thief and release not one but two full-length LPs in 2020.
The Big Top event got me thinking about a show I saw in the Higher Ground Ballroom a million years ago, just after the club relocated from Winooski to its current South Burlington locale. It must've been either late 2005 or early 2006. Euro-punk ensemble DeVotchKa opened for cabaret-pop duo the Dresden Dolls. Amanda Palmer, the Dresden Dolls' front person, had a horrible cold and was blowing her nose the entire night. Even so, she sounded great.
Just as Big Top will have a circus-style energy and whimsical performance art, the Dresden Dolls/DeVotchKa show also employed sideshow antics between sets. At one point, the performers busted out a Cyr wheel, a giant, metal ring used for street acrobatics. Everyone in the Ballroom (a full house, if memory serves) made a giant circle, and the performers gracefully swung around the open floor, jumping in and out of the wheel. Clearly, it made an impression.
Anyone have a Cyr wheel they can bring to Big Top? Though it's smaller, the Showcase Lounge should have plenty of space to tear it up.
Sharing Is Caring
Two local DIY presenters, Hope All Is Well and the Nightshade Kitchen, are joining forces for a fundraising show on Wednesday, January 22, at the Monkey House in Winooski. Each entity works on a shoestring budget to bring some of the most cutting-edge and intimate shows to the Burlington area. And since both tend to operate in nontraditional spaces, such as art studios, galleries and private residences, technical challenges often arise.
"We've been trying to raise money for sound equipment, because putting on shows in unconventional spaces is pretty taxing," said Hope All Is Well founder Carson Ehlert by phone. "We always have to search around and ask people for PA systems, monitors and cables."
Ditto the Nightshade Kitchen, which pairs low-key concerts and delectable meals from local independent chefs. It also hosts the Nightshade Festival, a completely DIY annual two-day music-and-food fest in Williston.
At Wednesday's show, DJ Disco Phantom and folks associated with Hope All Is Well and the Nightshade Kitchen will be spinning an eclectic mix of vinyl. Hell, maybe bring some of your own records. You might get someone to play your favorite song.
Both entities are volunteer-run, and the event also serves as an easy entry point for anyone looking to get involved with local show promoting.
The show is also a de facto going-away party for Ehlert, who moves to New York City shortly thereafter. The 27-year-old music professional has been a key player in local nightlife for the past several years. His concerts, which always strove for gender parity, have brought indie darlings such as Peaer, Emily Yacina, Yohuna and dozens of others to the Queen City.
Ehlert says he'll continue to present shows in Burlington — though probably not quite as many.
"Hopefully, quality over quantity," he said.
Good luck in the Big Apple, my friend.
Listening In
If I were a superhero, my superpower would be the ability to get songs stuck in other people's heads. Here are five songs that have been stuck in my head this week. May they also get stuck in yours. Follow sevendaysvt on Spotify for weekly playlists with tunes by artists featured in the music section.
Caroline Rose, "Feel the Way I Want"
Laundress, "Provoke"
Unloved, "Sigh"
Depeche Mode, "John the Revelator"
Georgia, "24 Hours"