Courtesy Photo
Theo Katzman
Survey Says...
As you may or may not know, this column is meant to cover any and all aspects of local music and nightlife. And one extremely popular slice of nightly entertainment hasn't really gotten its due. I'm talking about trivia, which has become insanely popular and proliferated in the past several years. It turns out proving one's knowledge to a roomful of strangers is utterly appealing. Who knew people get off on feeling smart and superior?
However, one Burlington-based quiz night is doing things a little bit differently. Quizmaster Adrian Burnett hosts the game, dubbed OpinioNation, every Thursday at the Friendly Toast. But, unlike most trivia nights, which pose questions with a singular fact-based answer, OpinioNation asks you to guess how other people answered opinion-based questions. Online quiz machine Sporcle fuels the queries, and surveys are conducted online prior to game play. It's basically like TV's "Family Feud."
The game has four rounds, with bonus questions in between. During play, quizzers try to guess the most popular answers to questions such as, "Despite who actually won, which 2019 movie should have won the Oscar for Best Picture?" and "Name a song from the '90s that starts with the letter A." (Turns out, most people thought Todd Phillips' Joker deserved top honors from the Academy, and Smash Mouth's "All Star" stuck out the most in people's minds.) Just like on "Family Feud," the most popular responses earn the most points, and less popular answers earn fewer points.
What I love most about this game, as opposed to other trivia events, is that it forces you to really listen to your teammates, because no one is automatically right or wrong. The first thing that pops into your head isn't necessarily the obvious choice. Also, just like on "Family Feud," you have no way of knowing who participated in the survey, so you're forced to think about what the average person might say. It requires an entirely different kind of intelligence than the typical trivia night.
And it's fun as hell.
BiteTorrent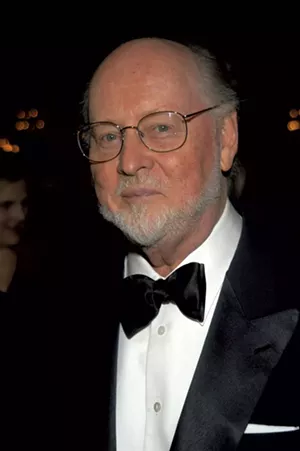 Dreamstime
John Williams
Attention, Star Wars nerds: The Vermont Symphony Orchestra presents a selection of master composer John Williams' work on Saturday, February 22, at the Flynn MainStage in Burlington. Known for his thunderous, adrenaline-pumping, orchestrally limber scores, Williams' music is synonymous with cinema. He wrote the scores for blockbusters such as Jurassic Park, Jaws and Close Encounters of the Third Kind — basically every major Steven Spielberg flick. Guest conductor Troy Peters, former music director of the Vermont Youth Orchestra and the Montpelier Chamber Orchestra, leads the evening's program.
As much as I might seem like an authority on the local scene in terms of what VT-based folks are into, I am often surprised by which shows sell out early and which sell hardly any tickets at all. But I'm certain of one thing: If Los Angeles-based funk band Vulfpeck ever came to Vermont, the show would sell out instantly. To the best of my knowledge, the group has never set foot in the Green Mountains. However, one of the group's founding members, Theo Katzman, makes a stop at Killington hot spot the Pickle Barrel on Sunday, February 23. The artist just released a new solo album, a tight, soulful collection of tunes called Modern Johnny Sings: Songs in the Age of Vibe.
Courtesy Photo
Hayley Jane
On Saturday, February 22, singer-songwriter Hayley Jane teams up with Albany, N.Y., jam fusion band Annie in the Water at the Higher Ground Showcase Lounge in South Burlington. The two acts pay tribute to Fleetwood Mac's game-changing album Rumours. If you've never heard Hayley Jane sing, be advised that she has the pipes and charisma to carry off such a fabled record. Most recently, Hayley Jane was seen performing opposite singer-songwriter Ryan Montbleau in their duo project Yes Darling, a quasi-cabaret concept project based on the ins and outs of love, sex and romance.
Big ups to Burlington's Clever Girls for their recent string of press surrounding their latest single, "Spark." It seems like every time I check my Facebook feed, the rock band is thanking yet another indie blog for covering the spacious, grungy tune. Readers of Various Small Flames, AnalogueTrash, the Wild Honey Pie, American Pancake, Balloon Machine, Angry Grrrl Music of the Indie Rock Persuasion, and the Alternative are learning all about our hometown heroes. The single precedes an upcoming LP release, a follow-up to the band's excellent 2018 album, Luck.
This year's annual Magic Hat-sponsored Mardi Gras celebration hits the Church Street Marketplace on Saturday, March 28. Last year, the yearly fête nixed its much-loved parade down Burlington's Main Street and pushed the festivities further than ever past the actual Mardi Gras holiday (which lands this year on Tuesday, February 25). But that's not stopping drag mainstays the House of LeMay and the ubiquitous DJ Craig Mitchell from throwing a Mardi Gras party on Saturday, February 29, at the Three Needs Taproom & Brewery in Burlington. I guess as long as Vermont continues to celebrate holidays whenever it feels like it — like how we officially do LGBTQ Pride in September instead of June, for some reason — we can expect people to go rogue and throw their own parties. Hey, the more the merrier, right?
Listening In
If I were a superhero, my superpower would be the ability to get songs stuck in other people's heads. Here are five songs that have been stuck in my head this week. May they also get stuck in yours. Follow sevendaysvt on Spotify for weekly playlists with tunes by artists featured in the music section.
Princess Nostalgia, "Podium Playground"
CocknBullKid, "Mexico"
Sorry Girls, "Give You Love"
Caroline Rose, "Jeannie Becomes a Mom"
Goldfrapp, "Strict Machine"