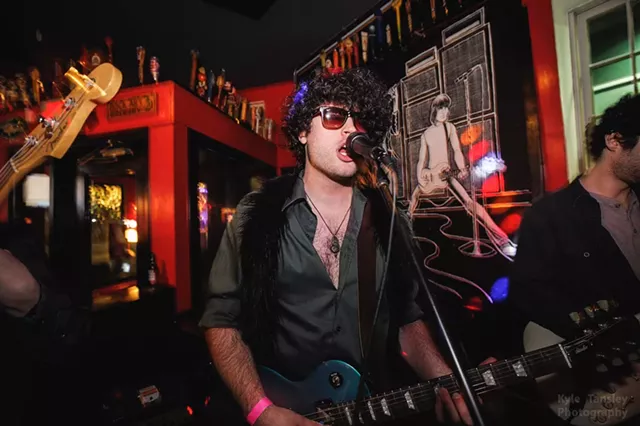 Courtesy of Kyle Tansley
Dr. No
My goodness. What a glorious way to start the week. I'm referring to the past Monday's summer weather preview, of course. The warm breeze and blazing sunshine reminded us that winter's oppressive reign is nearly over. It's time to put your sweaters and long johns back in those plastic tote bins under your bed and bust out your cutoffs and Hawaiian shirts — assuming the warming trend continues. (And that you wear Hawaiian shirts. No judgment.) I guess we could still get another blizzard. It's happened before.
But let's not think about that. Instead, let me tell you about a contest that'll get you out of your house and into the (potentially) warm spring air.
Former Gang of Thieves guitarist and current Dr. No front man Sean Kehoe invites you to enter a Burlington-based treasure hunt of his own design. Kehoe amicably split from Gang of Thieves in 2016 before starting Dr. No, which currently features members of Grundlefunk, Tar Iguana and Band of the Land.
In the treasure hunt, the winner receives a pair of tickets to see the Heavy Pets, Backup Planet and Dr. No at Nectar's on Saturday, April 22.
Here's how it works: Kehoe has selected five landmarks, pieces of public art and other points of interest in the downtown Burlington area. A series of clues, which get slightly more challenging as the game progresses, directs contestants toward the landmarks. Once a contestant solves the clue, they must snap a picture of themselves standing in front of said landmark and send it to Dr. No's Facebook page. If correct, the next clue is revealed and the hunt continues. The first contestant to get through all five clues wins the tickets. The game is meant to be played on foot, so you shouldn't have to stray too far from downtown while hunting.
Here's the first clue: "My band was unknown, but everyone knew me. All the summertime shoppers seem to walk to me. I played in the north for all to dance a jig. You can tell by my figure that I sure was big."
Speaking of...
Courtesy of Julia Luckett Photography
Gang of Thieves
Speaking of Gang of Thieves, they're checking something off their bucket list this week: headlining Higher Ground for the first time. They take over the Showcase Lounge on Saturday, April 15, with support from Annie in the Water.
It's been months since GoT started their monumental "Work Together" tour, and they're still not even close to wrapping up. In case you weren't aware, the decibel-crushing quintet designed its current tour to include as much hands-on volunteer work in as many cities as possible: They volunteered at animal shelters and food banks and ran a high-altitude 5K to raise money for cancer research, among other activities. And now they're looking at you.
In conjunction with Lenny's Shoe & Apparel, GoT offer their fans rebates for Saturday's show in exchange for performing a couple of hours of community service.
Here's the deal: First, buy a presale ticket. Next, find an organization in need of helping hands. The band suggests the website VolunteerMatch.org to find opportunities based on your skills and interests. Still struggling to find something? How about putting in some time with local nonprofits Big Heavy World and the Chittenden Emergency Food Shelf?
After you've completed your work, bring proof of both your presale ticket purchase and at least two hours of community service to the show and present it at the merch table. The first 50 people to do so receive a $10 cash rebate on the spot.
Since this is a special show, GoT have something big planned for their ravenous hometown audience. Aside from playing a full set of original tunes, they'll remind us where their sun-drenched, SoCal influence comes from with a second set of nothing but Red Hot Chili Peppers covers. While GoT have played songs by RHCP for years, this is the first time they've devoted an entire set to the ever-shirtless rockers.
BiteTorrent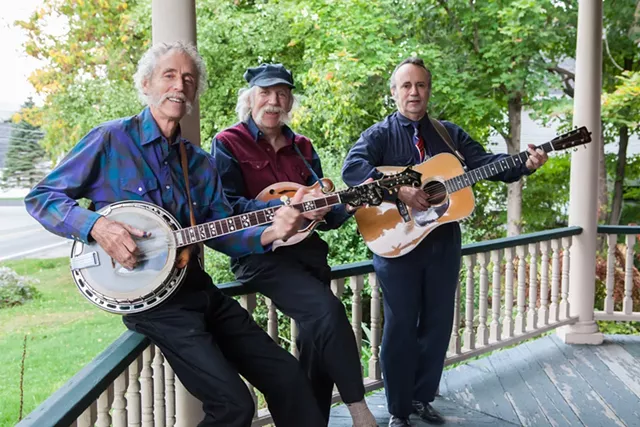 COurtesy of MitchMoraski
VT Bluegrass Pioneers
Danny Coane of the Starline Rhythm Boys takes a break from his regular outfit this weekend for a twangy, two-night takeover of the Whammy Bar in Calais.
On Friday, April 14, he and coconspirators Colin McCaffrey (the Stone Cold Roosters) and Dave Rowell (Rick & the All Star Ramblers) assemble as Them Boys, which Coane describes as a one-off event and not a "real" band. Nothing like scarcity to ramp up excitement.
The following night, he teams up with Willy Lindner and Banjo Dan Lindner (the Sky Blue Boys, Banjo Dan and the Mid-nite Plowboys) for the VT Bluegrass Pioneers. Coane and the Lindners have been pickin' and pluckin' since they met in the early 1970s. In an email to Seven Days, he describes this project as "old-school, real-deal, hardcore bluegrass from the '50s and '60s."
If you haven't had the chance to check out Zenbarn in Waterbury, perhaps its new music series will motivate you. The quirky central Vermont newbie is probably the only place around where you can do yoga, meditate, eat a locally sourced meal, get drunk and see some live music without leaving the premises.
Magic Hat Brewing cosponsors the Mud Season Music Series, which celebrates everyone's favorite annual stopgap between winter and spring. It runs at Zenbarn from now until the end of May, and the lineup is as eclectic as the establishment itself. Currently slated to appear are the Tim Brick Band on April 15; Steady Betty on April 20; Satta Sounds on April 21; DJ Mashtodon on April 22; the Hot Pickin' Party on April 29; Kalbells on May 6; Kina Zoré on May 13; the Aerolites on May 20; and ONEoverZERO on May 27.
And seeing as how VT is Magic Hat's home turf, the company plans to spoil its local followers with samples of its pilot-batch program. The brand-new brews are not available outside of the 802. You'll have to go to the Magic Hat Artifactory or select locations such as Zenbarn to taste these special suds.
And make sure to wipe your feet before entering!
Listening In
If I were a superhero, my superpower would be the ability to get songs stuck in other people's heads. Here are five songs that have been stuck in my head this week. May they also get stuck in yours. Follow sevendaysvt on Spotify for weekly playlists with tunes by artists featured in the music section.
Nelly Furtado, "Pipe Dreams"
STRFKR, "Open Your Eyes"
MNDR, "#1 in Heaven"
The Grass Roots, "Midnight Confessions"
Lucius, "Million Dollar Secret"