This is a local music column, so it only makes sense to begin this week with a nationally renowned standup comedian, right? OK, fine, that makes no sense at all. But here we are. And believe it or not, there actually is a small music angle, to boot.
This weekend the one and only Jim Breuer is in town for — count 'em — five sets at the Vermont Comedy Club in Burlington. He plays twice on Friday, October 14, and three times on Saturday, October 15. Local Tracy Dolan opens every show.
You most likely know Breuer from his stint on "Saturday Night Live" in the 1990s, specifically his run as Goat Boy, the heavy-metal-loving man-goat with a propensity for uncontrollable bleating in social situations. You might also know him from his role as a couch-surfing stoner in the Dave Chappelle cult classic Half Baked.
Fun fact: Breuer originally developed Goat Boy as a means for meeting women at bars in his twenties. (Yes, really. And no, it usually didn't work.) I learned that when I interviewed Breuer when he came to Vermont, in 2009. I also learned that his SNL and Half Baked characters have been, unsurprisingly, a blessing and a curse — sort of the comedic equivalent of a one-hit wonder. If you're expecting the shaggy satyr to show up, think again.
Breuer is still a very funny man. But he's also older and wiser. These days his material focuses less on partying and more on the ins and outs of adulthood. Witness his 2015 hourlong special, "Jim Breuer: Comic Frenzy," in which he riffs on, among other topics, parenting teenagers, parenting your parents and just what, exactly, it means to be a "marriage warrior." It's funny, insightful and surprisingly heartfelt stuff.
As for that music angle, here's the thing about Goat Boy: His affinity for metal was no shtick. Breuer is a consummate metal fan. And, as it turns out, he's a pretty damn good front man, too. In May, Breuer released his debut metal album, Songs From the Garage, with his band, Jim Breuer and the Loud & Rowdy. Before you dismiss the album as the indulgent vanity project of a middle-aged comedian, consider this: It was released on iconic imprint Metal Blade Records. And it's actually pretty damn good, too. Especially if, like me, you have a soft spot for 1980s pop metal.
Breuer is touring his standup routine, so it's unlikely you'll hear any of the album live. But if you're lucky, maybe he'll dust off his old "AC/DC Hokey Pokey" routine.
Almost Famous
Here's an odd little nugget. This week a Los Angeles-based band called Pete RG swings through the Green Mountain State for three dates in support of a new album, Tender Souls. That alone isn't particularly noteworthy. But the band's DNA does offer some degree of intrigue.
Pete RG are led by songwriter and front man Pete Argyropoulos. His backing band includes keyboardist Brina Kabler and lead guitarist Kevin Haaland. Here's where things get interesting. The rhythm section consists of bassist Adam Kury and drummer Dave Krusen, who are current members of 1990s alt-rockers Candlebox. In a related story, Candlebox are apparently still around. Nifty.
Here's another tidbit: Krusen happens to be the original drummer of Pearl Jam. True story. He joined the group shortly after front man Eddie Vedder in 1990, when the band was known as Mookie Blaylock. The band soon signed to Epic Records, changed its name and headed into the studio to record Pearl Jam's breakout debut album, Ten. Krusen, however, left the band after those sessions and checked himself into rehab. Pearl Jam would go on to become one of the most famous rock bands in history. And their ensuing revolving door behind the skins would be the envy of Spinal Tap.
That's cool and all. But does that low-wattage star power translate to good stuff from Pete RG? Actually, yeah. Particularly if you're a fan of the more melodic late-period grunge sound, you may well enjoy Tender Souls.
Argyropoulos is a capable writer and vocalist. His brooding baritone bears shades of the National's Matt Berninger — and, in at least a couple of fleeting instances, Vedder. Indeed, Pete RG seem deeply influenced by the National. Think of them as a more radio-friendly, alt-rock-leaning iteration of that band, and you're in the ballpark. It's not exactly groundbreaking stuff. But it's more than palatable if that's your jam.
Pete RG play three VT dates this week: Saturday, October 15, at Sweet Melissa's in Montpelier; Sunday, October 16, at the Sugarhouse Bar & Grill — aka the "old Franny O's" — in South Burlington; and Monday, October 17, at Moogs Place in Morrisville.
BiteTorrent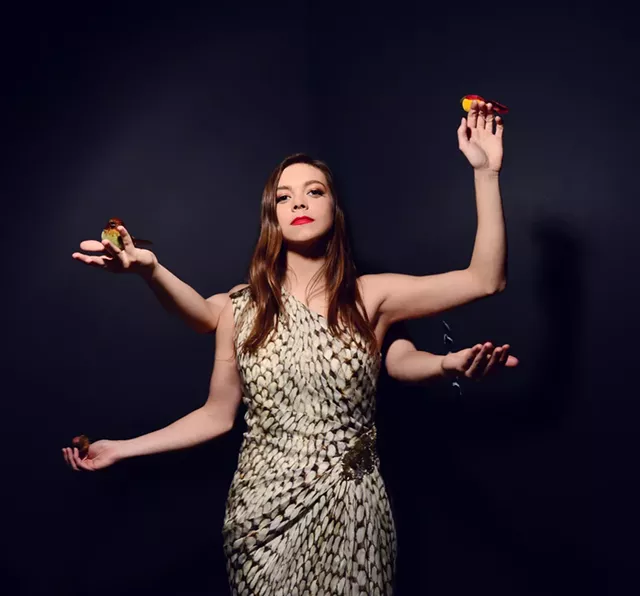 Welcome back, Funkwagon. Everybody's favorite wagon o' funk makes its return to the local scene this month with an ambitious weekly residency at Red Square in Burlington.
The reconfigured band is, as always, led by vocalist/lovable smart-ass Aaron Burroughs, who is back in town for a spell after moving to Detroit a couple of years ago. Every Wednesday in October, they'll play for six straight hours, from 6 p.m. to midnight, which is an impressive feat of funkdafied endurance. Expect a cavalcade of special guests and some seriously brassy gospel swagger courtesy of the ever-commanding Burroughs.
Speaking of old friends, a pair of nonlocal local favorites co-headlines an intriguing bill at Signal Kitchen in Burlington on Saturday, October 15. Sharing top billing are the provocative avant-pop outfit Arc Iris — fronted by Jocie Adams (ex-the Low Anthem) — and the irresistibly danceable Brooklyn "yes wave" trio Superhuman Happiness. That's a gnarly one-two punch. But check out the undercard.
Handling support duties are SnakeFoot & Steph Heaghney, whose All Gifted/Trouble EP is one of the most interesting local collaborations of the year. Heaghney is best known as the vocalist for local neo-soul outfit Smooth Antics, a role that has quickly placed her among the area's elite vocal talents. But her experimental pop work with SnakeFoot is equally fascinating, suggesting a depth of musical curiosity beyond what she reveals in SA. The opportunity to hear a full set of that material is enticing. But wait, there's more!
Opening the show is Guster front man and local high-functioning weirdo Ryan Miller, who gets things going with a rare DJ set. Knowing Miller, that's probably worth the price of admission alone.
In other news, the next edition of the series A Live at ArtsRiot Recording is this Friday, October 14. To refresh your memory, each monthly-ish installment features a choice selection of locals recording live sets. At the end of the year, the best tunes will be culled for a compilation pressed by the Burlington Record Plant. This time around it's art rockers Swale — yeah, my brother is still in the band — surf rockers Barbacoa and local Los Saicos tributeers, Asperos Saicos.
Last but not least, whoever had Madaila in the "Who's gonna play the New Year's Eve at Higher Ground this year?" pool is a winner. Last week, the club announced that the local spandex-pop phenoms have inherited the coveted HG Ballroom NYE run previously held by the likes of Rubblebucket and Grace Potter & the Nocturnals. They'll play a two-night stand on December 30 and 31. No word yet on the opening acts. But if you want to recoup some gambling losses, I'm setting 3-to-1 odds on time-traveling disco doppelgangers the Medallions making an appearance.
Listening In
A peek at what was on my iPod, turntable, eight-track player, etc. this week. Follow sevendaysvt on Spotify for weekly playlists with tunes by artists featured in the music section.
The Pixies, Head Carrier
Phantogram, Three
Hiss Golden Messenger, Heart Like a Levee
Solange, A Seat at the Table
Chet Baker, The Touch of Your Lips