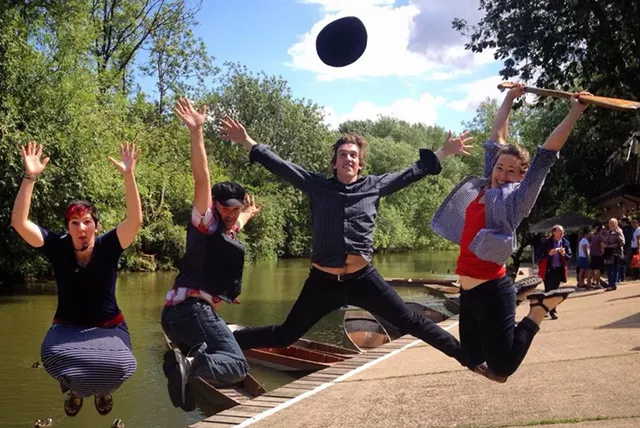 Enter Sandman
Super Tuesday, in which 11 states, including Vermont, and American Samoa hold Democratic primaries and caucuses, is Tuesday, March 1. That means, by the time we meet again here next week, we should have a clearer picture of the fate of Sen. Bernie Sanders' (I-Vt.) presidential bid. If he gets trounced, his odds of winning the Democratic nomination grow slim — although Barack Obama lost Super Tuesday to Hillary Clinton, and we know how that turned out. If Sanders has a good showing, he gets to press on, and I get to write more articles about Bernie songs, such as this one. Clearly, a lot is at stake this week.
So it only seems fitting to begin with a Bernie fundraising show. And we've got a good one on tap this week in a typically quiet corner of the state: the Northeast Kingdom.
Bernie Jam is a fittingly grassroots bash slated for the West Newbury Hall this Saturday, February 27. You can read about the headlining act, David Rosane and the Zookeepers, and their new album, Modern Folk here. I'll wait...
Cool, right? Well, the other folks on the bill should be equally entertaining. And several of them have original Bernie songs they'll no doubt play at the show. For example, vocalist, bodhran player and owner of the Vermont Celtic Co. Reagh Greenleaf Jr. and his tune "Make Them Feel the Bern!" Here's the opening line:
"Oh tell me Jane O'Meara / Tell me why you hurry so."
That's right. Greenleaf wrote an Irish folk tune and used Bernie's wife's maiden name. I don't know why I find that hilarious, but I do. The rest of the song is pretty cool, too, especially the chorus: "We'll make them feel the Bern / We'll make them feel the Bern. / Get out the vote on Election Day, and we'll make them feel the Bern!" Picture the Clancy Brothers at a Sanders rally, and you're in the ballpark.

Brattleboro-based folk band Windborne are also on the bill and come with a Bernie tune of their own: "Give Bernie Sanders Your Vote." The trad folk quartet's fun little ditty is in four-part barbershop harmony. In it they urge listeners to, um, give their votes to Bernie Sanders. It's short and to the point, and I dig it.

Songwriter Andru Swingforth is a late addition to the concert and also has a Bernie song. It's a nifty number with a kind of dark "Watching the Detectives" reggae vibe called "Feel the Bern." Because of course it is.
(If I could chat privately with Bern-feeling musicians for a sec: Dudes, I love what you're doing. Really, I do. Keep those Bernie songs coming. But please stop naming them "Feel the Bern." There's, like, hundreds already. Use your considerable creative powers and think up something unique — or at least more google-able. Thanks, the Management.)
Rounding out the bill is local folk duo Wild Roots. No word on whether they also have a Bernie song. If not, they might want to get to work on that, stat.
For more info on Bernie Jam, find the event page on Facebook.
Invisible Rose
It seems like it's been a hot minute since we've heard from Caroline Rose. That's not terribly surprising, since the transient songwriter pretty much lives out of her car. At any given moment it could be parked just about anywhere across the country. That girl is tough to pin down.
Well, good news! Rose is back in Vermont. I have it on pretty good authority — Rose herself — that she's recently been out in Los Angeles working on her next album. I also have it on good authority that she flew there, which just seems weird.
Anyway, Rose will be at the Monkey House in Winooski for a show this Friday, February 26, with local art rockers Invisible Homes. Originally, the show was supposed to be your standard bill-sharing affair, with the two acts playing separate sets and maybe collaborating on a song or two. But as IH's Sean Witters informs, that plan has changed. Rose and IH are now playing the entire show together. The hybrid band will perform a mix of originals and covers — the latter of which include what Witters provocatively terms some "surprising selections" from Rose.
Witters also writes that his band will unveil material from its forthcoming 2016 album. IH leaked one track from the record earlier this year called "All Your Basis," which suggested a turn toward freaky, fuzzy New Wave. Witters confirms that much of the new material will follow in a similar stylistic fashion. It should all make for a fascinating night in the Onion City.
Keep Your Pants On
Last but not least, I've been sitting on this next bit of news for months, and I can't tell you how excited I am to finally pass it along. On Saturday, March 26, the Higher Ground Ballroom will host the premiere of local filmmaker Bill Simmon's feature-length documentary on iconic 1990s BTV band the Pants: High Water Mark: The Rise & Fall of the Pants. Fair warning: The conflicts of interest are about to come fast and furious, so buckle up.
Conflict the First: Seven Days has been working with Simmon and Pants front man Tom Lawson to curate the night. I typically recuse myself from participating too much in event planning at 7D, especially when it comes to music. But I've been very involved in this one.
Conflict the Second: In addition to the screening, local art rockers Swale, which includes my brother, bassist Tyler Bolles, will serve as the house band for a special set of Pants tunes following the film. Lawson will be on hand to sing a few and will also perform with his current NYC band, Factory Edge. The rest of the set will feature guest vocalists taking the lead on Pants songs. At present that includes Blue Button's Jason Cooley, Heloise Williams, Ryan Ober, Guster's Ryan Miller, James Kochalka, Craig Mitchell, members of the Essex Green — including 7D's Jeff Baron — and my predecessor, former 7D music editor and Rocketsled vocalist Casey Rae. Oh, and me, because...
Conflict the Third: I'm in the film, singing a version of the Pants' ballad "Wounded (You're So Fine)" with my siblings. We'll be on hand to sing backing vocals on that tune with Lawson on lead.
Conflict the Fourth: I just fucking love the Pants. As we get closer to the show, I may write a little more about my personal connection to the band and the role they played in my musical, personal and professional life, and why they're so important to the lineage and legacy of Burlington music. But for now, know that I cannot write objectively about them. They're simply one of my favorite bands ever, local or otherwise.
The only person who might be more excited about this than I am is Simmon himself — and maybe 7D ad sales exec Michael Bradshaw, who was a driving force behind the show. He's really pumped. Simmon's doc has been in the works for about 10 years now. He started working on it right around the time that the band played a reunion show at the HG Ballroom. That was in 2006. Fans waited and waited, but Simmon never finished the film. At a certain point, I think most of us, Simmon included, figured the thing was dead in the water. But last year, he found the inspiration to finish. I've been told the film is excellent. I can't wait to see it. And I can't wait for you to see it, too.
Listening In
A peek at what was on my iPod, turntable, eight-track player, etc., this week.
The Pants, Fred Sex
The Pants, Eat Crow
Envy, Distorted Greetings
Guppyboy, Jeffersonville
The Fags, No Fleas, Lunch Money and Gold Teeth