Matthew Thorsen
Alan Newman
Higher Calling
A little over a week ago, I received an intriguing, if bewildering, text. It read: "Did Higher Ground get sold to Magic Hat?"
The question came from a reliable source, someone who has a pulse on the local music scene and has tipped me off to legit stories more than once. Still, the notion of the local beer company purchasing the grandest rock club in the land seemed, well, absurd.
For one thing, since 2012 Magic Hat Brewing has been the property of a Costa Rican company, Florida Ice and Farm, which bought out North American Breweries, the conglomerate that purchased MH in 2010. So why would a massive beer company from Costa Rica want to get into the live music biz in, of all places, Vermont?
For another, from what I know of Higher Ground founders Alex Crothers and Kevin Statesir, the idea that they would sell the club to really outside interests struck me as unlikely, bordering on laughable. Owning a rock club is not exactly a get-rich-quick scheme. To do it right takes time, savvy and, perhaps above all else, a passion for something other than the bottom line.
In their 17 years running HG, Crothers and Statesir have proven that the music means as much to them as money does, and perhaps more. Obviously, they wouldn't be in the business if they couldn't make a living at it. And based on how Higher Ground has expanded off-site recently — Portland's State Theatre, producing festivals such as Boston Calling and Wilco's Solid Sound, etc. — it would appear to be a good living. So, barring what Bill Simmons would call a "Godfather offer" — that's an offer you can't refuse, either because the money is too good or because Marlon Brando will kill you — why would they sell? And why would that offer come from Costa Rica?
As is often the case in the rumor mill, the rumor — though it gained some traction around town as the week wore on — was wrong. Well, mostly.
As reported on the Seven Days arts blog Live Culture earlier this week, there has indeed been a major change at Higher Ground. And there is, in fact, a Magic Hat connection. Magic Hat cofounder Alan Newman has bought out Statesir.
"I assume you're calling to ask, 'What the fuck are you thinking, Alan?'"
That's Newman, opening the conversation I had with him late last week. Though I'd planned to phrase the question more politely, that was gist of what I wanted to know from the local beer baron. So, what the fuck are you thinking, Alan?
"You might not know this, but my intention was never to start a brewery," he continued.
I actually did know that. Before Seven Days, I worked for many years and in many capacities for Magic Hat. As the story goes, after he cofounded Gardener's Supply and Seventh Generation, Newman was actively looking to buy not a brewery but a nightclub. Specifically, he wanted the famed Austin blues club Antone's. But his bid came in a week too late.
Shortly thereafter, Newman hooked up with brewer Bob Johnson, and Magic Hat was born. By the way, the brewery's original name was the Magic Hat Brewing Company and Performing Arts Center. The company has lived up to that designation. The Night of the Living Dead Halloween parties at the brewery were the stuff of legend. And MH has always had a strong presence at concerts and festivals both in and out of state — not to mention the festivities surrounding its annual Mardi Gras parade in BTV. So for Newman to jump into the live music biz isn't as crazy as it might seem at first glance.
Neither Newman nor Crothers would dish on specific plans for Higher Ground's future, but the former beer man did offer some possible clues about what might be in store.
"Once we get the business structured the way we want it to be, we'll start thinking about what we can do to grow this business," he said. "How do we make the music experience more consumer friendly? Can we improve the lights? Can we improve the sound, the flooring? Can we improve the flow at the bar? How does Higher Ground become the epicenter for live music in New England?"
As for Statesir, he's not disappearing. In fact, you might see him even more now. For at least the next year, he's staying on as sort of a "super host," greeting fans on the floor as they come into the club and greeting bands when they arrive. He'll serve as Higher Ground's ambassador, which he says was always his favorite part of running the club. He leaves the club's day-to-day operations to a tandem of general manager Mia Sladyk and assistant GM Alex Cort.
"Kevin is such an integral part of the fabric of that place," said Crothers. "So we're excited he'll be around during the transition to make it smooth and easy and fun."
So what does it all mean? I'm not sure even Crothers or Newman knows quite yet. But new blood and new ideas are rarely bad, especially when they come from someone with a track record like Newman's. Crothers called him an "iconoclast," and he's not wrong. I have a feeling the coming months and years will see some big and bold things — beyond tech and cosmetic upgrades — happening at Higher Ground.
Bites in Brief
Left to right: Nick Mavodones, Brian Nagle, Ali Fogel, Matt Rogers, Ryan Smith and Paddy Reagan
That's not the only news from Higher Ground this week. Matt Rogers, a cofounder of indie booking outfit Waking Windows, who has been working as a talent buyer for the club in recent years, has accepted a position booking at World Café Live in Philadelphia and the Queen in Wilmington, Del. Don't freak out. He's staying in Vermont and will continue his work with WW.
Speaking of Waking Windows, the majority of the May festival's lineup was announced this week. In addition to the bands we reported on a couple of weeks ago, the headlining slate includes Yacht, Speedy Ortiz, Protomartyr, Jaw Gems, the Besnard Lakes and Hop Along, among several others.
The local lineup was announced, too, and includes, well, just about everyone in town, which is pretty damn cool.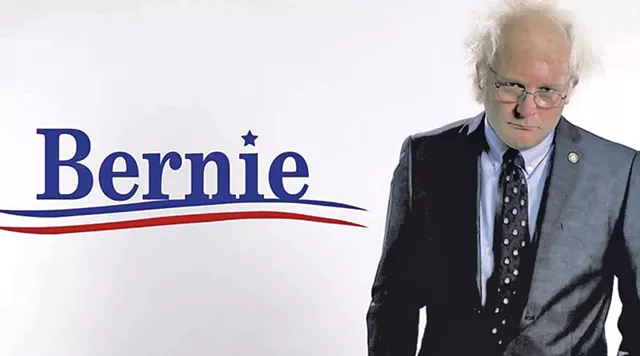 Matthew Thorsen
James Adomian
It's a big week for Sen. Bernie Sanders fans. No, not in Iowa. Right here in Burlington. This Friday and Saturday, February 5 and 6, the country's premier Bernie impersonator, James Adomian, will perform at the Vermont Comedy Club. Adomian was among the first comedians to impersonate our endearingly gruff presidential hopeful, in a Funny or Die video last year. When 7D interviewed him in July, he told freelance reporter Jim Sabatoso that a Vermont visit was inevitable. And the time has come.
If you go, stick around after his set. At 9:30 both nights, VCC is hosting a Trump vs. Bernie debate, with Adomian as Sanders and NYC comedian and writer Anthony Atamanuik as the Donald.
While we're on the subject of great impressions, this Saturday, February 6, at Nectar's, former Bearquarium vocalist Justin Panigutti leads a project called Into the Mystic: A Tribute to Van Morrison. From the first time I heard Bearquarium many years ago, I always wondered what it would sound like if Panigutti were to sing Van the Man, since their vocal timbres are so alike. Then, shortly thereafter, I heard him doing just that while busking on Church Street one summer evening. And, holy hell, dude doesn't just sound like Van Morrison; I seriously think Panigutti should get his DNA tested to find out who his real grandfather is. It's that eerie.
Last but not least, the Burlington Big Cat, WCAT 98.3 FM — 1390 on your AM dial — is in danger of, as the station's website puts it, going extinct. The Big Cat plays a unique mix — at least in modern radio — of rock oldies and early country from the 1950s and '60s. But the station's ownership is contemplating a format change to — drum roll, please — '70s rock. Because God knows there's not enough of that on the radio already. Sigh.
Last week, the Big Cat launched a petition to save its format. A rep from the station declined to speak about it, as negotiations with ownership are ongoing. So we'll be following along over the coming weeks. In the meantime, check out the petition through the link at wcat98.com. And tune into 98.3 while you still can.
Listening In
A peek at what was on my iPod, turntable, eight-track player, etc., this week.
Bonnie "Prince" Billy, Pond Scum
Benji Hughes, Songs in the Key of Animals
Akae Beka, Homage to the Land
Sia, This Is Acting
Aoife O'Donovan, In the Magic Hour