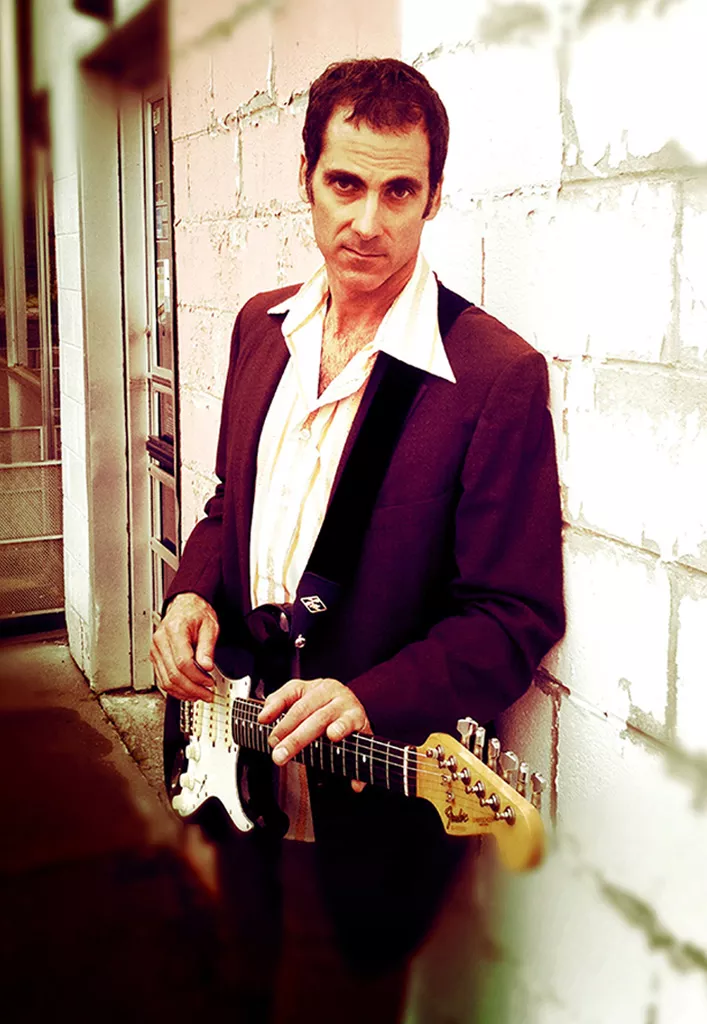 Courtesy of dave keller
Dave Keller
Mele Kalikimaka, music fans! Judging from ye olde "Kiss Saves Santa" advent calendar here in the Seven Days fortress of rockitude — OK, fine, my living room — I see that we're just about a week away from Christmas. Much like last week, that means many of the big shindigs on the schedule over the next few days are holiday-themed. It also means there is precious little time left to get right with Santa and make the "nice" list. So let's get to it.
We begin at Zen Lounge in Burlington this Saturday, December 20, for what will either be the best or worst local holiday show in history, with no in between. But it's not a music show. It's the Comedy Roast of Santa Claus. Yes, really.
Hosted by local standup Regi Brittain, the Friars' Club-style roast of St. Nick will feature some talented — and hopefully mean — area comics, including Adam Cook, Annie Russell, Timothy Bridge, Kenball Farabaugh, Pierre Vachon, Zach Nelson, Will Betts, Nicole Sisk and Mike Thomas. And, yes, Santa will be there, too. Though I have a sneaking suspicion Santa will really just be local comic, podcast host and self-appointed "hipster Jew" Chicky Winkleman in a fat suit and Santa costume. That's just speculation, though.
Whoever is donning Santa's gay apparel — Santa himself is rather busy this time of year — is probably in for a long night. The jolly old elf is certainly ripe for comedic skewering. Again, I'm just spitballing here, but I'd imagine some likely topics to be his obvious weight problem, why his mall helpers always seem to smell vaguely of cheap whiskey and cigarettes, his sweatshop in the North Pole, and the inherent creepiness of small children sitting on a strange old man's lap. Suffice it to say, I expect everyone onstage at Zen Lounge Saturday, and likely many members of the crowd, will be firmly on the "naughty" list by the night's end.
Fortunately, you'll have a chance to redeem yourself and work your way back on to the "nice" list later that very same evening at Radio Bean with the Grantstein Holiday Spectacular. That's a live Christmas-album recording curated by Sarah Grant and Josh Weinstein — Grantstein, get it? The show features a smorgasbord of local talent, including members of Kat Wright & the Indomitable Soul Band, Madaila, Villanelles, Joe Adler & the Rangers of Danger and many, many more.
Courtesy of Savage Hen
Savage Hen
The exact details are a little murky as of press time, but, from what I gather, the idea behind the show sounds similar to the holiday record that keyboardist and songwriter Joshua Glass recorded in 2011, Merry Christmas From Burlington. For that album, Glass invited various local musical buddies — Samara Lark, Scott Mangan, Sarah Stickle and others — to his tiny BTV apartment over a span of eight days in December to record a handful of Christmas classics. The difference here is that you can swing by the Bean to listen in and likely be part of the show. I'm told Grant and Weinstein plan to turn the recording around by Christmas and offer it as a free download.
In a related story, they're definitely making the "nice" list.
Moving back toward the "naughty" list, we have the Metal Monday Xmas Bash at Nectar's on Monday, December 22. This annual melee of merry mayhem features Mass of Tharsis, Abaddon, Vaporizer and self-described "doom groove sarcasticore" outfit Savage Hen. But most importantly, the show also features the Upside-Down Christmas Tree and Yankee Swap, which is exactly what it sounds like. Also, you do know that Santa and Satan are anagrams, right? Just sayin'...
Finally, and perhaps veering ever so slightly back to the "nice" list, we have what longtime readers know is one of my personal favorite holiday traditions, Blues Xmas, also at Nectar's on Christmas night. Helmed by local soul man Dave Keller and featuring an assortment of blues-inclined friends, Blues Xmas is the perfect nightcap following a day spent in the warm embrace of kith and kin, and a sure way to have, in the words of Clark W. Griswold, "the hap-hap-happiest Christmas since Bing Crosby tap-danced with Danny fucking Kaye." Hallelujah. Holy shit.
BiteTorrent
In non-holiday news, local wagon o' funk Funkwagon embark on an ambitious nine-week Friday-night residency at Red Square this Friday, December 19. Each week, the band and an assortment of special guests will play for seven straight hours, beginning at four in the afternoon. Yes, you read that correctly. Seven hours. 4 p.m.
In a recent email, Funkwagon front man Aaron Burroughs writes that the idea behind the residency is to give folks who might not want to be out late — also known as squares ... kidding — the chance to see live music and get their groove on earlier in the evening.
"You can shop during the holidays, grab dinner and catch a nightclub act in full swing at 4 p.m.," he writes.
This week, funk organist Zach Rhoads and jam upstarts Binger will join Burroughs and co. Guests in upcoming weeks include Craig Mitchell — who, by the way, is as dynamic a singer as he is a DJ — the Lynguistic Civilians and Gang of Thieves, among others.
If you haven't checked out the monthly Rock Candy series at Club Metronome yet, your last chance to do so this year will be this Thursday, December 18. To refresh your memory, the series is curated by local rockers Dino Bravo and features some of the hardest rocking bands in town. This falls in line with DB's stated mission to "save rock and roll in the Queen City and beyond." That's a noble endeavor, to be sure.
The fifth Rock Candy showcase features all-girl Misfits tribute band the Miss Fits, the aforementioned Savage Hen and Dino Bravo, the last of whom, by the way, opened for Dean Ween at the Rusty Nail earlier this month.
Courtesy Of Tsunamibots
Tsunamibots
Last but not least, local robotic surf-punk trio the Tsunamibots are set to release a pair of EPs this week, Rise of the Robots and Surfing Craze in the Robotic Age. I haven't heard them yet, but based on the clips available at the band's website, I'm going to go out on a limb and bet they're pretty friggin' good. Imagine a cross between Man or Astro-Man?, Los Straitjackets and Max Headroom, and you're in the ballpark.
But don't just take my word for it. From the band's delightfully silly (and made up) press release: "'When I first heard the Tsunamibots, I thought, Oh no! This will definitely lead to the enslavement of the human race! Seriously, we are screwed,' says Bill Humansen from HumansAgainstRobot.org. The Hard Drive, from the robot specialty magazine Robots Only, commented after seeing a Tsunamibots show, 'I used to listen to human rock, but as a robot, I was tired of all the imperfections and the lack of crushing humans. Now that I've found the Tsunamibots, I finally have a scene of my own.'"
So, yeah.
The Tsunamibots play a release party at Hostel Tevere in Warren this Saturday, December 20, with Maine's Thee IcePicks and local "hardcore XXX rock" band Ramcore.
Listening In
A peek at what was on my iPod, turntable, eight-track player, etc., this week.
The Quick & Easy Boys, Make It Easy
The Smoking Flowers, 2 Guns
Vampire Weekend, Modern Vampires of the City
Sam Amidon, Bright Sunny South
Beaches, She Beats
The original print version of this article was headlined "He's Making a List"