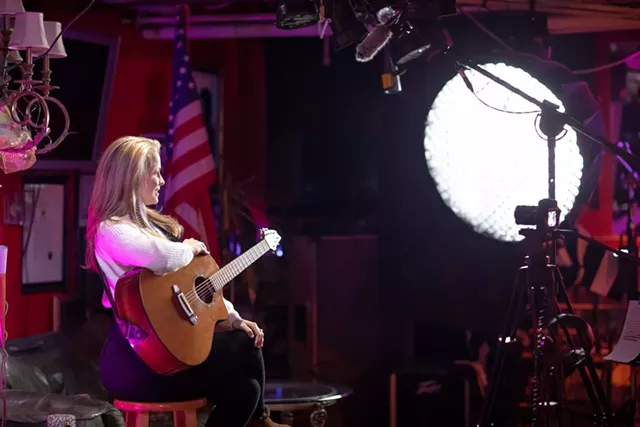 Courtesy Of Big Heavy World
Hayley Jane
It feels so indescribably weird to be writing a column on a Monday that will be published on a Wednesday, with the biggest presidential election of my life sandwiched between them. I don't really have anything else to say about that, but I need to acknowledge the incredible strangeness of the situation.
No matter the outcome of the election, I'm happy about a new initiative that's taking shape in Vermont. Read on for more info. And I hope to God you voted.
Heart in the Right Place
On October 23, Gov. Phil Scott issued a proclamation that November would be Local Music Month. The document reads, "Whereas, the people of Vermont are diverse and deeply talented as a creative community; and whereas, their uniqueness contributes to Vermont's identity as a special place to live and work; and whereas, Vermont's original music is a vital vehicle of our humanity, carrying our stories, emotions and hopes to each other and to future generations; and whereas, the musical artists and industries of Vermont build community and our economy; and whereas, the enrichment and benefits that music and its industries provide to Vermonters are a treasured part of the Vermont experience and worthy of celebration. Now, therefore, I, Philip B. Scott, Governor, hereby proclaim November 2020 as Local Music Month in Vermont."
Confused about what this actually means? As Big Heavy World's Jim Lockridge told me in a phone conversation Monday morning, "It's a statement of recognition and values, which is a starting point for any conversation.
"Big Heavy World is an advocate for these values, and it's a long-term challenge to inspire state leadership to share them," Lockridge continued. "It's cause for optimism that the voice of the grassroots and the most independent roles in the economy — artists, etcetera — have efficacy."
That's all well and good, but the proclamation does little (read: nothing) to put money into the hands of the individual musicians who are struggling because they have few or no places to perform. Also, perhaps it would have been more effective to proclaim this in, say, July or August, given that the warm weather and our low rate of coronavirus infections made outdoor live music more possible than it likely will be now that daylight saving time has ended.
But never fear, because Big Heavy World — along with a coalition of local networks, business and other orgs — are here! Thanks in part to funds allocated for marketing endeavors procured from Vermont's $400 million economic relief and recovery package, the nonprofit and co. are making a concerted effort to bolster Vermont-made music this month with a campaign called #HEARVT.
First, a number of local record stores are raffling off five Golden Ticket packages to shoppers who purchase local music or merch this month. The prize includes a $100 gift card to South Burlington nightclub Higher Ground and a one-night stay at Hotel Vermont. (You might have a while to wait before you can use that HG gift card, though.)
After you make your purchase of either a Vermont-made album or piece of band merch, share it on social media with the aforementioned hashtag for a chance to win. Participating stores include Barre's Exile on Main Street; Brattleboro's Turn It Up!; Montpelier's Buch Spieler Records; the Queen's City's Burlington Records, Pure Pop Records and Speaking Volumes; Winooski's Autumn Records; and Rutland's the Howlin' Mouse Record Store. (Be on the lookout for a check-in with the Howlin' Mouse in an upcoming edition of this column, as part of my untitled, ongoing series on Vermont's record stores.)
But wait, there's more! The bands mentioned in said social media posts and represented in your purchases will themselves be entered to win a $400 screen-printing package from Fletcher-based artisan shop Calamity & Crowe's Trading Post.
Courtesy Of Big Heavy World
Dwight & Nicole
But wait again, there's even more after that! Several musicians appear in a series of particularly high-quality public-service-announcement-style promos for the initiative, including Dwight & Nicole, the Path's Jon Berg, Hayley Jane, Kat Wright, and Rough Francis' Bobby Hackney Jr. If you don't encounter the ads, disseminated by the Vermont Association of Broadcasters, on radio or television, you can view them at bigheavyworld.com/hearvt.
"We just sort of opened the door to resources for a community-wide celebration and incentivization of participating in local music in Vermont," Lockridge said.
Hopefully this measure will not only turn music lovers on to some folks making sweet tunes in their own backyards but also put a little green, however modest, into the pockets of said sweet-tune-making people.
Stimulus checks would be even better.
Be My Baby
Courtesy Of Allyson Smith
Willoughby Morse/GOOD BABY
Willoughby Morse, drummer for Caroline Rose and former Madaila guitarist, recently released a puzzling little EP called together, forever//together, apart, which they worked on with Grace Potter guitarist Benny Yurco. Rather than a straightforward, short collection of songs, Morse recorded two different versions of the central single, "together," releasing one as themself and one as their sometime alter ego, GOOD BABY. Coupled with each version is an instrumental interlude. "Forever" backs the Morse version, while "apart" is coupled with GOOD BABY's rendition.
So, why use this approach?
"I've been thinking a lot about perceptions and interpretations — how 10 people can consume the same piece of art or the same piece of bread and each have something different to say about it," Morse wrote in an email. "It takes me ages to finish writing a song, and once I have it I feel like I can go in any of 5 directions."
Morse pointed out a past affinity for Gnarls Barkley's 2006 breakthrough St. Elsewhere.
"They would play the Grammys, late night [TV shows], this and that session, and it seemed like they never played the same arrangement of a song," Morse continued, pointing out their fascination with the various versions of a song, from demo to album to concert hall. "[D]ifferent renditions of the same song could elicit different feelings or illuminate some new meaning within the lyrics or melody."
This is a phenomenon regularly at play in covers. (I'm sure Ray Padgett has a lot to say about it.) For instance, Chromatics' narcotic cover of Cyndi Lauper's "Girls Just Want to Have Fun" lacks the jubilance of the original, instead presenting a dark take on the freedom heard in Lauper's version. Is singer Ruth Radelet making a statement about female liberation? Is the band just adapting the song to its tonal palette? It's fun to speculate, especially because, as Morse suggests, there probably aren't any wrong answers.
Morse's approach is fairly unusual, since artists rarely cover themselves. But are they covering GOOD BABY, or is it the other way around? Hard to say — and, again, I don't think it quite matters.
Morse also points to Big Thief front person Adrianne Lenker's latest release, the economically named songs / instrumentals.
"They're technically two distinct albums, but they're also two sides of the same coin or 12-sided die and have a whole 'greater than the sum of its parts' thing to them," they said.
Same goes for the diverging tracks heard on together, forever//together, apart. The differences are subtle, such as the tone and texture of the beats, the use of supporting vocals, and divergences in tempo. Take a listen and compare and contrast for yourself! The EP is available to stream and download at whosagoodbaby.bandcamp.com.
Listening In
If I were a superhero, my superpower would be the ability to get songs stuck in other people's heads. Here are five songs that have been stuck in my head this week. May they also get stuck in yours.
Young-Holt Unlimited, "Soulful Strut"
Club Intl, "Ash Is Gone"
MOTHERMARY, "Resurrection"
Miss Platnum, "Come Marry Me"
Laura Mvula, "She"