It's been refreshingly quiet on the music front over the last week or so. Following the jazz fest blitz and before we delve into the heart of the outdoor music festival season — also known as "summer" — it's good to take a breather and recharge the ole batteries. And what better way to do that than with a classic, rapid-fire edition of Soundbites? Strap in.
In many ways, Northampton, Mass., and Burlington are a lot alike. Specifically, they are both smallish college towns with thriving arts and music scenes. This Friday, June 20, the Queen City will get a taste of some of the Meadow City's up-and-coming talent when a cadre of NoHo bands descend on Radio Bean. They include indie-folk songwriter Eljebel; jazz-folk chanteuse Lea Chiara — who claims to have been raised by wolves and foxes, and I'm not sure she's joking; indie-soul band Mammal Dap, who have made Red Square a regular tour stop lately; lo-fi folk-punk Mal Devisa; and seriously danceable indie-pop outfit And the Kids.
The other band on the bill may be familiar to local audiences already. Bella's Bartok were a surprise highlight at the Precipice festival last summer. As I wrote in this very column recapping that fest last July, there's a striking similarity between BB's front man and a certain other gypsy-punk band front man who is beloved in these parts — Gogol Bordello's Eugene Hütz, for those who didn't catch that not-so-subtle hint. The similarity extends, to a degree, to the band's music and live show, which is bombastic and punky — though Bella's Bartok play with more ska undertones than do Gogol Bordello. Point is, they put on a hell of a show, and it should end up being one sweaty night at the Bean.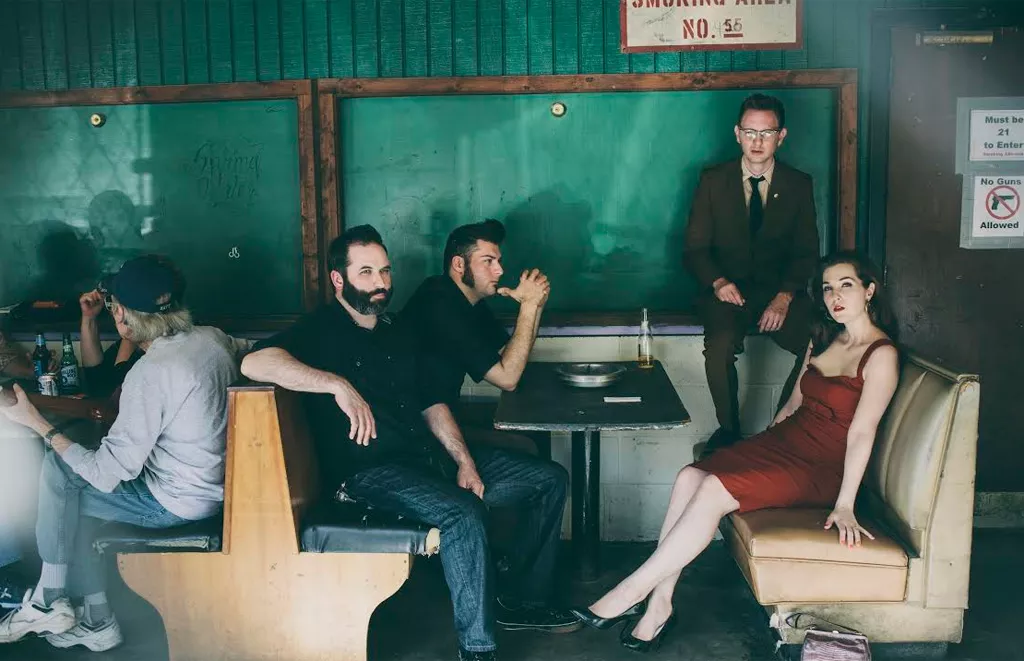 In other out-of-towners news, a nifty show at the Skinny Pancake in Burlington on Tuesday, June 24, features JD Wilkes & the Dirt Daubers and Providence-based country singer Joe Fletcher. The latter is an occasional Vermont visitor and writes some kick-ass, classically styled twang that's well worth the price of admission on its own.
Wilkes is perhaps best known as the founder of the Legendary Shack Shakers, a Nashville-via-Kentucky punkabilly band that made some national waves in the 1990s when they signed to Bloodshot Records. Wilkes is also an accomplished visual artist whose comics have appeared in publications all over the country. But the coolest of his art credentials is undoubtedly drawing the comic book that accompanied Shooter Jennings' 2013 record, The Other Life. And, yeah, Shooter is Waylon's son. Which reminds me, music!
With the Dirt Daubers, which also includes his wife, Jessica, Wilkes plays a slightly mellower brand of twangy rock than with the Shack Shakers — but only slightly. Wilkes has a reputation as a fiery live performer — he's been compared to Iggy Pop and Jerry Lee Lewis — his band's latest record, Wild Moon, is some seriously swampy, gritty stuff.
Did you know that Bristol was originally named Pocock? True story. It was named such in 1762, after a British admiral. It was changed to Bristol about 25 years later — presumably when the town founders realized the name Pocock would put them at the mercy of generations of snickering 13-year-old boys. And music editors.
Anyway, I bring it up because this Saturday, June 21, is the annual Pocock Rocks! Music Festival & Street Fair in downtown Pocock, er, Bristol. The daylong event features specialty food vendors, craft vendors, wine and microbrewed beer. Oh, and music.
This year the lineup is split between two stages. On the East Stage, you can catch songwriters Lynda Malzac and Patrick Fitzsimmons. And also, apparently, karaoke. Over on the West Stage, things get a little louder with funk-rockers Gang of Thieves, Bandana, Abby Jenne and headliners Waylon Speed. Regular readers know I've been a devout fan of the Speed for years now. (You should also know that the band's drummer, Justin Crowther, is an occasional contributor to these pages.) But when I've seen the band lately, I've found myself thinking it's hit a new gear. WS are tighter and writing the best songs of their career. Their latest record, Kin, which has been out locally for a few months but will see national distribution on June 24, is on my short list for best local albums of the year — and might make my nonlocal list, too. Catch 'em while you can. And if you can't make it to Pocock, WS are playing Parker Pie Co. in West Glover the previous night, Friday, June 20.
(Also, did you know West Glover was originally named Boobytown?)
Speaking of outdoor summer music, the schedule for the 2014 Battery Park Free Concert Series at Burlington's Battery Park was announced last week. The series kicks off on Thursday, July 10, with a band called Grizfolk, who describe themselves as Swedish-American electro-Americana, which I think means they're like ABBA with steel guitars. Maybe not.
Anyway, the rest of the series will see Twin Forks on July 17, which is the new acoustic project of Dashboard Confessional's Chris Carrabba; Jukebox the Ghost on July 24; and Canadian rockers the Sam Roberts Band on Thursday, July 31.
Have you heard "Extraordinary I," the new track from the Write Brothers? No? Stop reading this column right now and go to our arts blog, Live Culture, and check it out. I'll wait...
Holy shit, right? The collaboration of Aztext cofounder Learic (Devon Ewalt) and producer Dante Davinci (JJ Dante Vezina) might be my favorite project Learic has done yet — though his work with the Precepts on This Is How It Must Be was pretty gnarly, too.
The track has been getting some serious attention in the blogosphere, including from KickKickSnare, DJBooth and Earmilk, where it debuted last week. In short, it seems like the rest of the world is starting to learn what we've known for a long time: Learic is one seriously gifted rapper. Look for the release of the Write Brothers' debut EP, Take Flight, in late July.
Congratulations to local roots-soul duo Dwight & Nicole, who last week won the Seven Days-sponsored Grand Point North Local Band Contest, narrowly edging out Brattleboro indie-rock outfit the Snaz. By winning, the duo will open this year's Grand Point North festival on Saturday, September 13, which is cool. If you've never seen them live, make a point to be there for their set. Nicole Nelson has one incredible voice — just ask CeeLo Green.
Last but not least, I'd like to take a minute to thank those of you who nominated yours truly as a finalist for the Best Print/Online Journalist Daysies award this year. That was totally unexpected and I am deeply touched and flattered. So, thanks, guys. Really.
Also, I think you should vote for Ken Picard.
Listening In
A peek at what was on my iPod, turntable, eight-track player, etc., this week.
Lydia Loveless, Somewhere Else
Deltron 3030,Deltron 3030: Event II
Gulp,Season Sun
Elephant Stone,The Three Poisons
The Family Crest,Beneath the Brine