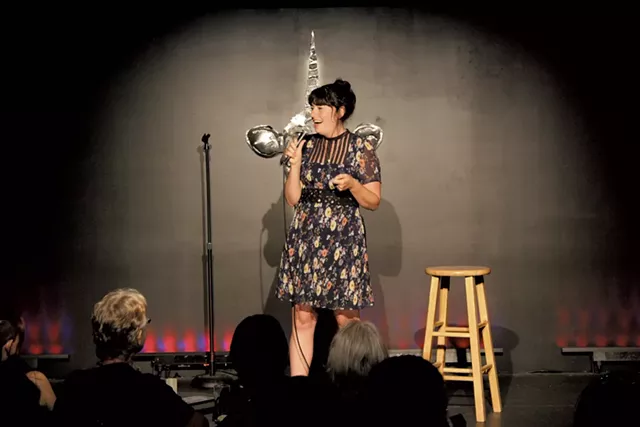 Courtesy Of Vermont Comedy Club
Annie Russell
Over the years, we here at Seven Days have noticed an amusing phenomenon: We profile an interesting person in Vermont's arts community and, less than a year later, they announce they're leaving town. I recently passed my one-year marker with the paper, and I can attest to some truth in it. Browsing the annals of my coverage, I noticed that no fewer than five people I've spotlighted no longer reside in the 802. What's up with that? Is it something we said?
In all seriousness, we know that Burlington is not the be-all and end-all of human existence. People follow their dreams. Cheesy but true. And sometimes dreams take people far away. As such, the 7D curse — er, phenomenon — will undoubtedly continue. To wit...
Late last year, 7D profiled comedian and Vermont Public Radio deputy news director Annie Russell and her monthly alt-comedy showcase, Cringe! A Night of Hilarious Humiliation. In July, she was included in a cover story on rising Vermont female comedians. So, of course, she's leaving.
This week, Russell presents her final local appearances before packing up and shipping out to Chicago. She and her fiancée, comedian Paul Church, host an extra-special event called Desperate for Approval: A Reverse Roast on Sunday, October 1, at the Vermont Comedy Club in Burlington.
"I anticipate that I will be crying by the end of it," Russell tells us in a phone interview.
When she first came to Vermont four and a half years ago, Russell says the comedy scene was a bit different. She describes it as dispersed and fragmented.
"There was no Vermont Comedy Club," she clarifies. "We were doing a lot of shows in bars. We were driving all around, begging different venues to let us do shows. Now, [Vermont is] sort of known in the comedy world. We have major headliners coming through every single week. It's really just exploded [since then] in the best way.
"[But] it's time to move on," Russell continues. "As much as [Paul and] I love the Vermont comedy scene, we're really excited to start a new chapter. This seems like the best way to say goodbye to everyone."
By now you might be wondering: Just what is a reverse roast, exactly? Good question!
"Historically, when comedians leave Burlington, [we] do a roast," Russell says. "I personally hate roasts. I never walk away from either participating in or viewing a roast feeling good. I typically am just super bummed out.
"[But] this is not going to be a traditional roast with a dais," continues Russell. "It's direct competition."
If you've seen any of the recent Comedy Central roasts, or the Friars Club roasts on which they're based, you know that a typical roast pits a group of comics and other celebrities against one honoree who is then subject to a barrage of disgusting and over-the-top degradation. Naturally, I thought that "reverse roast" meant that Russell would spend a couple of hours insulting and humiliating a group of select guests. I'm sure that could be funny in its own way, but it's contrary to how Russell views the Burlington comedy scene.
"I've said this before, but Vermont is one of the most supportive scenes," she says, noting that it's particularly equitable to women and members of the LGBTQ community. "It's something that I don't see in other places."
For her farewell shindig, Russell has handpicked a cadre of noteworthy funny people to participate in the unusual affair. Selectees will engage in a series of timed roast battles, but, rather than exchanging barbs, they'll shower each other with compliments.
"Think about the structure of a roast joke," says Russell. "[So-and-so] is so 'adjective,' that they..."
A panel of judges composed of noteworthy "nice people," as Russell puts it, will preside over the evening's festivities. These include VPR "Morning Edition" host Mitch Wertlieb, comedic financial speaker and former standup comic Colin Ryan, and Seven Days assistant arts editor Dan Bolles. If things get out of hand onstage, judges have license to put an end to any chicanery. They can ring a handy-dandy bell if anyone crosses the line, after which all remaining time is ceded to the opposing roaster. Judges have some leeway, as well. They can ring in if they don't think a compliment is genuine, which Russell thinks is a "fun twist."
"One thing that comedians have been saying to me over the past month or so [is], 'This is really hard. It's way easier to be mean than it is to be nice when you're writing a joke,'" she says. "I have a feeling there will be some backhanded compliments that will come out, and that the judges are going to be pretty harsh on that."
Individual matchups remain secret until the night of the show. Performers include VCC owners Natalie Miller and Nathan Hartswick, Conor Lastowka, Bryan Parmelee, Emily Clairmont, Aaron Paulsen, Owen Foley, Eric Dreiblatt, Kendall Farrell, Katie Gillespie, Tim Bridge, Joe Gingras, Sean Hunter Williams, Mike Thomas, Nicole Sisk, Josh Star, Martin Fisher, Hillary Boone and Tracy Dolan.
"I can tell you that I have matched folks up very intentionally for maximum comedy," Russell says.
For those hoping to hear some standup from Russell herself, rest assured that both she and Church plan to perform after the battle.
"For my set, I'm writing a compliment about every single person who's participating," she says.
Russell also hosts the podcast No Chill With Annie Russell, which, unfortunately, is also coming to an end.
"A podcast will continue," she says, though it likely won't be No Chill.
A question she asks her pod guests is: Are you a chill person? What's especially tickling is that she never quite defines what "chill" is. I think of it as being akin to Justice Potter Stewart's famous quote about pornography: "I know it when I see it."
"I'm not chill," she insists. "Whatever it is, I don't have it."
To keep up-to-date with Russell after she parts ways with the Green Mountains, follow her on Twitter at @anniemrussell.
And if you're itching for more Russell this week, she opens for comedian Emily Heller's five-show run, Thursday through Saturday, September 28 through 30, at the VCC. Visit vermontcomedyclub.com for more information.
Good luck, Annie! May you eventually come to define the enigma that is "chill."
Disclosure: Bryan Parmelee is digital production specialist for Seven Days.
Listening In
If I were a superhero, my superpower would be the ability to get songs stuck in other people's heads. Here are five songs that have been stuck in my head this week. May they also get stuck in yours. Follow sevendaysvt on Spotify for weekly playlists with tunes by artists featured in the music section.
Crywolf, "Quantum Immortality"
Ms. Henrik, "Mark"
TV on the Radio, "A Method"
Chris Isaak, "Baby Did a Bad Bad Thing"
LCD Soundsystem, "Dance Yrself Clean"