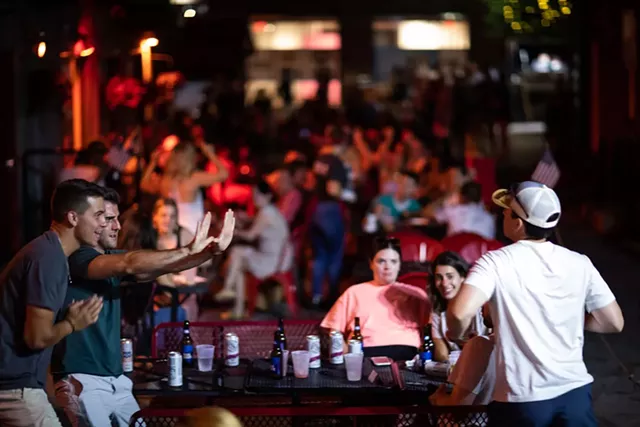 Luke Awtry
Revelers at Red Square in Burlington last Friday
Safety Meeting
I hate feeling like a party pooper. I never thought I would be the one wagging a finger, admonishing revelers for doing the very thing I spent a great deal of my teens and early twenties doing. Yet there I was, standing on Burlington's Church Street Marketplace in front of nightclub Red Square on July 3, silently watching in slight horror as people continued to put their own pleasure ahead of keeping others (and, frankly, themselves) safe. And now here I am, writing about it. I feel like such a dick, a traitor to hedonists the world over.
Recently, Red Square and three other downtown Burlington hot spots — JP's Pub, Akes' Place and the Other Place — were issued warnings from the Vermont Department of Liquor and Lottery's Office of Compliance and Enforcement to adhere to current guidance from the Department of Health regarding pandemic-related precautions and social-distancing measures. Red Square has become a lightning rod on social media with regard to the ongoing issue, likely because of its prominent placement on the Marketplace, abundant outdoor seating area and palpable party atmosphere bolstered by some of the area's best DJs, including Craig Mitchell and DJ Cre8.
In a recent phone call, Division of Liquor Control director of compliance and enforcement Skyler Genest explained that a total of 19 establishments have been similarly reprimanded since the start of the pandemic, including the four Burlington watering holes. However, that's out of some 3,000 compliance checks Genest's office has carried out since March 12. That means 99 percent of businesses were operating within the guidelines.
"We give and afford every opportunity for a business to comply before we wield enforcement as a tool," Genest said.
It seemed to me that the warning was taken seriously, at least by Red Square on the night I skulked around its outdoor patio. While I was briefly chatting with general manager Alex Flamini, several staffers interrupted us with club business, mostly having to do with wrangling drunkards who weren't maintaining social distance.
Did staff appear to do its level best? Yes. Security looked tight and focused, with staffers posted all around the club's expansive patio. I doubt there was much more they could have done to enforce the rules.
Did they manage to keep everyone fully in line for every single second of the evening? Of course not. How could they? Drunk people are basically like preschoolers. (I have years of experience dealing with both.) Turn around for two seconds, and they're stirring up trouble. I don't believe it's possible to ensure that 150 people — the maximum number of occupants currently allowed for outdoor seating — are on their best behavior, especially with alcohol in the mix. Nor is it fair to make the average bar worker the arbiter of the potential spread of a deadly virus, especially when there are still questions about how it's transmitted.
By and large, Vermont is in way better shape than most parts of the country in terms of containing the virus. The Washington Post ran a story on June 18 titled "Vermont Borders States With Major COVID-19 Outbreaks, but You Won't Find That Here." But I believe we could quickly lose our crown if social distancing isn't taken seriously. And based on the throngs of unmasked people milling about downtown last Friday, it's clear many people aren't doing their part.
I keep hearing, "I just want to do something normal," with regard to outdoor dining and the like. Well, guess what? Eating out isn't "normal"; it's a privilege that not everyone gets to have even in the best of times.
This whole issue is not Red Square's problem, nor any other bar's, yet people keep directing their outrage toward private enterprises. If the state government says it's OK to open, can businesses be blamed for trying to get back in the black? It's pointless to direct outrage anywhere but the root of the problem.
When will our state and federal government act to save independent nightclubs and concert venues so consumers don't have to feel responsible for saving their favorite businesses by patronizing them when it's still not safe? The UK just announced a plan to invest £1.57 billion (or $1.96 billion) in its cultural, arts and heritage institutions. The National Independent Venue Association, an American group of like-minded businesses, which counts places such as South Burlington's Higher Ground, Winooski's Monkey House and Brattleboro's Stone Church among its members, estimates that 90 percent of independent music venues will close without significant government intervention.
I don't want to see that happen.
Sorry Situation
A little more than three years ago, Winooski was briefly home to a bar called Mister Sister. Though touted as an inclusive space for the LGBTQ+ communities, it quickly came under fire for being the opposite, particularly from transgender people. They claimed that its name was a transphobic slur, and a bitter social media battle between the club's owner, Craig Derouchie (or Craig McGaughan, as he was known at the time), and a contingent of outspoken activists ensued.
Derouchie did not relent in his assertion that the name was not transphobic. After only a few months of operation, he launched a GoFundMe campaign to save the bar, which I called out in this column as "disingenuously purport[ing] himself as a helpless victim by presenting a sob story about his failing business" when he could have just apologized and changed the name when it first became an issue. The bar permanently closed a few months later.
But now, Derouchie has seemingly come around, as he stated in a public apology email sent to Seven Days.
"My ego, defensiveness and my own reaction to feeling less-than at times in my life, blinded me to the authentic feelings of others," he wrote. "I labelled people as overly sensitive and I tried to invalidate their feelings by explaining that my intent was harmless. I've since learned that's not good enough.
"To the trans and gender non-conforming community, I'm sorry," Derouchie continued. "I apologize that my actions harmed you and I applaud you for standing up and doing what was necessary to be heard."
Derouchie's words are indicative of something larger. People learn and grow at different rates. Sometimes it takes years, but they often get there eventually.

Here's his full letter:

Embed not showing?
Read the letter here.
Half Empty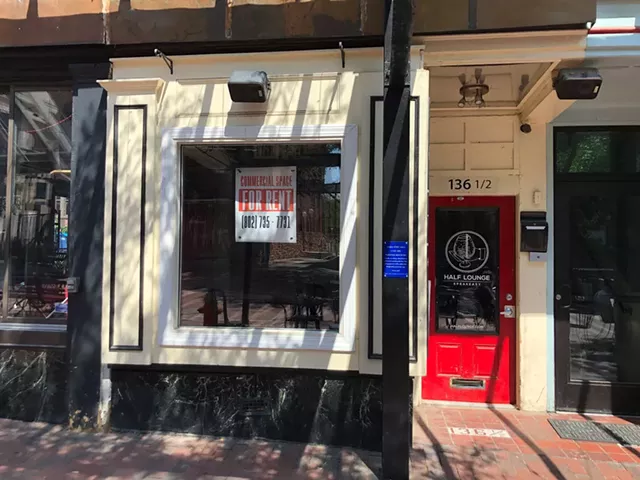 Courtesy Of Caitrin Roesler
"For Rent" sign at the former Half Lounge in Burlington
Rest in peace, Half Lounge, the pint-size Burlington club next door to Red Square. The club is closed and ready for new tenants to move in, as a large "For Rent" sign in the window indicates. This is the second time the club has closed in three years; it was shuttered in early 2017 before being purchased by SideBar talent buyer Adrian Sackheim along with Mr. Mikes Pizza co-owners Aaron Chiaravelotti and Boudee Luangrath.
The club officially closed on March 1, according to building owner Cormac Walsh, weeks before all bars, clubs, restaurants, etc., followed suit because of the pandemic. Walsh confirmed by phone that the business closed "because they didn't pay the rent," but he declined to comment further.
Chiaravelotti directed questions about the closure to Sackheim, who did not respond to Seven Days after multiple attempts to make contact.
"I'm willing to make a good deal [on rent] to the first person who makes an offer," Walsh said.
Listening In
If I were a superhero, my superpower would be the ability to get songs stuck in other people's heads. Here are five songs that have been stuck in my head this week. May they also get stuck in yours.
Remi Wolf, "Down the Line"
Red Hearse, "Violence"
Wreckx-N-Effect, "Rump Shaker"
Rufus Wainwright, "Jericho"
Chloe x Halle, "Forgive Me"