Courtesy of Bloom Machine Photography
Radio Bean Birthday Bash crowd
Last Saturday's daylong Radio Bean birthday party was, as always, a blast. From eight in the morning until last call, it was jam-packed with great music, free coffee and general merrymaking. But it was also an enlightening day in which I found out some interesting tidbits about our cozy little local scene. So, in no particular order, here are those newsy nuggets, along with some other (occasionally) relevant observations.
Tim Lewis is more dedicated to local music than most of us are to anything.
I pulled two lengthy shifts at the birthday bash this year, one in the afternoon, one in the evening. When I caught up with Lewis, the local music superfan was clocking in for his fourth, I believe. Next to Radio Bean owner Lee Anderson — and maybe not even him — dude saw more of the 80 bands that performed at the Bean and the neighboring Light Club Lamp Shop than anyone. Hats off, sir.
This just in: The DuPont Brothers are really, really good.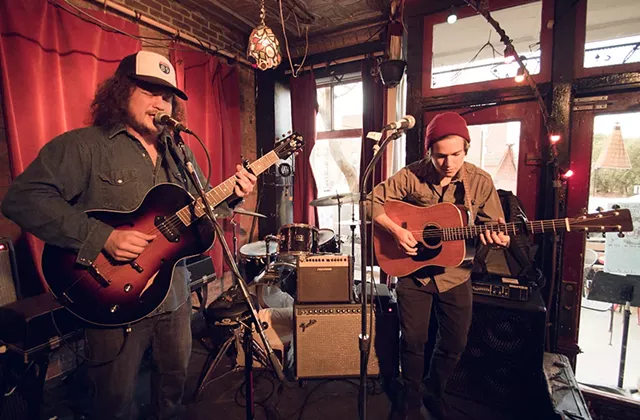 Courtesy of Bloom Machine Photography
The DuPont Brothers
The Bean bash is basically the Whitman's Sampler of local music. Sometimes you get a weird, stale coconut thingie. But sometimes you get gloriously gooey, melt-in-your-mouth caramel and chocolate. Point is, you can get a taste of practically the entire scene in 15-minute nibbles. The DuPonts offered one of the most delicious sets of the day.
I got chills more than once thanks to the intertwining harmonies of Zack and Sam DuPont. They even test-drove a new tune that featured some complex and prettily atonal guitar and vocal work. Afterward, Zack let it slip that they are currently at work on a new record with Michael Chorney. After what he did with Maryse Smith's last record, the thought of him Chorney-ing up a DuPont Bros. album is tantalizing. Look for it sometime next spring or summer.
Tom Banjo is a state treasure.
Photos courtesy of Bloom Machine Photography
Tom Banjo
Tom Banjo, aka Tom Azarian, is probably best known for his old-timey "Cranky Show." But he is a walking encyclopedia of early American folk music. I think I learned more about the genre in 15 minutes from his engaging and informative pre-song setups than I have in years.
Honky Tonk Tuesday is in good hands.
As we reported last month, Brett Hughes has been eyeing the end of his 10-year run leading the Bean's weekly Honky Tonk Tuesday. The questions were simply when he would step down and who would pick up the mantle when he did. That someone would inherit the gig was never particularly in doubt, since it's such a profitable night at the Bean. So, speculating on who that might be was kind of like the local version of guessing who would succeed Jon Stewart on "The Daily Show."
Hughes played his last HTT — "for now," he told me — on November 3. And the man taking his place? Local songwriter Eric George.
George is a terrific songwriter and guitarist and is well schooled in early country, as evidenced by his excellent 2015 self-titled solo record. Hughes advised him to collect his own core band — always a tricky task with HTT — and so he's enlisted guitarist John Abair, harmonica player and singer Collin Cope, and a crack rhythm section. Also, since every George Jones needs a Tammy Wynette, George's partner Addie Herbert will drop in on vocals, too.
"It definitely won't be the same without Brett and his crew, but my intention is to be faithful to the music," wrote George in a recent email to Seven Days. "What I keep reminding myself is that what makes a country song great is the song. Even if we're short a pedal steel player for a while, which is sometimes the tastiest ingredient in country music, the cleverness and depth of these old songs will always be the appeal, at least for me."
As for Hughes, he'll be as busy as ever, gigging multiple times per week. He also hinted at heading to the studio soon to finally lay down the solo record we've all bugged him about for years.
Red Stripe is Lamp Shop PBR.
It's often struck me as funny that the Jamaican beer is the suds of choice for cost-conscious hipsters — myself included — at the LCLS. Then it hit me: LCLS used to be the Caribbean Corner. Well played, Lee Anderson.
Being a sound engineer is hard. And Paddy Reagan is a great dude.
Sound guys and gals get no respect, because the only time you really notice them is when something goes wrong. But it's a tough job, and tweaking knobs and faders at an event like the Bean birthday is thankless bordering on impossible. That's because you're mic-ing and mixing a new band every 15 minutes.
In the span of a few hours on the Lamp Shop side, sound man Jason Horne had to mix two acoustic duos, a band whose lead instrument was a saw, Dwight & Nicole, Maryse Smith, a kid-fronted punk band that he also played drums in, two indie-rock bands and Tom Banjo — the last of whom played not his namesake instrument but switched between guitar and autoharp, a diabolically annoying instrument to do, well, anything with.
Unsurprisingly, there were a few snags — an especially finicky speaker certainly didn't help. But for the most part, Horne handled the juggling act with poise.
The one set beyond his control was Paper Castles, during which vocalist Paddy Reagan could hardly be heard — see: speaker, finicky, above. Despite the unfortunate sound issues, at the conclusion of their set, Reagan, no stranger to engineering live music himself, leaned into his mic, looked at Horne and said, "Thank you, Jason." Ironically, it was the only time his mic seemed to work.
The lesson, as always, is: Hug your sound engineer.
The Pants documentary is done, and it's good.
Bill Simmon's documentary on legendary Burlington band the Pants, titled High Water Mark, has been in the works for years. It's finally done, and a couple of local scenesters I spoke with at the Bean recently saw the SXSW-submission edit. Their verdict: It's really good.
I'm in the flick, so I won't say much beyond that, except to look for a BTV screening in early-ish 2016.
Silver Bridget is the coolest band in town.
Silver Bridget is musical saw player Johnnie Day Durand's trio. For the Bean bash, they played a selection of woozy covers that included the Beach Boys, the Beatles and the Traveling Wilburys. I don't know that I've ever seen so many knowing, appreciative smiles in the same room at once. And it was fun to watch people try to figure out what each song was before the melody gave it away.
Is it gimmicky? Absolutely. But it's a great gimmick and provided probably my favorite set of the day. Only at Radio Bean — or, in this case, the Lamp Shop.
Listening In
A peek at what was on my iPod, turntable, eight-track player, etc., this week.
End of Love, Ghosts on the Radio

Beach Slang, The Things We Do to Find People Who Feel Like Us

Floating Points, Elaenia

Mystic Braves, Days of Yesteryear

Rose Windows, Rose Window