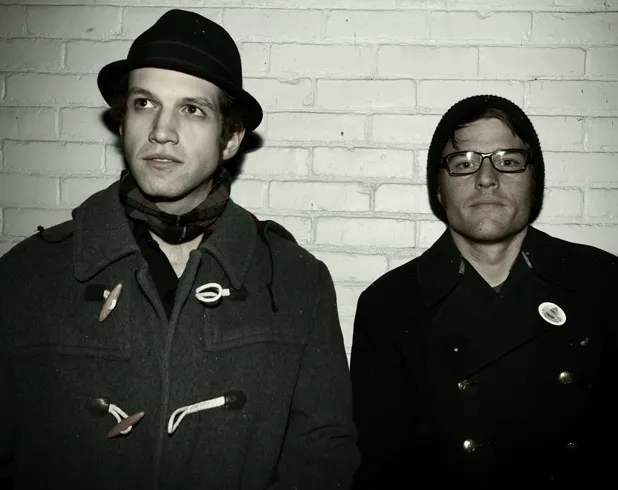 So much news. So little time. So we're doubling up on rapid-fire Soundbites columns in back-to-back weeks. Buckle up.
*****
First up, on the holiday beat: Have you heard "Christmas Sled," the new single from Farm-offshoot the Mountain Says No? Well, you should. I daresay it's destined to join all three Physics Club records, Myra Flynn's "Harvest," Grace Potter's "Naughty Naughty Children (Better Start Actin' Nice)" and Victor Rudolph Gittens' amazing — and amazingly hard to find — "Christmas Everyday" as a local holiday classic. Check it out on the Seven Days arts blog, Live Culture.
*****
I didn't go to the first show of the Dark Side of the Mountain monthlong residency at Nectar's last Wednesday. But, judging from the Facebook pictures that popped up in the days following, Nocturnals' drummer Matt Burr wasn't kidding about the laser light show accompanying the band's Pink Floyd fetishizing. I think I hallucinated just looking at them.
I do have one suggestion for Burr and co. for the remaining Wednesday shows, though: If you guys do any songs from Animals, you should borrow the inflatable flying pig that Northfield Savings Bank displays on the Flynn Center marquee during jazz fest. You're welcome.
*****
New band alert! Welcome to the fray, Apex. Led by local saxophonist Dan Liptak, the 10-person ensemble features members from several notable outfits, including Kat Wright & the Indomitable Soul Band, Saturn People's Sound Collective, the Grippo Funk Band and Afinque, to name a few. According to a recent press release, the group trades in the "grooves of Snarky Puppy" and hearkens to the heydays of 1960s Bay Area funk, blending "funk, rock, fusion, jazz and even chamber music." Interesting, no? They'll be at Positive Pie 2 in Montpelier this Friday, December 13.
*****
Not-so-new band alert! Following a two-year hiatus, Raq is baq, yo. Led by virtuoso local axeman Chris Michetti, the "high-performance rock 'n' roll" band will play a two-night stand at Nectar's this weekend with opening support from Twiddle offshoot Gubbulidis on Friday, December 13, and American Babies on Saturday, December 14. Jam on.
*****
In comedy news, Burlington watering hole Drink unveils a new monthly standup series this Friday, December 13. It will continue on the second Friday of each month and take place in the bar's downstairs special-events room, the Cellar — dubbed, of course, the Comedy Cellar on comedy nights. Personally I would have gone with Laugh — or, depending on who is performing, Heckle. The debut show features the comedic stylings of Will Betts, Natasha Druhen, Mike Thomas and Colin Ryan, with host Adam Cook.
*****
Back in September, State & Main Records threw a pretty kickass showcase featuring a choice selection of Montpelier bands at the Monkey House. Unfortunately, little did they know that down on the Burlington waterfront that same night, Grace Potter & the Nocturnals were holding court with their annual Grand Point North festival. I skipped out on GPN a little early and made my way to Winooski for the show. I was pretty much the only one who did. With the majority of Burlington's show-going public previously engaged, the turnout at the Monkey was sparse at best. Still, our capital-city brethren — and sistren — put on a hell of a show. And, lucky for you, they're coming back.
On Tuesday, December 17, this time at Nectar's, the S&M crew will reprise that ill-fated September showcase with four killer bands that I promise are worth your time. The lineup includes hip-hop duo Boomslang, garage rockers Lake Superior, spastic-punk outfit Pistol Fist and surf-metal heroes the Concrete Rivals. By the way, that last band will be performing as a duo, as it's still searching for a new bassist in the wake of Jen Smithers' recent departure. Any aspiring new Rivals might want to drop by, if only to see if you can keep up with guitarist Jay Ekis and drummer Ben Roy.
*****
Speaking of Grand Point North, one of the festival highlights for me was witnessing the jaw-dropping, show-stopping antics of soul singer Charles Bradley. So intense were the Screaming Eagle of Soul's hip-swinging moves that my girlfriend coined an incredible new term to describe them: gyrotechnics.
We weren't the only ones taken by Bradley's hypersexualized performance. At one point during the apex of Bradley's set, local songwriter Jer Coons tapped me on the shoulder.
"Dan," he said, nodding toward the stage. "I think I'm pregnant."
If that's not endorsement enough for you to go see Bradley at the Higher Ground Ballroom this Saturday, December 14, I don't know what is. (Other than our spotlight of the show on page 76, of course.)
*****
The 2014 Grammy Awards could have a Vermont-y feel, as a pair of artists with strong Green Mountain ties are nominated for nifty little statues. That includes self-described "two-time Grammy Award loser" Neko Case. The semi-recent Vermont transplant is nominated for Best Alternative Music Album for her latest, The Worse Things Get, the Harder I Fight, the Harder I Fight, the More I Love You, which, as Case revealed in a recent NPR interview, is obviously about me. It's cool, Neko. I love you, too. (Editor's note: No, it's not.)
The other Grammy nominees with VT connections are Della Mae, a Nashville-based Americana outfit fronted by Celia Woodsmith, formerly of the local folk duo Avi & Celia. Della Mae's This World Oft Can Be is nominated for Best Bluegrass Album.
*****
Last but not least, I goofed. Last week's column featured a blurb about famed Americana producer Jim Rooney sitting in this Thursday, December 12, with Colin McCaffrey — no slouch as a producer himself — as part of the latter's ongoing residency at Bagitos Café in Montpelier. Such a big deal was this rare appearance that I broke with column convention and gave you a heads up on the show a week early. The only problem: The show was actually last Thursday, not this one. Oops.
Either because he's a hell of a guy or, as I've long suspected, writing this column grants me superpowers to alter the future, Rooney is covering my ass. Though he wasn't scheduled to, he'll again join McCaffrey at Bagitos this Thursday, December 12, allowing those of you who missed him last week because I screwed up the dates the chance to see him live. Thanks, Jim!
*****
And just in case I really do have future-changing journalistic superpowers: Brett Hughes will throw the Holiday Ho Ho Ho Down this year after all, New England Patriots tight end Rob Gronkowski's season-ending ACL tear was misdiagnosed and is really just a mild case of the willies, and Neko Case will invite me to a romantic dinner at her farmhouse after she wins her Grammy. (Editor's note: Dan, your girlfriend reads this, right?)
Listening In
A peek at what was on my iPod, turntable, eight-track player, etc., this week.
Morning Parade, Alienation EP
The Callas, I Am Vertical
Maya Vik, Lay Low EP
Mastodon, Live at Brixton
Various Artists, A Colbert Christmas: The Greatest Gift of All!