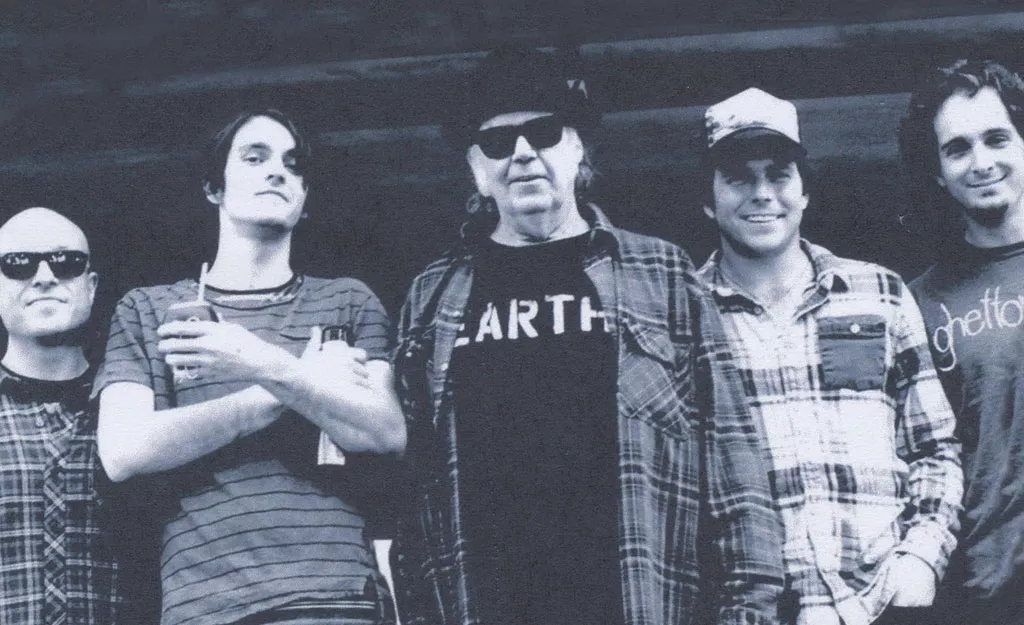 Courtesy Of Neil Young
Neil Young Band
White Out. Young In.
Last week, Jack White announced that he would be taking a long hiatus from performing live following his headlining run at Coachella. He also announced that before he did so he would do a short acoustic tour, stopping in the five states in which he had never performed. The shows would be at small venues, would not be announced until the day of and tickets would cost $3. Yup. Three bucks.
Locally, that news sent fans into a minor tizzy on social media. It also raised a big question: Had White ever played Vermont?
The general consensus was that White had not been to the Green Mountains, whether solo, with the Raconteurs or the White Stripes. But, as is often the case, the general consensus was wrong.
As it turns out, the White Stripes played at Bennington College in 2001. Although at least one online archive of Stripes shows had that gig listed as being in Bennington, New Hampshire. So the hope went from being that White had never played Vermont to the hope that White's fact checkers are as clueless as those at certain online archives. They're not.
A source close to White's camp confirmed that the White Stripes did indeed play Bennington. They also confirmed that Bennington is part of Vermont. (I'm still suspicious on that last part, dammit.)
So that was a bummer. But the revelation that White would not be coming (back) to Vermont was quickly overshadowed when the announcement came that another iconic rock star would be making his first appearance in Vermont: Neil. Fucking. Young.
(Side note: The notion that Young has never played in Vermont ain't quite right, either. But we'll get to that in a second.)
If you somehow missed the news, on Monday, April 20, Alex Crothers and the crew from Higher Ground Presents announced that the Godfather of Grunge will play the Champlain Valley Expo on Sunday, July 19, with the future Mrs. Dan Bolles, er, Norah Jones' band Puss n Boots. Young will be backed by Promise of the Real, which features Willie Nelson's sons, Lukas and Micah Nelson. Young and POTR will be touring in support of a new record, the ambiguously titled The Monsanto Years, which is presumably a collection of unreleased tracks from the Harvest Moon sessions.
Kidding. It's almost certainly a collection of eff-you ballads aimed at the agro-chemical behemoth. Young has recently led boycott of Starbucks for the venti-size coffee company's involvement in a lawsuit against the State of Vermont over its GMO labeling requirements. That suit was filed by the Grocery Manufacturers Association, of which Starbucks is a member. Also a member: Monsanto. Young has an ax to grind, and I'm not talking about his guitar.
"It's a classic David-and-Goliath fight," he wrote in a November 9, 2014, post on his website. "There's much more at stake here than just whether GMO foods will be labeled in a single U.S. state. Vermont is the very first state in the U.S. to require labeling. Dozens of other states have said that they will follow this path — in order to encourage this, we need to ensure that Vermont's law stands strong."
High five, Neil Young. Also, swing by Muddy Waters when you're in town.
Though he hasn't come out and said so, the general consensus — admittedly dangerous though it is, as we've learned — seems to be that the timing of Young's Vermont visit likely has a lot to do with Vermont's GMO fight. Or maybe he just heard the Green Mountains are lovely that time of year. Who cares? Neil Young is coming to Vermont ... again.
That's right, he's been here before, at least once — though a good chunk of 7D readers may have been in diapers at the time, if they were alive at all.
According to Kevin Chong's book, Neil Young Nation, Young played at the Wobbly Barn in Killington in October 1965, with the Mynah Birds — a Canadian R&B band fronted by Rick James, bitch! When the Mynah Birds broke up, Young and MB bassist Bruce Palmer moved to Los Angeles, where they hooked up with Stephen Stills and formed Buffalo Springfield. And the rest, as they say, is history.
So, yes, Neil Young has played in Vermont before. Though his July show will technically be his first in the state as the headliner. (Note to Jack White: If Vermont is good enough for Neil freakin' Young to play here twice...)
By the way, tickets go on sale this Friday, April 24, at 10 a.m. They're available online at flynntix.org and in person at the Flynn Box Office, where I'm pretty sure the line has already started forming.
BiteTorrent
Courtesy Of Hannibal Buress
Hannibal Buress
Speaking of the Flynn, comedian Hannibal Buress will perform on the MainStage this Thursday, April 23. That kinda blows my mind. When he was here last year, he played the Higher Ground Ballroom — and he was hilarious. I interviewed Burress prior to that show and he told me that he was "bar famous," meaning he'd occasionally get recognized in bars, but not anywhere else. He's no longer bar famous. He's just famous.
Burress is credited with helping to break the recent Bill Cosby scandal in his act. Maybe you heard about it? He's become so well known that he was recently part of the "Comedy Central Roast of Justin Bieber" — though the Biebs actually didn't know who Buress was, which is probably more a commentary on the cluelessness of the former than the notoriety of the latter.
If you didn't see it, Buress was merciless in skewering Bieber. His best line: "I hate your music more than Bill Cosby hates my comedy."
Ouch. Remind me to stay on Hannibal's good side.
Best Coast are playing the Higher Ground Ballroom on Wednesday, April 22, with local rockers Swale. (Disclosure: My brother plays in Swale.) But there's a sneakier way to see BC, and for free, no less. You didn't hear this from me, but the band is also playing an afternoon set the same day at the Burton Flagship Store in Burlington. You're welcome.
Last but not least, Maryse Smith releases her new album with Michael Chorney this week on Future Fields — that's the new local label that recently released Madaila's The Dance. The album is called The Way It Is. And it's stunning.
courtesy of Brendan McInerney
Maryse Smith
We'll be checking in with Smith in next week's issue. But you should know that the release show for that record is this Thursday, April 23, at the Light Club Lamp Shop in Burlington. You should also know that the record is the best damn thing Maryse Smith has recorded, which is really saying something. Her songwriting is as quietly devastating as ever, and her voice has never sounded so expressive. Also, Michael Chorney does Michael Chorney things, which might be the six most exciting words in local music.
Listening In
A peek at what was on my iPod, turntable, eight-track player, etc., this week.
Clip Art, Culler
Hiatus Kaiyote, Choose Your Weapon
Speedy Ortiz, Foil Deer
Tyler, the Creator, Cherry Bomb
Michael Hurley, Parsnip Snips