Courtesy Of Shem Roose
Swale
Ch-Ch-Changes
Howdy, folks, and happy 2019! If you're anything like me, this is how your year has gone so far: Make a New Year's resolution; reconsider the arbitrary nature of New Year's resolutions; declare New Year's resolutions dumb; reevaluate your constant need to be a contrarian; suck it up and recommit to your resolution; ultimately realize that you've successfully resolved to change things about yourself at other points during the year. So, if you mess up your New Year's resolution, you know that you're the kind of person who can decide to improve yourself regardless of what month it is. That being said, as of writing this column, I'm on my eighth day without coffee. And I think I'm doing pretty well. At least I'm past the physical withdrawal.
Now, down to business. Anyone who's spent time leafing through Seven Days' music section knows that it covers not just music but a wide variety of entertaining happenings. These can include poetry and storytelling events, trivia and game nights, film screenings, and, of course, the full gamut of comedy offerings. Basically, if it happens at a club, we include it in this section. (We define "club" as a bar, nightclub, café, lounge, restaurant or brewery. We also include record stores and vintage shops under the clubs umbrella.)
But in the spirit of a new year, we're making a few changes. From now on, all comedy events, regardless of location, will be listed in this section, which is now called "Music + Nightlife." (See the spiffy new tag at the top of this section?) We'll also include music events occurring in art galleries and similarly artsy spaces in the club listings. Formerly, we included certain music and comedy events in our much larger calendar section. But we realize that it makes more sense to group all comedy shows together, as well as to include some music events that felt a bit out of place among the calendar's other music listings.
The transition might be a bit clunky in the beginning, so please bear with us if we miss an event or two during the changeover. Hopefully, this reshuffling will help readers find more of what they're looking for in one convenient place within the paper.
Vermont's Got Talent
Courtesy Of Sam Simon
James Kochalka
Last summer, the closure of Talent Skatepark in South Burlington rocked the Champlain Valley's skateboarding community. Regarded as the epicenter of skate culture in the region since its inception in December 2001, the massive indoor skate park and retail shop was highly influential in cultivating a generation of local skaters and said skating culture.
"It's so much more than skateboarding," former Talent co-owner Hannah Deene Wood told Seven Days by phone. "It's a lifestyle. It's a community. It's a family."
In June 2018, Wood announced the disheartening news via Facebook.
"How do you find words when no words match what you feel?" Wood wrote, noting her fond memories of teaching kids "confidence, balance and how to properly shake a hand (with eye contact.)"
Wood noted that the 2008 financial crisis was a turning point in the business' revenue.
"Every year from 2008 to closing day, we sank about 50 percent," she said.
It's worth pointing out that 2008 was roughly the time when smartphones began to proliferate, following the iPhone's introduction the previous year. The new tech drastically altered the way that youth (and adults) communicate and entertain themselves. In a June article in the Burlington Free Press, Wood posited, "The majority of kids are very comfortable just sitting and playing on their phone ... Eye contact is not there because they don't want to take their eyes off the screen."
It seems the shift from live action to simulated action may have been a factor in the park's demise, in addition to a shift from shopping at brick-and-mortar businesses to online behemoths like Amazon.
Talent officially closed its doors in August 2018. But if you think the community-minded denizens of the area were going to let a gem such as Talent simply fade away, well, you don't know Vermonters. A new 501c3 known as Talent Skatepark, Inc., has emerged, with a mission to find a new home for the local skater set. Wood serves as its executive director. Currently, the nonprofit is in talks with Burton Snowboards to build a new park on its Burlington campus.
This Saturday, January 12, ArtsRiot hosts the official kickoff for the new skate park's fundraising campaign. The bill features rockers Swale, Rough Francis and James Kochalka Superstar, plus the comedy stylings of Laffy Taffy's chief laugh officer Richard Bowen.
To get a sense of what the park means to the community, look no further than folks on the show's bill.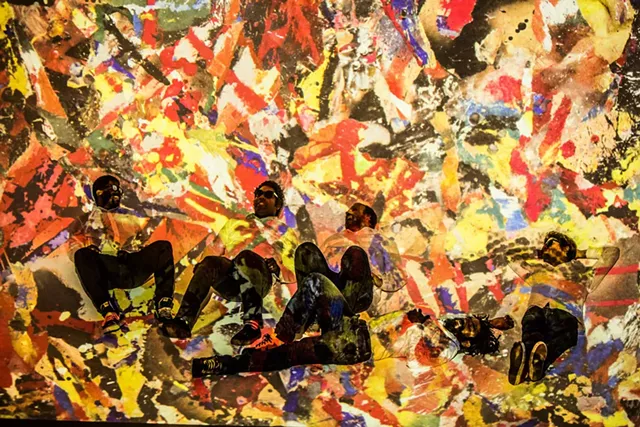 Courtesy Of Luke Awtry
Rough Francis
"I started skating there when I was 9 or 10," said Rough Francis drummer Urian Hackney in a recent phone conversation. "There were a lot of factors that made me kind of an outcast in the community: growing up and not really being into team sports, and also being black."
But Hackney said that he found a home at Talent, noting its influence on not just his social life but the trajectory of his artistic career.
"Talent is a big reason behind the music that [Rough Francis] play," Hackney said, explaining that the extended Talent community is what led him and his musician brothers to another now-defunct youth-oriented hot spot: 242 Main. "Skateboarding and punk rock [are] very linked. Without skateboarding, we wouldn't be playing punk rock," he said.
"That place was like a second home to me," Hackney continued. "My life would be a lot different without Talent."
I'm sure we'll hear much more about how the park touched the lives of people in the community on Saturday.
Oh, in case you were wondering what became of the ramps and pipes at the old Talent Skatepark, rest assured that they weren't dismantled and scrapped for parts. Wood told Seven Days that everything was broken down and redistributed to other parks in New England, including Bolton Valley Resort, which now houses the former skate park's main bowl.
Listening In
If I were a superhero, my superpower would be the ability to get songs stuck in other people's heads. Here are five songs that have been stuck in my head this week. May they also get stuck in yours. Follow sevendaysvt on Spotify for weekly playlists with tunes by artists featured in the music section.
Crowded House, "Don't Dream It's Over"
Sam., "DRIP"
Hollie Cook, "Far From Me"
Cristobal Tapia De Veer, "Utopia"
From Mary Poppins Returns, "The Royal Doulton Music Hall"