So are we having fun yet?
The 2014 Burlington Discover Jazz Festival is well under way. And from what I'm told about last weekend's opening festivities, the fest hit the ground with both feet running. I was away at a wedding and missed the first chunk, but I've heard wonderful things about numerous shows from ears I trust. And taking a look at the schedule ahead, there is ample opportunity to make up for lost time.
In case you missed it, there's a rundown of some of the bigger shows for the closing run of the BDJF right here. But as I've written time and time again, the coolest aspect of the festival is not always the famous names on the marquee. It's the smaller and often local stuff happening under the radar at any number of hot houses all over town. So, as we did last week, let's have a look-see at some of the shows that might fit the bill.
Perhaps you caught the welcome return of the Vermont Joy Parade last week when they played ArtsRiot. And perhaps you were, like, "Man, I miss those crazy cats." Well, as of this writing, that's the only VJP show locally for a while. However, a few VJP-related gigs are on tap this week that should sate your thirst for suspender fusion.
Courtesy Of Duke Aeroplane
Duke Aeroplane
One such act is Duke Aeroplane & the Wrong Numbers, who will play an early set in the alley at American Flatbread this Thursday, June 5, and at Radio Bean on Sunday, June 8. Duke Aeroplane has a lot of membership crossover with the VJP, including front man Galen Peria. And they're not so far removed stylistically, either, trading in a similarly woozy and theatrical vintage blues sound made for wild dancing — and perhaps boozing. The band's 2013 live album, Live on Buck Mountain, was an underrated, beer-soaked gem.
Another VJP stalwart performing this week is Anna Pardenik. If you recall, her set at Flatbread in 2010 with her band the Holy Smoke Off was transcendent. In fact, when I say that the best moments of BDJF are often the ones you least expect, that's a show I think of first. Pardenik is a stunning vocalist and equally potent songwriter, whether she's performing solo or with her band or the VJP. You can catch her at the Daily Planet this Friday, June 6, and at the Bean on Saturday, June 7.
If freaky is your thing, I'd suggest popping into Club Metronome this Thursday, June 5, to catch a crew of all-star locals doing a musical and theatrical performance of Frank Zappa's Joe's Garage, Acts I, II & III. If you're unfamiliar, the rock opera concerns an everyday Joe trying to make his way in the music biz and being waylaid by numerous forces beyond his control. It's a time-tested story of religious perversity, government oppression and sex with household appliances. And the band is pretty killer, including ace players such as Josh Panda, Bob Wagner, Dan Devine, Ed Grasmeyer, Jane Boxall and Leon Campos. This is intensely challenging, strange stuff and it should be a treat to see these guys and gals pull it off.
Courtesy Of Japhy Ryder
Japhy Ryder
Moving on, seems like it's been a while since we've heard from Burlington's foremost purveyors of porn-prog, Japhy Ryder, so dubbed a few years back for fusing the artsiness and creative ambition of prog rock with, well, the groove of classic 1970s porn soundtracks. And, yes, it's as awesome as it sounds. But the truth is, JR's musicality extends far beyond that cheeky description. For more than 10 years, they have ranked among the area's most talented and artistically progressive bands. They're playing on the City Hall Stage on the Church Street Marketplace this Wednesday, June 4, where the band will reportedly debut some material. You can also catch Japhy at Radio Bean with Boston's Otis Grove on Friday, June 6. And on Saturday, June 7, a trio with Japhy's Pat Ormiston, Will Andrews and Jason Thime will experiment with synth-based improv at the Halflounge Speakeasy, before Andrews heads around the corner to jam with local West African groove outfit Barika at Nectar's.
One of the main events of Saturday, June 7, is the return of seminal local acid-jazz band Belizbeha, who are playing the Waterfront Park Tent with the Jennifer Hartswick Band and Kat Wright & the Indomitable Soul Band. I already mentioned this one in the story on page 62. But I do so again to point out that, if there was any drawback to Belizbeha's last BDJF reunion show in 2009, it was that the Flynn MainStage is not a great venue for dance music. You know what is a great venue for dance music? A picturesque park on the waterfront with flowing booze. Just saying.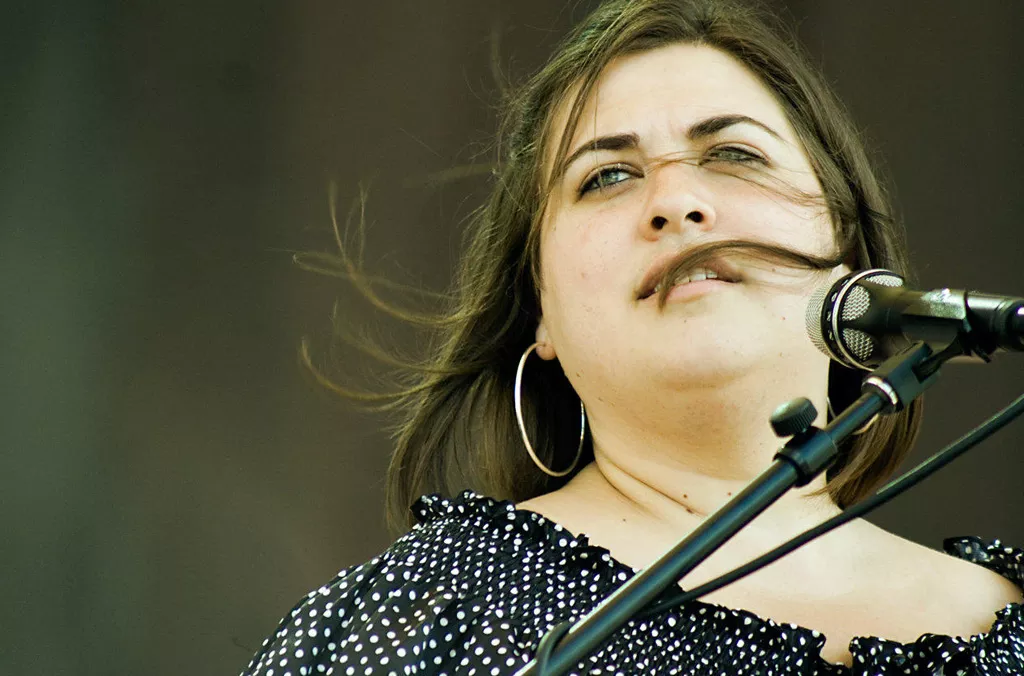 courtesy of jennifer Hartswick
Jennifer Hartswick
Finally, one year ago this week, local surf-rockers the High Breaks debuted at the festival. The band, which is basically Lendway in natty suits and Ray-Bans, has been celebrating its anniversary with numerous shows throughout the festival. No, it ain't jazz, but it's really good stuff. The HB will be at Nectar's for an early set this Saturday, June 7.
Man, Saturday is looking like a busy night.
Bite Torrent
Over the past few years, this column has been effusive in its praise of the Waking Windows festival in Winooski. And with good reason: It's awesome. But nothing is created in a vacuum, killer fests included. And WW in particular traces at least some of its lineage to another, equally cool fest, the Thing in the Spring in downtown Peterborough, N.H., which gets under way this weekend and served as inspiration for WW.
As in previous years, the TITS — what? It's the acronym! — will have a bit of a Vermont feel, with performances by locals Rough Francis, Paper Castles, Wren & Mary and DJ Disco Phantom. That's in addition to loads of great underground bands who might be familiar to local audiences from WW-related shows, including Lady Lamb the Beekeeper, Nat Baldwin, Death Vessel, Simone Felice and State Champion. By the way, those last two acts are playing the Monkey House in Winooski on Wednesday, June 4, and Thursday, June 5, respectively. For more on that festival go to thethinginthespring.com.
Last but not least, local arts collective and record label Jenke Arts has been making some interesting moves of late, including the launch of a new studio space on Church Street that includes a program of dozens of community oriented classes ranging from yoga to meditation to self-defense. That's in addition to a bulked-up schedule of album releases slated for the summer.
Jenke is hosting an open house this weekend, featuring two days of free classes on Saturday, June 7, and Sunday, June 8. There will also be a kickoff show on Saturday, called the Jenke Get Down with performances by Agent Slacker, Bless the Child, face One, Set Up City, Zach Crawford, Connect the Drops and Tree. Check out facebook.com/jenkearts for more info. And tune in next week for a profile on the new-and-improved collective.
Listening In
A peek at what was on my iPod, turntable, eight-track player, etc., this week.
Polica, Raw Exit EP
Fucked Up, Glass Boys
Sharon Van Etten, Are We There
Trash Talk, No Peace
Valerie June, Pushin' Against a Stone