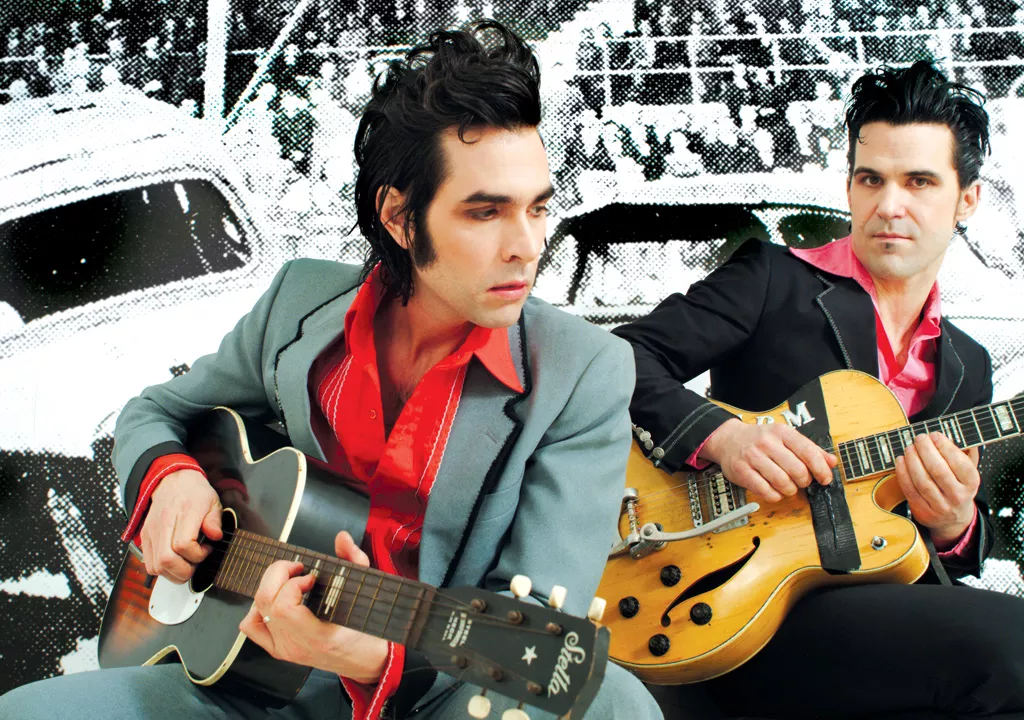 Courtesy Of Heavy Trash
Heavy Trash
The emails from a few local musicians and promoters rarely fail to brighten the inbox of the Seven Days music department. One of them is Colin Clary (the Smittens, Let's Whisper, roughly 13,467 other local bands over the years), because he pretty much only reaches out when he's got something really interesting to pass along. Also because his cuddly enthusiasm is so damned infectious. More on him next week. Yow!
The Waking Windows crew is another group that typically sends along good stuff, mostly because they only do good stuff. Like, for example, bringing Jon Spencer's current ass-whuppin' project Heavy Trash to the Monkey House on Wednesday, October 15. My ears are still ringing from the last time that band was in town. Then again, my ears are always kind of ringing these days...
Another local artist I always enjoy hearing from is composer and bandleader Michael Chorney. Like the folks mentioned earlier, he's judicious about how often he emails us. And when he does reach out, it's almost always about something really, really cool.
(Free PR tip of the day: For those keeping score at home and wondering how best to approach the media, locally or beyond, those are the two big not-so-secret secrets: Have something interesting to pitch, and email sparingly. Oh, and make good music. That helps, too.)
Chorney has been doing interesting stuff in Vermont dating back at least to his days as the leader of antacid jazz ensemble viperHouse in the 1990s, if not earlier. And almost everything he touches is noteworthy, such as collaborating with Anaïs Mitchell on any number of projects, from her solo records to the folk-rock opera Hadestown; getting his Sun Ra on with Magic City; freaking out the squares with his elusive jazz outfit Orchid; inventing a new genre, Amerarcana, with the equally phantom-like Foley Artist; howling at the moon with Seth Eames; or, most recently, working alongside beloved local songbird Maryse Smith. And that's to say nothing of Chorney's own group, Hollar General. So let's say something about that.
Courtesy Of Michael Chorney
Michael Chorney
Dating back to the band's 2012 debut, Dispensation of the Ordinary, released under the name Dollar General, Chorney and Co. have been trading in an intricate, elegant brand of indie folk that has no local comparison. The band changed its name because people kept showing up to their gigs expecting to be able to buy everything — drinks, CDs, off-brand cleaning products — for a dollar. Or maybe the band was gonna get sued, I forget which. Point is: Hollar General are great. And great artists tend to attract other great artists.
To wit, Chorney's latest endeavor with HG is a new music series at Signal Kitchen in Burlington called Family Hollar, which premieres this Friday, October 10. And that sound you hear is the CEO of Family Dollar — whom I imagine looks like Boss Hog from "The Dukes of Hazzard" — shaking his fists and screaming, "Damn you, Chorney! Daaaaamn yoooou!"
The idea of Family Dollar is that HG invite some of their favorite notable musician pals to come play with them in the Queen City. Up first: songwriter Sean Hayes, whom Chorney knows from touring with the Hadestown band — Hayes sang the Orpheus part. (See spotlight on page 78.)
Full disclosure: I love Sean Hayes. Also, I hate Sean Hayes. This is because he wrote one of the most beautiful and devastating breakup songs in history, a little ditty called "Fucked Me Right Up." Regardless of my romantic situation at any given time, I can't even think about that song, let alone listen to it, without sobbing and/or reaching for a bottle of whiskey. Hoo, boy. Can I have a second here?
...
OK, I'm better now.
I actually asked Hayes about that song when I interviewed him two years ago. I told him I didn't think anyone should ever listen to it. Like, ever. He kind of agreed. It's that good. Or bad, depending.
Anyhoo, the way the night will work is that Hayes will play a set — his new single, "Magic Slim vs. Dynamite" is some coolly funky, smooth stuff, by the way. Then HG will join his band for a couple of tunes. After that, Hayes will essentially front Hollar General, playing, as Chorney puts it, "back-catalog favorites, oddball covers and such." I suppose that probably means "Fucked Me Right Up." Sigh...
Chorney hasn't confirmed future guests just yet and swore me to secrecy on some potential songwriters who may join the "family" in the coming months. (Though the astute among you could probably hazard an educated guess on one or two of them.) He also adds that HG will head to the studio to record a new album in a few weeks. Stay tuned.
BiteTorrent
Welcome back to Brooklyn indie-rockers the Dig. The band was something of a column favorite about four years ago when it made Vermont a regular tour stop. The Dig have since been doing cool indie-rocker things and don't come a-calling as much as they used to. But they'll be at ArtsRiot in Burlington this Friday, October 10, with local support from Paper Castles and Pours.
Courtesy Of The Dig
The Dig
If there's one thing I love, it's a good block party. If there are two things I love, it's a good block party with good beer. And if there are three things I love, it's a good block party with good beer and good music. That goes double if it's free. So you can only imagine the esteem with which I hold the free block party at Four Quarters Brewing in Winooski slated for this Saturday, October 11.
Among the musical acts are VLNLS, which is a vowel-averse duo version of Villanelles, Downfall Country, which features members of whiskeygrass outfit Gold Town, Phantom Suns, PoolooP, Thunder Kittens, House Dunn, Andrew James and the Milton Busker Duo.
Dept. of Corrections: Last week's capsule review of Chad Farrell's new album, What the Fire Couldn't Burn and the Rain Couldn't Wash Away, incorrectly stated that Farrell was once a member of the band Crackwhore.
While he is related to a former member of that band, Danielle Duby, he was never himself a member. His new record, though, is worth checking out if you can find it. Weird, intriguing stuff.
Last but not least, erstwhile Ween fans should take note: Nectar's Presents, the offsite arm of Nectar's, which lately has been handling bookings at the Rusty Nail in Stowe, has just announced that the Dean Ween Group will play the ski-town juke joint on December 6. The Deaner-led group will play a slew of new material as well as a bunch of Ween classics. Tickets for that show go on sale this Saturday, October 11, at 1 p.m. I'm guessing they'll be sold out by 1:03 p.m. the same day.
Listening In
A peek at what was on my iPod, turntable, eight-track player, etc., this week.
Milán,Milán
Scissors for Lefty,Bangs and Lashes
The Primitives,Spin-O-Rama
Young Tongue,Death Rattle
Flying Lotus,You're Dead!
The original print version of this article was headlined "All in the Family"