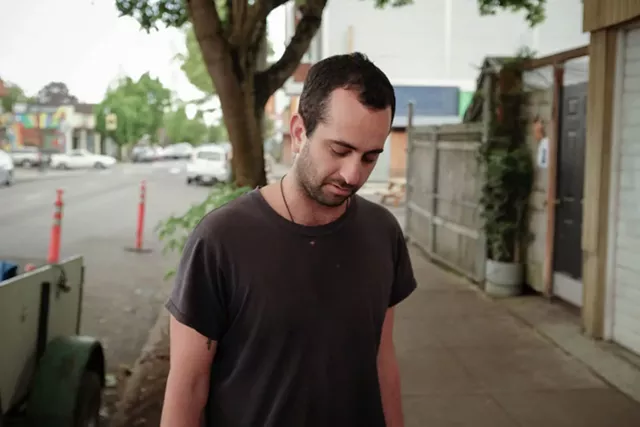 Courtesy Of Tommy Alexander
Tommy Alexander
Marry Me, Mavis
Well, folks, another Burlington Discover Jazz Festival is in the books. And though somewhat dampened by the weather both weekends, the early returns are that it was a heck of a fest. Unfortunately, I couldn't see as much of it this year as I typically would. But what I did catch left an impression, especially the shows I caught this past Friday, which I'd place as one of the best all-around BDJF nights I've seen in eight years covering the festival.
It started with Mavis Staples at the Flynn MainStage. Performing to a near-capacity crowd, the 75-year-old gospel icon was nothing shy of spectacular. Sure, her pipes at times sounded a little tired. And, yeah, she required a lengthy mid-set rest. And, yes, overall the show was a tad on the short side. But as I exited the stately old theater, it was hard not to feel like all was right with the world, at least for a little bit.
Even with her voice somewhat diminished by age, Mavis — it's cool, she told me to call her that — sang with swagger and energy that would be the envy of performers a fraction of her age. Whether bantering with her band or teasing the crowd, she seemed genuinely thrilled to be there. Her enthusiasm was infectious.
I'm always a little leery of seeing lively concerts in the oft-stuffy confines of the Flynn. To be brutally honest, sometimes Vermonters are embarrassingly stiff. But, almost solely through sheer force of personality, Mavis got the crowd to loosen up in a way you don't often see in that room. There was dancing in the aisles! There were spontaneous standing ovations! There were people shouting random, unintelligible interjections between songs! Arcade Fire's Win Butler showed up for an impromptu rendition of the Band's "The Weight" and didn't know the words! Hardly anyone clapped on the ones and threes! Do you believe in miracles? After seeing Mavis, you just might.
Mavis was almost impossibly charming. At one point, she sang a song from her new EP, Your Good Fortune, and very obviously didn't know the words. That kind of calamity would completely derail most performers. Not Mavis.
"Well, I do not know the words to that song," she said with a hearty, apologetic chuckle. "But I will next time! Oh, yes." The crowd erupted in forgiving applause as if to say, "We love you, Mavis." And we did. On this night, Mavis Staples could do no wrong.
Following the show I walked — or more accurately, waded — through a torrential downpour to Nectar's with the intention of catching the debut live performance of the Precepts, featuring expat rapper Learic and the guys from Madaila. I made it in time for the tail end of the show. But it was enough. That group's 2014 record, This Is How It Must Be, was easily one of the best local albums of last year — and probably my personal favorite from among the roughly 704 records Learic was on in 2014. But it was solely a studio creation between Learic and Madaila's Jer Coons and Eric Maier. With the full force of that band's pop prowess behind them, the crew turned in a stunning performance. They captured the nuances of the record with energy and ingenuity, not simply re-creating the material from the album but transforming it. Talking to Coons briefly after the set, I learned that it likely wasn't a one-off performance. Stay tuned.
I closed the evening by sticking around for the return of Fattie B's Beat Biters. I was kind of a whippersnapper when Fattie B was in his rhyming prime with Belizbeha and, later, Eye Oh You. But I'm always impressed with the man's talents on the mic. These days, most people know him as the DJ at Retronome, or maybe Red Square, Halflounge or Breakwater Café, where he can be seen spinning with some frequency. But if you get a chance to see him rap, take it. Dude's still got it. And his pals Dave Grippo, Konflik, S.I.N. Sizzle and Jennifer Hartswick — to name a few of the night's highlights — ain't bad, either.
Coming Home
It's been a while since we've heard from Tommy Alexander. The prolific songwriter and Jenke Arts founder left Burlington last year for Portland, Ore., where he's continuing to pursue music. Currently, Alexander is touring his way back to the East Coast, and is including two local dates: Saturday, June 20, at Radio Bean (both solo and with his band Quiet Lion); and Sunday, June 21, at the Monkey House in Winooski with Big Thief, buck meek and eric george. I recently caught up with Alexander via email to see how he's been. Here some highlights from that conversation:
On Portlandia and fellow BTV expat Ryan Fauber:
"It's an adult playground full of absolute sweethearts. I've met some fantastic songwriters out there, and they have really taken me in. Having Fauber out there is such a blessing. Not only to have a great friend, but also, he's so extroverted and just meets all the people. He went song-for-song with Baby Gramps last week till 3 a.m. Wild stuff.
On his forthcoming album, to be released on local label Section Sign Records:
"I've got about 15 new songs I'm picking away at, from which 10 will make the cut. I want to make a record with parts, and a more developed message and sound, something a little more thoughtful. I have been thinking a lot about the artist who is able to allow the music to go where it's trying to go, guiding it but not getting in the way. I'm going to take my time with it. But one thing is sure: It will be recorded and released analog. I am craving the warmth and timelessness of tape."
On Burlington:
"Of course I miss it! B-town is my home in so many ways and always will be. I'm so grateful to be in Portland now. It is very clear to me moving was the right choice, yet I will forever be changed by Vermont. I see clearly now how very special the Burlington music scene is. It is absolutely mind-boggling the amount of great music and production and art in general that continuously pours out of the Queen City."
The Dream of the '90s...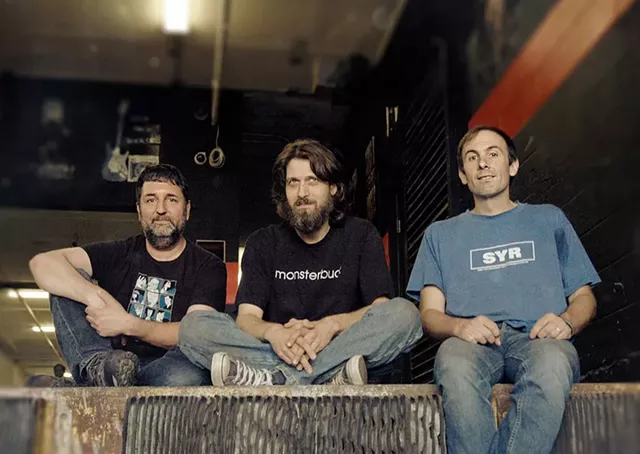 Courtesy Of Eef
Eef
Last but not least, fans of 1990s BTV rock, take note: Eef are back together. After what drummer Brad Searles calls "a little 20-year break," the band, which also includes Guppyboy's Mike Barrett and the Mountain Says No's Jedd Kettler, is reunited, writing and recording new material, and even playing shows.
The band will make its first live appearance in more than two decades on Monday, June 22, at T.T. the Bear's Place in Cambridge, Mass. I know what you're thinking: Gee, that's great, Bolles. But I live in Burlington, dumbass.
I know you do. But maybe you can catch a lift with Colin Clary? He's playing the show, too, along with Australia's Darren Hanlon, who recently toured with Courtney Barnett, who is amazing.
Searles writes that the original reunion plan was to play a few Boston and BTV shows closer together later in the summer. But as you have may have heard, T.T.'s, long a staple of the Cambridge scene, is soon closing its doors. That meant that Searles, who curated the show under the banner of his awesome Boston music blog Bradley's Almanac, had to book the Eef show a tad sooner than anticipated. However, he notes that a BTV show "is bound to happen sooner than later." (That sound you hear is my giddy inner 16-year-old, who used to sneak into Club Toast to see Eef play, squealing like ... well, a giddy 16-year-old.)
In the meantime, you can check out a new Eef track, "You Home," on the new charity comp for Keep Safe Boston at keepsafeboston.bandcamp.com.
Listening In
A peek at what was on my iPod, turntable, eight-track player, etc., this week.
Courtney Barnett,Sometimes I Sit and Think, and Sometimes I Just Sit
J Fernandez,Many Levels of Laughter
Fist City,Everything Is a Mess
William Tyler,Lost Colony
Eef,"You Home"