Courtesy of matteo palmer
Matteo Palmer
Earlier this year, I reviewed the debut record from Vergennes-based fingerstyle guitarist Matteo Palmer, Out of Nothing. If you missed it, here's a quick summation of that review: Holy shit.
Palmer is an 18-year-old prodigy and the protégé of Grammy-winning guitarist, producer, Windham Hill Records founder and reluctant New Age-music paragon Will Ackerman, about whom I wrote a cover story earlier this year. If you missed that piece, here's another quick summation: Will Ackerman is the most interesting man in the world. (Also, why do you keep missing my stories? Rude.)
I interviewed Palmer for the piece on Ackerman, as the two worked closely together on Palmer's jaw-dropping record. At the time, Palmer was a senior in high school and anxiously waiting to hear from various music schools to which he'd applied. I wasn't asked to write Palmer a recommendation. But if I had been, here's yet another quick summation of what it would have said: Sweet baby Jesus, that kid can effin' play.
Maybe it's better he didn't ask me to do that.
Anyway, rather than going to school, Palmer decided to take the year off, a decision this column wholeheartedly endorses. I mean, Ackerman himself dropped out of Stanford with five credits left before graduation and never went back to school. He seems to have turned out OK.
So what's Palmer doing in the meantime? Exactly what he should be doing: gigging a ton and drawing attention from instrumental music fans and media all over the country. In a recent email, he writes that he will head to California in January to "play music for a while."
This is just a hunch, but I have feeling "a while" will turn into "a long time." And I hope it does, for his sake. School will always be there, and Palmer is good enough right now to make a career in music. I mean, how many teenagers do you know who are sponsored by Taylor Guitars? But don't just take my word for it. Hey, Will Ackerman. What do you think?
"To be an artist you have to have something to say. No amount of technique alone will do much more than impress your neighbors. Matteo Palmer possesses a broad range of technical skills while having a profound and unique voice as an artist. He has a great deal to say."
That's a quote from Ackerman Palmer's website regarding Out of Nothing. And he's spot-on in his assessment of Palmer. The most impressive thing about the kid is not his technique, though he's surely impressive in that regard. It's the expressivity in his playing, the emotion he evokes, often as much through the notes he doesn't play as the ones he does. That's a skill some players never, ever learn. But I have a feeling Ackerman has more to say on that.
Will?
"The kid has an almost frightening ability to find the emotion in his music," he told me for that April cover story. "It's not enough just to be a great player or composer, which he is. You have to play with passion, spirit, or else all that skill means exactly shit. And Matteo does."
Truth. Let's get one more nugget from Ackerman before we move on.
"His pieces are not exercises in ego, but compositions of emotional depth. I have had the honor of working with some of the most influential guitarists in the latter part of the 20th century and feel utterly confident in saying that Matteo Palmer is the real deal."
Yep.
This Saturday, November 22, Palmer and Ackerman play at the Spruce Peak Performing Arts Center in Stowe. Rutland pianist Masako — another local Ackerman favorite — and New Jersey-based neoclassical pianist Heidi Breyer will also appear. In other words, it's probably the biggest night for contemporary instrumental music in Vermont in years. (Call it "New Age" if you must, just not around Ackerman. He really hates that.)
Here's another fun little tidbit. Before he got into steel-string-guitar music, young Matteo Palmer, like most 8-year-old guitarists — seriously, 8 — was into blues and rock riffs. Then, when he was 14, he saw one of those "influential guitarists" Ackerman was talking about perform in person — namely, Ackerman's own cousin, Alex de Grassi. From then on, Palmer delved into the Windham Hill catalog and never looked back.
Care to guess where that fateful show took place? Spruce Peak in Stowe. I can't decide if that nugget is more or less cool when you remember that Palmer was 14 only four years ago.
Kids these days.
BiteTorrent
Regular readers know I'm generally loath to write about professionally touring tribute acts. While I enjoy the occasional cover band or local act doing an album tribute, I find the pro acts troubling. It just strikes me as crass and crudely opportunistic to make a living capitalizing on someone else's artistic merit. Given how popular acts such as Badfish (Sublime tribute) and the Machine (Pink Floyd) continue to be, many of you obviously feel otherwise. We can agree to disagree. But even I have to concede the following factoid is interesting.
Did you know that, earlier this year, Grateful Dead tribute act Dark Star Orchestra — who play a two-night Higher Ground Ballroom run on Monday and Tuesday, November 24 and 25 — surpassed the number of live shows played by the Dead? It's true. Jerry Garcia and co. played 2,318 shows over 30 years. DSO got there in 17 years. What does that mean? Hell if I know. And I'm not sure I really want to consider it, for fear of discovering a rift in the space-time continuum.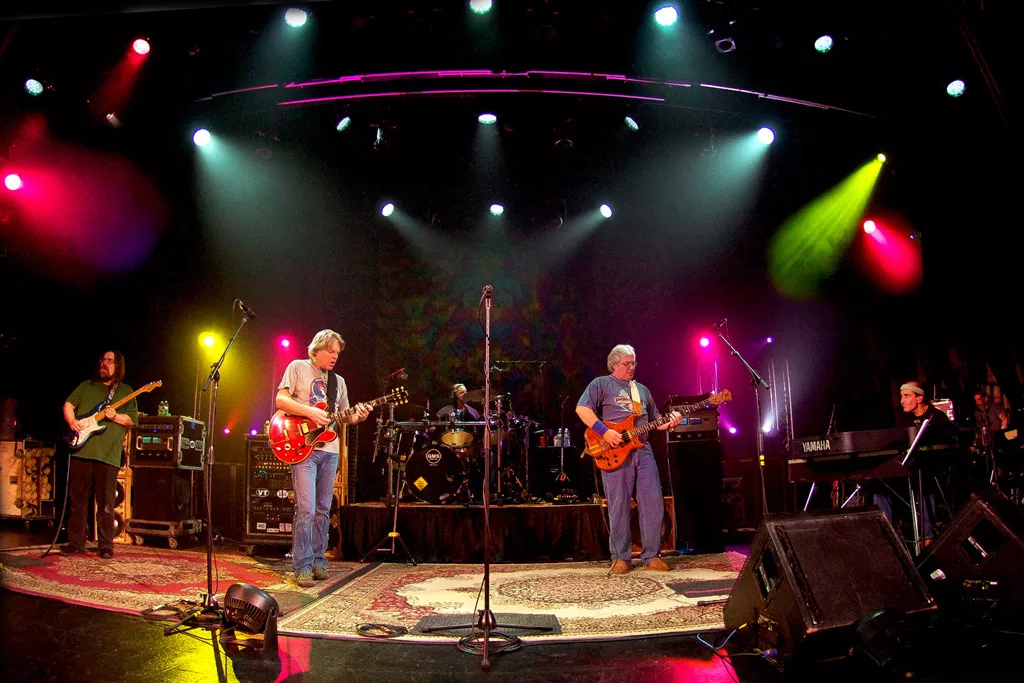 Courtesy Of Dark Star Orchestra
Dark Star Orchestra
Do you know a tribute band that likely won't achieve that feat? Pink Talking Fish, who play Nectar's this Saturday, November 22. That's because, in order to do so, they would have to play as many combined shows as each of the bands to whom they pay tribute: Pink Floyd, Talking Heads and, you guessed it, Phish.
If you missed Dirty Projectors bassist Nat Baldwin at the Waking Windows music festival last May — or if you caught him and just want to see him again — you're in luck. Baldwin, touring in support of his weirdly wonderful, avant-garde pop record In The Hollows, will be at Radio Bean in Burlington this Friday, November 21, with locals Paper Castles and Disco Phantom.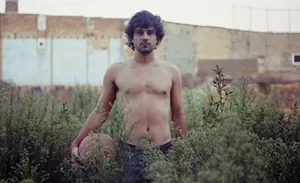 Courtesy Of Nat Baldwin
Nat Baldwin
Actually, this might be a good weekend just to hole up at the Bean. Saturday's slate features the bombastic Bollywood-meets-Bourbon-Street strains of locals the Big Bang Bhangra Brass Band and "yes wave" favorites Superhuman Happiness. Bring your dancin' shoes.
Last but not least, I finally made it to the newly renovated Haybarn Theatre at Goddard College in Plainfield last weekend to see Jonathan Richman. What a nifty little spot. It's intimate and cozy and boasts a slick sound system. I'd say it's well worth the trek from Burlington and elsewhere to catch a show. Your next opportunity will be Boston's Session Americana on Friday, December 12, which is the last 2014 date in WGDR's Goddard College Concert Series.
Also, God, I love Jonathan Richman. What a strange, beautiful man.
Listening In
A peek at what was on my iPod, turntable, eight-track player, etc., this week.
Wild Smiles,Always Tomorrow
Guster,Evermotion
TV on the Radio,Seeds
Honduras,Break
The Modern Lovers,The Modern Lovers
The original print version of this article was headlined "One for the (New) Ages"