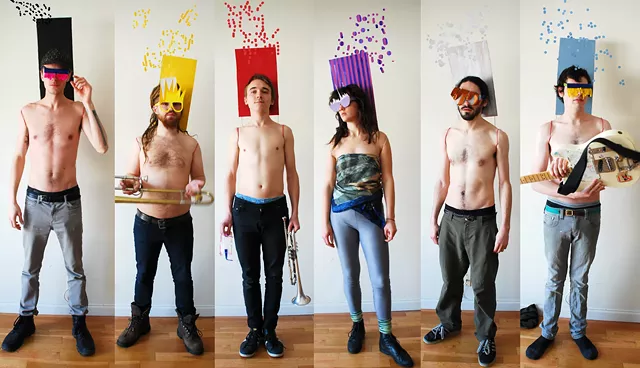 Two years ago, I wrote a column taking Magic Hat Brewing to task over its annual Mardi Gras weekend. I argued that the parade and surrounding bashes had grown stale and predictable. Though I didn't say so explicitly, the implication was that, after so many good years — 19, at that point — Magic Hat's parade had gotten soft, and the company was resting on its laurels, not to mention a crumpled, beer-stained blueprint. Most damning, I suggested that the company was sadly ignoring the parade's subversive Burlington roots.
It was not an easy column to write. Having worked for MH for several years before entering the employ of Seven Days, I have a deep affinity for the company and the folks who still work there. In the years since the brewery was sold to one monolithic corporation and then another, MH became an easy target in the local beer world. It passes for cheap sport to sneer at Magic Hat for any number of supposed sins against the sanctity of — cue trumpet heralds — Craft Beer.
However, while a few of those varied critiques might have merit, without Magic Hat, the current local craft-beer boom almost certainly wouldn't be happening — at least not at its present pace of three new local breweries opening in the time it took you read this paragraph.
Magic Hat was a pioneer of the local craft-beer movement not because its beer was particularly mind-blowing — though I submit that Heart of Darkness, Jinx and Bob's First Ale/Humble Patience are among Vermont's all-time great brews. It was because Magic Hat was cooler than everyone else. That was true in everything from its funky factory to its even funkier branding. The air of goofy counterculture around the company made it stand out from other, more staid brands.
That cheerfully eclectic vibe was perhaps most fully embodied by the wannabe Mardi Gras celebration. Two decades ago, in the dead of winter in one of the coldest cities in the lower 48, a handful of costumed employees started it by carousing down Church Street and calling it a parade.
MH's Mardi Gras parade has since become of one of New England's marquee winter events, attracting tens of thousands of revelers from all around the country. It was inevitable, as it became more mainstream, that at a certain point some of its luster would fade. At the time I wrote that column, I think my criticism was warranted. But this year, I think MH deserves praise. Burlington's Mardi Gras looks to be cool again.
I don't know if MH took my criticisms to heart — in fact, I sincerely doubt it. But this year's Mardi Gras festivities are far more adventurous and daring than they have been in years. Is it a coincidence that the injection of locavore edginess comes the year the parade turns 21? Probably. It's still kinda neat though, right?
Anyway, as always, the weekend begins on Friday, March 4, with the annual kickoff bash at the Higher Ground Ballroom — which, incidentally, is now partially owned by the man who cofounded Magic Hat, Alan Newman. But unlike for the past, oh, all the years, the entertainment isn't of the generic jam-band variety. It's freakin' Rubblebucket, which is rad for two reasons. One: Rubblebucket are rad ... duh. Two: They're local — or at least have local origins. (Spoiler alert: The local thing is going to be a theme the rest of the way here. Also, the rad thing.)
Saturday, of course, is the big day. And to the untrained (or double-seeing) eye, the festivities might look much the same as they always do. The bawdy Bindlestiff Family Cirkus will once again rabble-rouse up and down Church Street. And local drum and dance corps Sambatucada! will play their customary set in front of city hall. File both of these under "If it ain't broke..."
There will also be a King and Queen of Mardi Gras costume contest and a photo booth and Kegs and Eggs and a fun run. And loud drunks.
Where things start to get really interesting — and local and rad — is on the new City Hall Park Stage, which has supplanted the stage on the top block of Church Street. Before the parade, warm up to the spicy sounds of Katie Trautz's Green Mountain Playboys. The Playboys are just about the closest thing we have to a true Cajun band in Vermont, which seems important for an event inspired by New Orleans, right? Right.
Then there is a parade.
Following that, local outlaw dirt rockers Waylon Speed take to the City Hall Park Stage, immediately becoming the raddest band ever to play the post-parade party.
Add it all up, and the 2016 Mardi Gras harks back to a time when the event was more than just an excuse to start drinking at 10 a.m. on a Saturday. I mean, it's still that. But this year's edgier programming is a welcome — to adapt a line from Miles Davis — rebirth of the cool.
(Disclosure: This newspaper is a longtime sponsor of Mardi Gras and will roll its 20th anniversary float in the parade.)
BiteTorrent
Speaking of things inspired by New Orleans, Vermont Joy Parade's Galen Peria is back in Burlington for a spell. Peria had been recently living in the Big Easy, but, as he informs in a recent email, "Poker debts and complex psychic weather patterns have forced me out of the Crescent City temporarily." Duly noted.
In the meantime, he's lined up a residency with his R&B&D band, Duke Aeroplane & the Wrong Numbers, at the Light Club Lamp Shop every Thursday in March. BTW, R&B&D stands for "rhythm & blues & drunk," which is how Peria quite accurately describes his group's woozy, bleary-eyed take on N'awlins-style blues.
These guys are a notorious blast live. And Peria adds that the band will soon have a studio recording worthy of its bawdy stage act. The album, dubbed Higher Ground, was recorded with local swampy-tonk maestro Brett Hughes and is slated for a June release.
In 2014, David Lamb of Rhode Island indie-folk duo Brown Bird passed away following a yearlong battle with leukemia. In the wake of his death, Lamb's widow and Brown Bird cofounder MorganEve Swain has been performing as the Huntress and Holder of Hands. On Friday, March 4, Swain will return to Vermont for the first time since Lamb's death for a show at the Skinny Pancake in Burlington. Local country outfit Old Sky open.
Last but not least, get well soon, Shrimp. The local bluesman is slated to begin radiation for throat cancer this week. Shrimp, aka Glenn McElwain, played a string of shows around the state last weekend with his band Mono Malo, which will likely be his last gigs for a while. Best of luck, Shrimp. And, as always, fuck cancer.
Listening In
A peek at what was on my iPod, turntable, eight-track player, etc., this week.
Crooked Fingers, Bring on the Snakes
Gordon Lightfoot, Don Quixote
Colleen Green, I Want to Grow Up
Chastity Belt, Time to Go Home
Brown Bird, Axis Mundi