Courtesy of Bloom Machine Photography
Abbie Morin
I am not a sports guy. But it's March, and there's some kind of special basketball thingamajig that happens this month, and people are excited. March Sadness, or something? I kid, I kid. While all y'all sportos are creaming your pants over the NCAA Division I Men's Basketball Tournament, I'd like to turn your attention to an exciting lineup of shows called March Radness.
In conjunction with Waking Windows and Collective Arts Brewing, University of Vermont radio station WRUV 90.1 FM recently announced the weekly music series, which takes place at ArtsRiot every Thursday in March. The series is the beginning of what promises to be an ongoing, collaborative relationship. WRUV sees it as a chance for its DJs to get out of the booth and into the community with a hands-on, tangible project. Also, they get to highlight a bunch of bands and artists they heart. Both WRUV and ArtsRiot booked the shows.
First up on the docket is Uni Ika Ai on Thursday, March 2. That's a side project of Lucius' Peter Lalish. Here's the lineup for the following weeks: Palehound with Adult Mom on March 9; Washer with Bethlehem Steel on March 16; Homeshake with locals Ryan Power and Bleach Day on March 23; and Low Cut Connie on March 30.
Circling back to this week, BTV expat Abbie Morin co-headlines the debut show on Thursday. Locals Karavan handle opening duties.* Morin has recently begun performing and recording under the moniker Hammydown. Morin's first release under that sobriquet is a three-song EP due out this spring.
I recently previewed the self-titled EP, and it seems that more has changed than just her name. Her new material drops the "folk" from her previous, self-described "foxy-folk" sound and adds a healthy helping of rock. Morin now resides in Northampton, Mass., and we're lucky to be among the first audiences to hear her edgier new project.
Only in Dreams
A mysterious, avant-garde theatrical work takes the stage at the Light Club Lamp Shop on Wednesday, March 8. Entitled Fun Night: A Three-Act Play, the piece aims to re-create dreams as best as any conscious mind can. A phantasmagoria of loosely interconnected scenes sends the audience on a journey centered on conquistadors at the Fountain of Youth. The performance also involves variety-show material, fortune-telling, a fashion show, experimental puppetry, robots, bumblebees and what sounds like a bitchin' house band.
The mastermind behind the project is Joe O'Brien, a local artist who's been prowling around local fringe scenes and open mic nights since he moved to the area to pursue environmental studies at UVM. In an email to Seven Days, O'Brien describes the project as "a bunch of artists trying to birth a floral, encompassing dreambaby."
He goes on to say, "The whole show is intended to amble aimlessly through the material, similar to the way a night of dreaming would progress — you're here, then suddenly you're over there, then you're in a third place meeting the same people from before."
O'Brien is also the keyboardist of the house band, Hot Fat. The play marks the band's first official performance. Rounding out the group are Curtis Halle on guitar, Skinny Pancake artist-in-residence Hannah Fair on guitar, Samson Ghazey on bass, Bean Blumenstock on drums and a heretofore unidentified lead singer known only as Father Catfish. O'Brien describes the band's sound as "swamp rock," with "swampy beats, thick keys [and] crying guitar."
If you attend, be sure to dress in monochrome, per the cast's wishes. And if you're a shy, wallflower type, beware: The show is mildly interactive.
BiteTorrent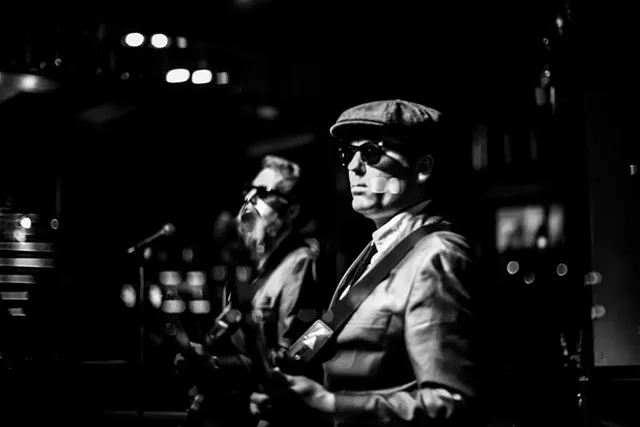 Courtesy of Luke Awtry Photography
The High Breaks
Local guitarist, Soundtoys engineer and concert photographer Luke Awtry (Vetica, Heavy Plains) takes over Mule Bar in Winooski for the month of March. He's displaying a collection of his photographs of local bands and musicians playing local venues. The show opens on Thursday, March 2, with the vinyl stylings of the omnipresent DJ Disco Phantom.
Awtry plans to donate 50 percent of profits to the Winooski School District's music department, and Mule Bar will donate $1 of every pour from a designated tap during the show's opening. Though he has no formal connection to the Winooski School District, Awtry cites his own experiences in his school music programs as invaluable to his development as a musician and music professional, and he wants to ensure the same for other young music makers.
Until the show opens, Awtry is keeping the artists featured in his show a secret. But let's speculate by taking a quick scan of his Instagram account! Recent uploads include Jeff Foran of Doom Service, Tar Iguana, Burning Monk, Seamus the Great, Blue Button, the High Breaks and Rough Francis. If your bedroom walls are looking a bit underdressed, perhaps adorning them with talent from the local scene will make them pop — or perhaps rock.
Courtesy of Henry Adebonojo
Terence Blanchard
The Burlington Discover Jazz Festival announced its headlining acts for 2017 late last week. This year's artist-in-residence is trumpeter Terence Blanchard with his new ensemble, E-Collective. If you're not familiar with Blanchard by name, you may be familiar with his compositions in all of Spike Lee's joints since the early '90s. Other top headliners include globally minded ensemble Pink Martini, as well as three-time Grammy-winning vocalist Diana Krall. For ticket info, check out discoverjazz.com.
Speaking Volumes officially unveils its new location at 7 Marble Avenue in Burlington on Friday, March 3, directly across the street from its old location at 377 Pine Street. The new space, formerly the home of Battery Street Jeans, will exclusively house SV's collection of vintage vinyl, stereo equipment, and a curated selection of vintage apparel from Stowe's Billie Jean Vintage and other consigners.
Back over at Volume 1, as owner Norbert Ender refers to it, you'll continue to see books, art and artsy bric-a-brac. The daylong grand opening event features performances from Blowtorch, the Bony Tenants and possibly a surprise performance from a prominent local band — a band that's perhaps already mentioned in this week's Soundbites column. (Wink, wink.) You'll just have to go to find out.
You know that local time-traveling disco-funk cover band the Medallions? They're still stuck in the present, and they're making the most of it with a residency at Club Metronome in Burlington called Magical March. Every Friday except March 10, these love machines play that funky music and won't stop 'til you get enough. Why aren't they playing on March 10?, you wonder? They're probably heading down to the Arch Street Tavern in Hartford, Conn., to see their friends Madaila perform. Because they're definitely two different bands.
Listening In
If I were a superhero, my superpower would be the ability to get songs stuck in other people's heads. Here are five songs that have been stuck in my head this week. May they also get stuck in yours. Follow sevendaysvt on Spotify for weekly playlists with tunes by artists featured in the music section.
Kyla La Grange, "I Don't Hate You"
Lucius, "Almost Makes Me Wish For Rain"
Marian Hill, "Down"
Petite Noir, "Down"
Technical Kidman, "Fractions"
*Correction, March 1, 2017: An earlier version of this story incorrectly identified the opening band for the Uni Ika Ai/Hammydown show.