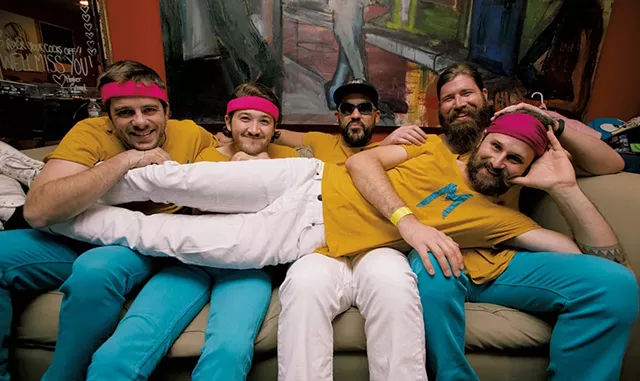 Courtesy Of Patrick Mccormack
Madaila
Soundfrights 2: Double Tap
Given how Halloween party planners and music makers like to spread out the hellish holiday for as long as (in)humanly possible, last week's petrifying preview of evildoings on the local music scene needed a sequel — especially because Halloween, October 31, falls within this week's issue. So, as promised last week, we're coming back with part two. Because, like Jason Voorhees, Freddy Kreuger and Michael Myers, some column gimmicks just won't stay dead.
Speaking of revenants, Madaila rise from the grave on Thursday. The psych-pop quintet, which played its supposed final show at the Higher Ground Ballroom almost exactly one year ago, returns to the South Burlington nightclub to rock your socks off.
"There was talk of Halloween at Higher Ground pretty early on this year," the band's front person and creative mastermind, Mark Daly, told Seven Days by phone. "We just love the holiday. It's always been a fun night to play music. And we love dressing up."
To generate a bit of buzz before the show, the group recently unveiled a double-sided single featuring two unreleased songs, "Clandestine Magic" and "Staring Contest." The tracks are the first new pieces of material the band has dropped since its 2018 single "Where Do We Go From Here?" — the title of which unintentionally hinted at Madaila's dissolution.
Avid fans are likely to recognize "Clandestine Magic," since the groovy synth-pop song had long been a staple of the band's set. But the club-ready "Staring Contest" is more or less a brand-new experience. Also, fun fact: Madaila recorded the songs back when guitarist Willoughby Morse was still in the band. Walker Allen has since replaced him.
Elephant in the room: Does this mean that Madaila are getting back together for realsies? Short answer: no. Long answer: It's complicated. (Though not as complicated as Seven Days' recent cover profile of the band's keyboardist, Eric Maier. That's a whole other can of spray paint ... er, worms.)
"We thought [Halloween] would be the perfect opportunity to dip our toes back in the water and see how it feels," Daly continued. "There's no pressure. Just because we're playing a show doesn't mean we have to be a band and jump back in the van and tour. It's just a little test."

Courtesy Of Monika Rivard
JUPTR
However, Daly did tease the possibility of a new Madaila LP to be released at some point in 2020, assuming the group is able to hunker down and record this winter.
"What else is there to do?" Daly joked.
One thing at a time, though. Right now, he's only focused on Thursday's performance, which, Daly said, may include some "fun Halloween surprises."
Oh, by the way, neo-soul outfit JUPTR open the show. That means Dan Ryan, drummer for both projects, pulls double duty that night. Buy the guy a beer if you see him, for crying out loud!
Checking Boxes
Attention, working bands and artists: Nonprofit Big Heavy World, Vermont's multipurpose music incubator and archive, seeks your input for a crucial survey of our state's music scene. Modeled after a similar project in Austin, Texas, the poll is a joint effort of BHW and Sound Diplomacy, an international company that "empower[s] cities and places to achieve their social, cultural and economic goals through music and the nighttime economy," according to its website.
You can access the questionnaire at bigheavyworld.com. Questions range from general demographics to specifics about how many shows the artist plays locally to how far they travel to perform, how much said shows contribute to their annual income, and the ease of connectivity and collaboration of peers, among other things.
Folks, I can't stress enough how important this is, and I commend BHW for taking the initiative. I've had conversations with many people on topics relating to the heart of this survey, and pooling knowledge and experiences is the best way to make progress.
BHW will collect data through November 30. The data will be published at some point relatively soon after, with a formal summation expected in early 2020.
Older and Wilder
Bust out the party hats, streamers and those obnoxious noisemakers, because on Saturday, November 2, Radio Bean celebrates its 19th birthday with an all-day music marathon. Performances start at 8 a.m. and conclude at 2 a.m. on Sunday, November 3. I'll point out that daylight saving time ends at 2 a.m. on Sunday, so we roll the clocks back an hour to 1 a.m., and the party keeps going for an additional 60 minutes. It's a nutty scene. Trust me; I marathoned the entire day three years ago. You can read my account on our website.
From hole-in-the-wall coffeehouse to dual-stage regional music hub and restaurant, the café and its sister spaces ¡Duino! (Duende) and the Light Club Lamp Shop are crucial to Burlington's music scene. I don't have the space here to list every act that will perform throughout the day, because there are literally 100 singer-songwriters, bands, solo instrumentalists, poets and rappers on the bill. If you've never checked it out, you absolutely should. It's one of the most Burlington-y events in the Queen City.
The only way to get through the whole thing is to stay caffeinated. And, lucky for us all, java is on the house throughout. Also, free pancakes during the first two hours.
Pickle Rick
Courtesy Of Rick Norcross
The Mighty Pickle
The day has finally come when I'm able to use a "Rick and Morty" reference as a subhead in this column! Famed Western swing star Rick Norcross, front person of Rick and the All-Star Ramblers (and king of lengthy email updates), blasted out a fun bit of news to his followers earlier this week. The band's former touring vehicle, a deep-green converted Flxible Starliner bus known as the Mighty Pickle, has been sold. It first went on the market in 2018.
Norcross explains to his fans that a buyer in Florida nabbed the iconic transport and subsequently donated it to Marty Stuart's Congress of Country Music, a forthcoming hub for all things country in Philadelphia, Miss. Stuart, a Grammy Award-winning rockabilly legend, announced the museum and performance center in 2018. As of now, no grand-opening date has been announced.
Listening In
If I were a superhero, my superpower would be the ability to get songs stuck in other people's heads. Here are five songs that have been stuck in my head this week. May they also get stuck in yours. Follow sevendaysvt on Spotify for weekly playlists with tunes by artists featured in the music section.
MUNA, "Hands Off"
Sorry Girls, "Easier"
Shura, "religion (u can lay your hands on me)"
Electric Guest, "I Got the Money"
Bat For Lashes, "Kids in the Dark"