Say this for Madaila: They don't do anything half-assed.
Since their debut performance at the (late?) great local music fest the Precipice in 2014 — when they were called Plato Ears — everything the psych-pop phenoms have endeavored to do has been done with neon panache and ambition. When they released their phenomenal debut album, The Dance, in 2015, they didn't just throw a release party. They took over Burlington's City Hall. They followed that up with a blowout bash at the ECHO Leahy Center for Lake Champlain. Then, earlier this year, on a snowy night in April, they invaded the Champlain Valley Exposition to put on Madaila: The Fair. Mark Daly and company don't play their hometown especially often. But when they do, they don't mess around.
That trend continues this week. On Sunday, September 4, Madaila host Madaila on Main, a daylong, three-stage mini music festival on Main Street between South Winooski Avenue and Church Street. Yes, on Main Street. The band, with the aid of the fine folks at Nectar's, is shutting down the block in front of the House That Phish Built. Incidentally, the last performer to shut down Main Street in Burlington? Donald Trump. There's a blurb for the ol' press kit, huh?
Aside from the amount of orange likely to be onstage this Sunday, Madaila's fest has absolutely nothing in common with Drumpf's Queen City visit. What it does have is a staggering amount of great music, especially for a Sunday in Burlington. (Don't worry, that's Labor Day weekend, so most of you are in the clear to sleep in on Monday.)
Kicking things off on the outdoor stage are the PitchBlak Brass Band, a Brooklyn-based ensemble that fuses hip-hop with New Orleans second line. Like several of the bigger names on the bill, they've made several stops in Burlington in recent years and have a sizable local following. Like who, you ask? How about Marco Benevento, who follows PBB?
Thanks to his time in the Benevento Russo Duo and Joe Russo's Almost Dead and touring with the likes of Trey Anastasio and Mike Gordon, among others, the multi-instrumentalist is a darling of the jam scene. But there's far more to Benevento than those heady credits suggest. Witness his latest solo album, The Story of Fred Short, released in April. The cool kids at Brooklyn Vegan rightly called the record "bold indie rock." It's a gem.
Speaking of bold indie rock, helming the penultimate set outside is Lady Lamb. The onetime Beekeeper has been a local favorite since she was making quirky bedroom tapes in Brunswick, Maine, and playing underground shows in Burlington. Now she's based in Brooklyn and has justifiably become a critical darling and rising star. To wit, the last time LL played VT was as a headliner at Waking Windows 6. The time before that was to open for the Decemberists at the Shelburne Museum last summer. So, yeah. She's doing all right.
Of course, the outdoor stage headliners are Madaila. And why not? They're hosting the damn thing. Also, they've been on a nice little run of their own lately. The band recently signed to Madison House, a well-respected national booking agency. They've also landed with a boutique publicity outfit in New York City called Mixtape Media. It will undoubtedly help to spread the gospel of Madaila in the coming months when their sophomore album, Traces, hits our collectively eager ears — likely in late October.
I've heard it, and I'm awfully excited for y'all to check it out, too. In the meantime, maybe scoot over to our arts blog, Live Culture, and check out the premiere of "Nurture," the second single off Traces. By the way, our new assistant music editor, Jordan Adams, penned that post. You'll be seeing his byline quite often from now on. Welcome aboard, Jordan!
Moving on — and indoors — following Madaila's set, the party heads inside to Nectar's and Club Metronome. Downstairs, catch Smalltalker, a side project from the Smooth Antics crew, a PitchBlak redux, the omnipresent Disco Phantom and a set from TwidaiLa, which is a hybrid of Madaila and Twiddle, led by the latter's Mihali Savoulidis.
Upstairs, it's Northampton's LuxDeluxe, touring in support of their latest record, It's a Girl. The ever-provocative Arc Iris, led by Jocie Adams (ex-Low Anthem) will also be in attendance, reimagining Joni Mitchell's Blue. WW6 headliners Delicate Steve round out the live portion of the evening, with DJ Taka spinning into the wee smalls.
Oh, and this just in: I have it on good authority that a time-traveling disco band called the Medallions — who are definitely not Madaila — have canceled a leg of their European tour and may surprise with a set on Main Street. Stay tuned...
BiteTorrent
That all sounds like a lot of fun, right? Well, readers of a certain vintage may find they have a difficult decision to make on Sunday. That's because, while Madaila and friends are building this city on rock and roll — and art pop, brassy hip-hop, etc. — over at the Champlain Valley Fair there is a show of monumentally epic proportions: the I Love the '90s Tour, featuring Vanilla Ice, Salt-N-Pepa, Color Me Badd, Coolio, Tone Loc and Young MC.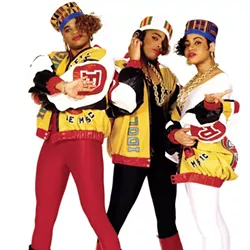 If you had told 12-year-old me that any of those acts would be playing in Vermont, I would have fainted. If you had told me they would be playing together and at the freakin' fair, my teenybopping heart would have exploded. Hell, I'm in my late thirties, and I'm still feeling heart palpitations — though that might just be an excess of fried dough.
Now, can this show possibly be anything other than embarrassing for everyone involved? Doubtful. Do I care? Of course not! The question is this: Madaila or the '90s?
For fellow aging hipsters grappling with life's tough choices, I look at it this way: Do you want to go see a group of phenomenally talented young people grabbing life by the horns and subsequently get depressed about your misspent youth? Or do you want to go and see a bunch of well-past-their-prime pop stars and subsequently get depressed because you so vividly remember their heyday/how to do the running man? The choice is yours.
Jason "Tooth" Toothaker and Brian Clark with Big Heavy World's demolition derby car
Last but not least, we have more proof that Big Heavy World is the coolest. On Thursday, September 1, the noble do-gooders will realize a dream some 20 years in the making: Smashing the ever-loving bejeezus out of old cars. That night, BHW is entering a car in the Demolition Derby at the Champlain Valley Fair. It's a 1978 Chevy Nova, gussied up by local artists Tooth and Brian Clark. Piloting the rig is Ian McCullough of the local hardcore punk band Reverser.
Incidentally, I'm pretty sure Color Me Badd's tour vehicle is also a '78 Nova. Here's hoping they don't park in the wrong spot at the Expo.
Listening In
A peek at what was on my iPod, turntable, eight-track player, etc. this week. Follow sevendaysvt on Spotify for weekly playlists with tunes by artists featured in the music section.
Tone Loc, Loc-ed After Dark
Color Me Badd, C.M.B.
Vanilla Ice, To the Extreme
Young MC, Stone Cold Rhymin'
Salt-N-Pepa, Hot Cool & Vicious