Courtesy Photo
8084
One of my most shameful habits is reading online comments. I don't know why I do it, because it just makes me angry and depressed. But anytime I read a hot-take think piece, blog post or article about a controversial issue, I find myself glued to the discussion forum — emotional hangover be damned.
Do I expect to see any rational thinking among the cascade of poorly written, mostly hateful rhetoric? No. Do I keep reading just in case someone artfully crafts a response that puts everyone in their place without coming off as just as hateful? Yes. Does my wish ever come true? Almost never. I usually end up unnecessarily frustrated — and I doubt I'm the only one who experiences this.
Vermont elder statesmen of rock 8084 similarly seek answers — albeit on a much grander scale — in their new track, "Why?" Lead vocalist Randy Smith directed the accompanying stock-footage music video, which features a barrage of emotional clips aligned with the group's message of peace, love and tolerance.
The video precedes the band's upcoming series of shows, dubbed the Love Not Hate Tour. First stop: the Higher Ground Ballroom on Saturday, May 26, with support from locals Shake.
"We just want people to spend some time being nice," Smith tells Seven Days by phone. "Everybody is so edgy right now. You see it everywhere. There's so much anger out there."
Aside from the general spirit of togetherness, the tour — which will hit other locations in the state later this summer — benefits a different local charity or nonprofit at each of its dates. The Vermont Foodbank is the first recipient.
Those who've followed 8084 since their 1980s origins may need to get up to speed on the band's current sound. While the terms "hair metal" and "hair band" have been applied to the group in the past, those descriptors are no longer accurate.
"None of us have long, rockin' hair anymore," says Smith, also noting the group's stylistic shift away from blown-out '80s rock to the more modern, blues-rock-influenced sound heard on "Why?"
8084 will also present a select few covers that relate to the series' overarching sentiment, such as U2's 1984 hit "Pride (In the Name of Love)." And at subsequent shows, expect a full-scale backdrop of visual projections.
As Smith points out, positivity is his band's goal above all else.
"Just because you don't agree with someone doesn't mean you have to hate them, or that there's not value in their thoughts or positioning," says Smith. "We want to put the focus on the good we're trying to do, as opposed to, 'Hey, come see 8084 and drink a lot of beer.' Although we have no problems with people drinking a lot of beer."
Agreed — as long as you drink responsibly!
Full English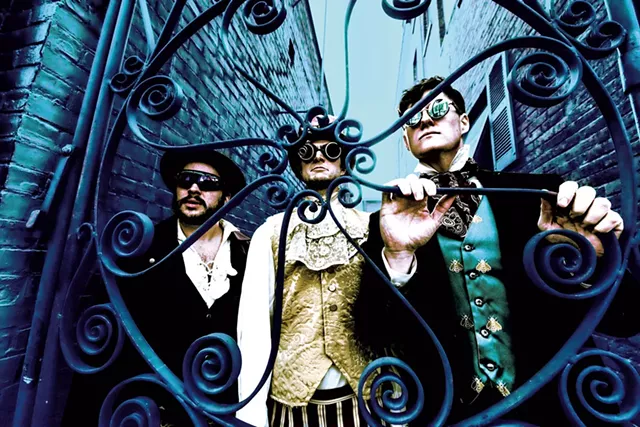 Courtesy Of Luke Awtry
British Isles
Josh Panda & the Hot Damned are dead — musically speaking, of course. Panda, as well as bandmates Tyler Mast and Steve Hadeka, are very much alive — and the three of them are now known as British Isles. They plan to unleash their fevered, glammed-up sound on Friday, May 25, at Nectar's in Burlington, supporting the Seth Yacovone Band. (Hadeka will be worn out by the end of the night since he drums in both bands.)
So, why the name change? Panda's reasons are several.
"Josh Panda, as a brand — I do so many different things," he tells Seven Days over the phone. "People have a different idea of what [my name] may mean."
It's true. Depending on whether you caught some of his five-year acoustic-soul residency at Burlington's Skinny Pancake before it ended in early 2017, saw him obliterate a Beyoncé song with his wedding and events band the Josh Panda Party, or sing guest vocals at any number of special events or tribute performances, you might have a somewhat limited perspective on what Josh Panda actually is.
The new name should help to compartmentalize the various shades of Panda.
Additionally, frequent personnel changeups in the Hot Damned didn't stop until the current lineup solidified in the last couple of years. And by that point, something new was a-brewin'.
"I started writing for this [configuration], and it kind of took on its own identity," Panda says. "I recently was feeling like this band is not the Hot Damned [anymore]. This is its own thing and deserves to have its own identity."
This means that much of Panda's back catalog will no longer be a part of the show.
"For anyone who's seen [Josh Panda & the Hot Damned] in the last year, there's probably going to be a bit of a cross-dissolve as [British Isles] continues to form into its own thing," Panda reckons. "We may still play a song or two off of [2017's Shake It Up]. [But] British Isles has its own identity, and I [don't] want that to get muddled."
To get the ball rolling, Friday's unveiling comes with the release of British Isles' first single, "Hold Your Horses." Panda was kind enough share a sneak peek of the new track and, let me tell you, it's an unbridled, stomping banger that hits a gallop right out of the gate. (That was three equine puns in one sentence, if you're keeping track.)
Lastly, the name British Isles isn't arbitrary.
"All of my musical heroes — Mick Jagger, Robert Plant, Jimmy Page and more — are British," Panda says. "My ancestry is British. I've always had a fondness and pull toward British culture."
The fellas look the part in their new promo materials, which you can clearly see on this page. Check out those steam-punk, quasi-Dickensian outfits. Lookin' good, mates!
Be on the lookout for the new single and its accompanying music video at some point this week.
Listening In
If I were a superhero, my superpower would be the ability to get songs stuck in other people's heads. Here are five songs that have been stuck in my head this week. May they also get stuck in yours. Follow sevendaysvt on Spotify for weekly playlists with tunes by artists featured in the music section.
Chloe x Halle, "Galaxy"
Portugal. The Man, "So Young"
Hayley Kiyoko, "Sleepover"
Amen Dunes, "Miki Dora"
Mac Demarco, "On the Level"