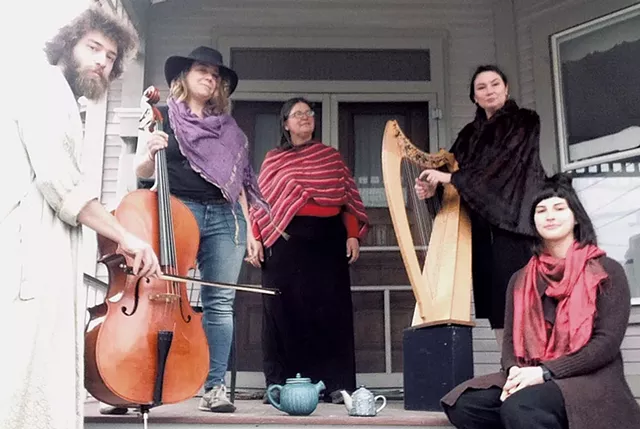 Courtesy Of Rebecca Mack
Amerykanka
When historians sit down to write the story of the 2020 coronavirus pandemic in Vermont, they'll have to come up with some kind of catchy name for Friday, March 13. Maybe "Black Friday" or "The Day the Music Died" or, um, "Friday the 13th." (Yeah, we'll workshop that.)
If you recall, that was the day when most area performing arts organizations, nightclubs, production companies and presenters started postponing and canceling shows in earnest, responding to fears about the spread of the virus. By the middle of the following week, "most" venues and promoters became "all." And just like that, months of live performances of all sizes and kinds were wiped off the calendar.
By the next weekend, March 20 to 22, local musicians and comedians had begun migrating their performances online through livestream events, broadcasting from living rooms, kitchen tables, bedsides, basements or, in the case of at least one local songwriter, the bathroom — hey, tubs and tiles make for good acoustics. Especially as we struggle to adapt to our new homebound isolation, those humble little shows have proved to be as comforting as they are entertaining. But, unfortunately, not even livestream shows are immune to the coronavirus.
Vermont vocal ensemble Amerykanka were scheduled to perform a livestream concert at Congregation Ruach haMaqom, a synagogue in Burlington, on April 4. But the Eastern European folk music group was forced to abort that show when leader Rebecca Mack was diagnosed with COVID-19 in late March. There's no way of knowing for sure, but it's a good bet that Amerkanka's performance was the first local livestream concert canceled by the coronavirus.
In a phone call, Mack, who lives in Burlington with her partner and children — all of whom are healthy, BTW — reported that she'd had flu-like symptoms for a while before she was finally eligible to be tested. She said dry cough, body aches and, most notably, fever were among her symptoms.
"It was crazy fever," she said. "Fever with the most strange and beautiful dreams."
Mack said she can normally remember dreams if she writes them down shortly after waking. But her fever dreams were on a different level entirely.
"It was a completely different quality of dreaming, like Technicolor," she explained. "And I can still remember them. I could write songs about them right now."
When Seven Days spoke with Mack last week, she said she was feeling much better, aside from some fatigue and mild shortness of breath. But, she noted, those lingering symptoms actually have come in rather handy of late.
"It's helping me quarantine really effectively," she said with a chuckle.
In addition to her vocal talents, Mack is a harpist. She's been using the down time to get in some practice. Her new daily routine involves making her bed in the morning, then placing the bottom of her harp on a pillow on the bed and laying down to play it.
"The other day I played myself to sleep," she said. (Side note: I now want to take up the harp for the sole purpose of playing myself to sleep, because that sounds, well, heavenly.)
Otherwise, Mack has busied herself with a variety of artistic and musical endeavors, including Loop Gloss, a looping and found-sound project with her partner, Mal Maïz bassist John Thompson-Figueroa. Their latest composition is built around automated National Oceanic and Atmospheric Administration weather reports from a marine radio and a piano.
"It's really soothing and weird to listen to," she said of the clipped, robotic cadence of the NOAA forecasts.
As for Amerykanka, Mack said she had been excited to introduce two new members to fans at the show. One is vocalist Maria Schumann, daughter of Bread and Puppet Theater founder Peter Schumann, who led an Eastern European folksong group in the Northeast Kingdom. The other is cellist/vocalist Eli Goldman, who replaces previous Amerykanka cellist Liana Nuse, now living in Scotland.
"I'm really excited for when we can get together and sing again and have real concerts," Mack said. Which brings up another way she's been coping with her down time and recovery.
"Imagine the amazing parties and shows and family dinners and stuff we're gonna have when we've finally gotten past this," she said. "That's how I give myself a little boost when I need it."
Sound advice.
The Daly Show
Courtesy Of Lexie Daly
Mark Daly
If one good thing comes out of this era of sheltering in place, it might be this: a brand-new Madaila record. And if four good things come out of these seemingly endless, soul-numbing days in isolation, they might be this: four brand-new Madaila records.
"But, Dan," you're probably scoffing out loud right now to no one but the dog, "Madaila broke up. I know you haven't written Soundbites in a while, but you're way out of the loop, guy."
It's true: I haven't, and I am — but please don't call me guy. And you're right, Madaila did break up, last year's reunion show notwithstanding. But I have it on good authority that new Madaila records, plural, are coming, and soon.
Madaila founder and front person Mark Daly has been hard at work on a suite of EP-length releases, the first of which, West, is due out imminently.
"Once it's done, we're just gonna put it out," said Daly, estimating that the EP will hit our ears by the second or third week of April. He added that he's currently finalizing mixes from his home studio in Charlotte.
While it bears the Madaila name, West is ostensibly a Daly solo project. However, he hopes for and expects his bandmates to turn up on future releases.
"We're slowly resurrecting Madaila and untangling the knots," Daly said. "Wounds have healed and time has passed, and I realized how much Madaila was a part of our identity, and how much work we'd put into it. I didn't want to see it just dissolve."
But there's another reason Daly is releasing West as a Madaila record and not as Ernest, his more recent solo project. He explained that he'd begun to wonder whether, at this point in his life, he was really interested in starting his musical career over from scratch.
"And the answer is no," Daly said, laughing. So he's been plotting ways to mold Madaila into what he envisions artistically moving forward.
However, don't expect Madaila's Day-Glo psych pop on West, which was largely written in the fall, save for one song Daly penned under quarantine. He described the EP — accurately, based on rough mixes he shared — as a "folkier, Laurel Canyon record." Indeed, the record evokes hazy, 1960s California folk-rock, but cut with the sticky hooks that have been Daly's signature since his Chamberlin days. Imagine him writing tunes for the Byrds or Poco, and you're in the ballpark.
That geographic stylistic fusion is basically the idea behind the four-EP cycle. Each will be named for a point on the compass and reflect certain musical sensibilities from those regions.
"The concept is if Madaila were birthed in this part of the world, or this city, what would it sound like?" Daly explained. Each record will be "vastly different," he added, but still have "cohesion within the Madaila sound." Next up is South, Daly said, which will be "a 180 from what West sounds like."
Listening In
Here's a peek at what's been on my bunker hi-fi lately.
Rough Francis, "Deathwire"
Bonny Light Horseman, Bonny Light Horseman
Clem Snide, Forever Just Beyond
Sufjan Stevens/Lowell Brams, Aporia
Waxahatchee, Saint Cloud