Courtesy Of Michelle Sarah
Michelle Sarah
In thinking about the Burlington Discover Jazz Festival as it reaches its grand finale this weekend, it occurs to me that the fest is kinda like that old wedding adage, "Something old, something new. Something borrowed, something blue." (Raise your hand if you smell a contrived column gimmick coming on! Bear with me.)
For something old, we've got plenty to choose from in the coming days, thanks to the long, storied history of jazz itself. For starters, there's Mavis Staples, the 75-year-old gospel diva who's performing at the Flynn MainStage on Friday, June 12. (See our interview with her. And, no, I didn't mean to call Mavis old, just that she's been around awhile.) Or we could go with another staple, the Onion River Jazz Band, a local group that has quite possibly played at more BDJFs than any other local ensemble and will do its Dixieland thing at the top block of Church Street on Saturday, June 13. And then there's the reunited Sneakers Jazz Band. That crew of local jazz luminaries are gettin' the band back together for two shows at Club Metronome on Sunday, June 14. (See the story.)
But I'm particularly intrigued by the return of the Beat Biters, the jazzy live hip-hop band founded by local MC Fattie B in 2008. Over the years, the band has gone through a variety of iterations. But the lineup at Nectar's this Friday, June 12, might just be the best yet. Joining Fattie B on the mic are local MCs S.I.N.Sizzle and the Mighty Konflik. They'll be backed by a crack rhythm section of Seth Yacovone Band bassist Alex Budney, Dead Set drummer Ryan Clausen and Family Night Band guitarist Walker Davis Allen. Madaila's Eric Maier will drop in on keys, flanked by trumpeter Jennifer Hartswick (Trey Anastasio Band) and sax ace Dave Grippo.
Grippo, by the way, has a long relationship with local hip-hop, lest you think this particular marriage strange. In the late 1990s, the Grippo Funk Band's weekly Red Square residency was the hottest night in town, thanks in no small part to the contributions of late, great turntablist DJ A-Dog and rappers Fattie B and Konflik, who regularly sat in to scratch and rhyme. That collaboration begat Eye Oh You, which eventually inspired the formation of the VT Union, who, along with several others, were instrumental in raising the profile of local hip-hop in recent years.
That profile might have reached an apex last year in the form of every rad record BTV expat Learic released. Those releases very much included This Is How It Must Be, his jaw-dropping record with Maier and his Madaila bandmate Jer Coons as the Precepts. That group, heretofore solely a studio project, will play its first live gig opening for the Beat Biters. And the rest of the Madaila boys will be on hand to flesh out the sound. Show up early.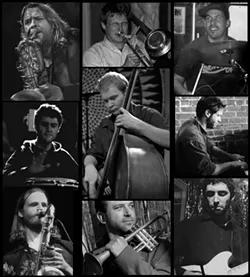 Courtesy Of Sound Of Mind
Sound of Mind
As for something new, this weekend brings the debut of a new project from local bassist Rob Morse, a nine-member ensemble called Sound of Mind. Morse is among the most respected players in Vermont, regardless of instrument. He's perhaps best known for his time in the hard fusion band Vorcza and antacid jazz band viperHouse. But he's provided the low end for more great local jazz, funk and world-music acts than we can count. SOM, however, is unique in that Morse is stepping out on his own as a band leader. And it's quite a band to lead, featuring Parker Shper (keys, synth), Max Bronstein (guitar), Dan Ryan (drums), PJ Davidian (percussion), Taylor Haskins (trumpet, effects), Luke Laplant (bari sax, effects), Jake Whitesell (alto and tenor sax) and Andrew Moroz (trombone).
"I'd like to think this music and approach is a synthesis of what I've learned over the years playing with all things Michael Chorney and Brian Boyes, as well as other beautiful artists and teachers like James Harvey and Nick Cassarino," Morse writes in a recent email.
So what does it sound like?
"As for the sound, to me it is in the lineage of the large group writing of Peter Apfelbaum and Don Cherry," Morse continues. "But more immediately it might remind people of bands like Kneebody or Snarky Puppy."
There are very few bands I would recommend to you without hearing them myself. But Morse's new group is easily among them. You can catch Sound of Mind opening for Georgia Anne Muldrew at Signal Kitchen on Friday, June 12 — after which some of the band will back up Muldrew. You can also see the band in a free performance at the City Hall Stage on Church Street on Saturday, June 13.
Now we need something borrowed. Here's where this gimmick runs into trouble. I could point to the numerous bands that will be "borrowing" versions of jazz standards for gigs all over town this weekend. But that feels like a copout. So I'd rather clear up a small personal issue, if I may.
When Rubblebucket released their excellent 2014 record, Survival Sounds, I let a friend borrow it. The problem is, said friend apparently liked it so much that she never gave it back. (You know who you are.) So I'd like to formally ask that the borrowed album kindly make its way back into my possession. Perhaps we can make the drop when the band plays the Waterfront Tent this Saturday, June 13?
Interesting side note on Rubblebucket: The band traces its origins to an Afrobeat jam during the 2007 BDJF. So the Waterfront show is not merely a homecoming for a group that is now regarded as one of the most exciting live acts around; it's coming full circle.
For something blue, we turn to local chanteuse Audrey Bernstein, who releases her new record, Alright, OK, You Win, with a gig at Juniper on Thursday, June 11. That album, which was reviewed in these pages last week, is chock-full of choice jazz standards, including a few lovingly rendered, lovelorn ballads. But that's not where we're going with the blue thing. Alright is a follow-up to Bernstein's 2011 debut, Audrey Bernstein Loves Blue. (See what I did there?)
I reviewed that latter record and was taken with Bernstein's charming, flirtatious delivery. I didn't write the review of her new album, but I found those charms to be well intact as I listened to it. Bernstein doesn't reinvent the classics so much as offer herself as a vessel through which they can take on new life. In other words, by singing tastefully and with cool reserve, she lets her material shine as much as she does herself. It's savvy and gracious.
Or, as my pal Reuben Jackson from Vermont Public Radio's "Friday Night Jazz" — and last week's cover story — puts it, "She explores the melodic and thematic textures of originals and American popular song classics with great care and sublime invention. I imagine notes and/or phrases vying for her attention. And who could blame them?"
Courtesy Of Audrey Bernstein
Audrey Bernstein
Interestingly, Bernstein is not the only local jazz artist releasing a new record this weekend. The following night, Friday, June 12, also at Juniper, the Patricia Julien Project release their new record. The next night, Saturday, June 13, central Vermont soul and funk outfit the Michelle Sarah Band release their debut record, For Today, with a show at Nectar's with Grundlefunk. Which reminds me...
Happy trails to Funkwagon front man and lovable smartass Aaron Burroughs. The talented singer and keyboardist recently moved to Detroit where he plans to continue playing music. Regular readers know I've had a little fun with Burroughs through the years over the odd tendency of funk bands to include the word "funk" in their names. (Keep in mind this comes from a guy who was once in a ska band called the Skamaphrodites. Pot, meet kettle.)
Anyway, Funkwagon will play what is likely their final local show at Zen Lounge this Saturday, June 13. After which I will obviously need a new local funk band to tease about their name. Lookin' at you, Grundlefunk...
Listening In
A peek at what was on my iPod, turntable, eight-track player, etc., this week.
Titus Andronicus, The Most Lamentable Tragedy
Iva Dawn, The Only One
Motopony, Welcome You
Arthur Russell, Corn
Faith No More, Sol Invictus