courtesy of Grace Potter and the Nocturnals
Grace Potter and the Nocturnals
Since its inception four years ago, or at least since it was divorced from the Lake Champlain Maritime Festival and became a singular entity, Grand Point North has served as Vermont's unofficial end-of-summer blowout. This year's fest, slated for Burlington's Waterfront Park this Saturday and Sunday, September 13 and 14, will cap one of the busiest and music-filled summers in Vermont in recent memory — and maybe ever.
As per usual, Grace Potter and her merry band of insomniacs have invited plenty of their rock-star buddies to help them rock the twin lakeside stages. Also as per usual, the band — with a little help from the savvy cats at Higher Ground Presents, no doubt — exhibit some fine taste in marquee favorites. These include the likes of the War on Drugs — that's Kurt Vile's old band, BTW, and it's great — the excellent Lake Street Dive, repatriated VT expats the Devil Makes Three, spacegrassy indie-folk outfit Trampled by Turtles (see here) and songwriter Rayland Baxter, to name a few. Oh, also, the night tripper himself, Dr. freakin' John. Oh, and Grace Potter and the Nocturnals, because duh.
But regular readers know that this column is just as smitten with the opportunity for local bands to share the spotlight as it is with those glittery names. When the fest debuted, the considerable raft of local talent was banished to a small side stage at the far end of the festival grounds. While it was cool to have them included, deserting prime real estate in front of the main stage to dig on lesser-known locals was a tough sell for general audiences, which meant fewer eyes and ears on homegrown talent than desired.
That changed a couple of years back when GPN realized the only thing better than one huge, awesome main stage was two huge, awesome main stages sitting right next to each other. Since then, locals have been given the rock-star treatment alongside, well, the rock stars. And that's a very cool thing.
This year's lineup of local artists is as strong as ever. It begins with the winners of the Seven Days Grand Point North Local Band Contest, Dwight & Nicole. Since y'all voted them in, I'm guessing you already know how good they are. If not, check out their cheeky new video, "Smile," on our arts blog Live Culture. I'll wait...
Told you.
Moving on, the next band up is Villanelles, who have been missing in action since front man Tristan Baribeau became a pirate — or an Alaskan salmon fisherman, I can never remember which. Haven't heard from these guys in quite a while, but they've long been a personal favorite. Also, I'm told they've got a new album in the works, so maybe we'll get a sneak peek.
Local art rockers Swale are next, but I can't really write about them since my brother is their bassist. However, they've also got a new record coming out later this month. Rounding out the local slate is Caroline Rose. For more on her, check out the feature here.
Sunday begins with psychedelic surf upstarts the High Breaks, which is basically indie-rock darlings Lendway in Dick Dale mode/shiny suits. Next up are whiskey-grass progenitors Gold Town. They play whiskey-grass, which is really all you need to know.
Anders Parker & Cloud Badge follow. If you haven't heard Parker's 2014 record, There's a Blue Bird in My Heart, I'd rectify that situation immediately. It's some of his finest and most imaginative songwriting to date, which is saying something. He'll be followed by alt-country stalwart Lowell Thompson, who is always worth checking out.
I daresay that's a mighty fine collection of locavore talent. So if you're heading to Grand Point North this weekend, do yourself a favor and get to the waterfront a little early to give the locals some love. Because you never know, the next band to break out of Vermont on a national scale might just be on the bill (coughCarolineRosecough).
Party On
While we're on the subject of GPN (the festival), the fest after-parties have become almost as big a deal as the fest itself. The big one is Sunday at the Higher Ground Ballroom. It's an all-star jam led by Marco Benevento. I probably don't need to tell you why that could be epic. In the words of the "Most Interesting Man in the World," "The after party is the one you want to attend." Actually, in this case, the regular party should be gnarly, too. But you get the point.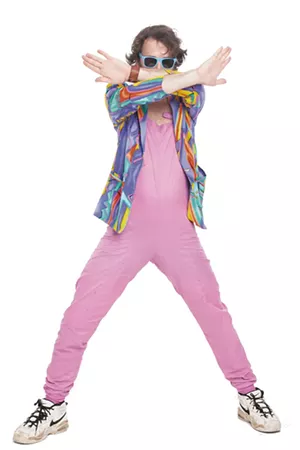 Courtesy Ofmark Daly
Mark Daly
Personally, I'm intrigued by the Saturday after-party at Nectar's. The headlining act is a Nashville psych-funk band called Fly Golden Eagle, and they're pretty cool. But opening the show are DALY, previously known as Plato Ears. That band, led by Mark Daly (ex-Chamberlin) was a highlight of this year's Precipice festival, delivering one of the most dynamic and enjoyable sets I've seen from a local band in a long time. Not sure why they changed their name, but I'm excited to hear what's next from a truly promising act.
Selfie Roast
I'm a little concerned about the local comedy scene. (Actually, I'm reeeeally excited about the local comedy scene, but I can't tell you why yet ... gah!)
In the local music scene, it's pretty common for talented young artists to eventually seek their fortunes elsewhere. We all know bands or musicians who have perhaps outgrown Burlington and feel the itch to test themselves in Brooklyn or Portland or Austin. As rapper Learic put it to me recently, "Sometimes you can't help but wonder, 'Am I good? Or am I good for here?'" Learic, BTW, recently moved to Brooklyn. But I'm pretty sure he's just good.
Anyway, the local comedy scene has begun to experience a similar phenomenon, as a slew of talented, up-and-coming comics, many of whom either got their start or honed their craft in Vermont, have left or will leave soon for bigger cities.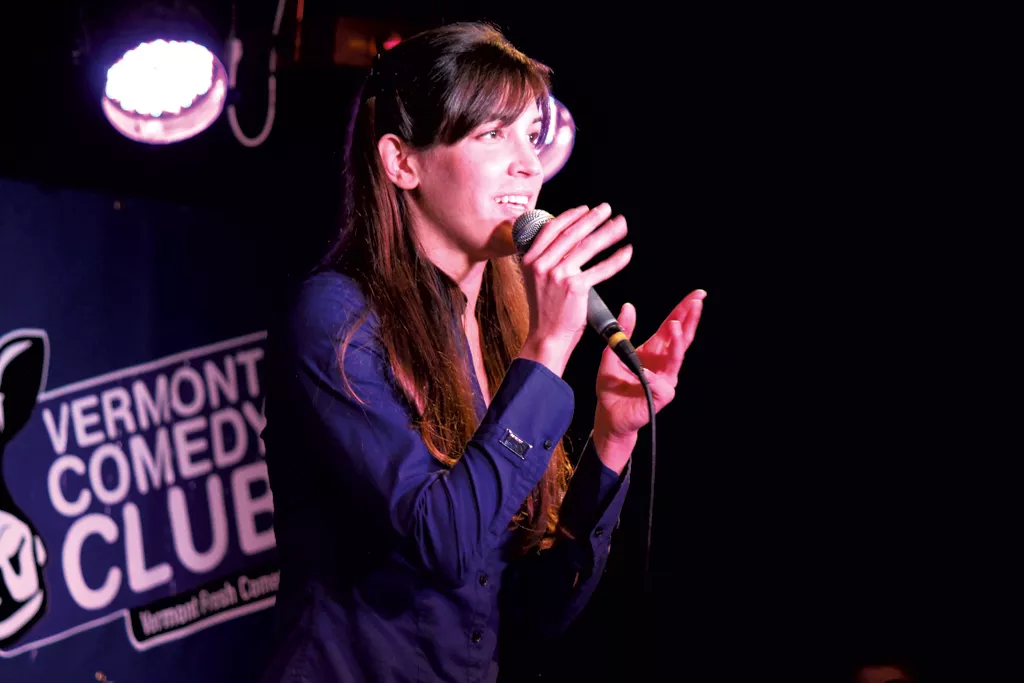 courtesy of Vermont Comedy Club
Carmen Lagala
In a recent email, column favorite Carmen Lagala, who also has moved to Brooklyn, writes that 2013 Vermont's Funniest Comedian winner Phil Davidson has moved to Milwaukee. And that Kit Rivers has moved to Chicago. And that Joel Chaves, Justin Rowe and Sydney McEwan are moving to NYC. And that Natasha Druhen, Colin Ryan and Ellington Wells are moving to California. That's nine Vermont comedians, including some of our most promising ones. Jesus.
To bid those comics farewell, Lagala has organized a roast, hosted by local comic Regi B., on Wednesday, September 17, at Zen Lounge in Burlington. The show will feature a slew of comics, including Lagala, Davidson, Ryan, Kathleen Kanz, Will Betts, Nathan Hartswick, Natalie Miller, Taylor Scribner, Adam Cook and many others, who will take aim at their dearly — or nearly — departed pals Friar's Club style. Because the most endearing way for a comedian to tell another comedian how much they love them is to ruthlessly make fun of their junk.
So good luck to all the local comics seeking their fortunes in faraway comedy clubs. But I won't say good-bye. Because if the comedy scene is anything like the music scene, y'all will be back in, like, six months. (Kidding! Sort of.)
The original print version of this article was headlined "On Point"