Jordan Adams
Swimmer at Nectar's
Show and Tell
Over the weekend, I did something I thought I wouldn't do for a long time: I saw live music in person. With newly eased restrictions on large public gatherings and indoor spaces, Vermont saw the return of proper rock shows — "proper" being a relative term here. And as of this Friday, June 26, indoor limitations are set to expand even further, to 50 percent of indoor capacity or 75 people, whichever number is lower. That means we can expect the trend of live entertainment to continue pretty much indefinitely, barring another pandemic-related lockdown.
After spending time out and about, I have some thoughts about the return of live music. Let's dig in, shall we?
A Picture of Nectar's
Last Friday, iconic Burlington nightclub Nectar's and its upstairs sister venue Club Metronome kicked off a weekend of live, indoor shows. Because of strict guidelines from the Vermont Department of Health, the events had some caveats. Tickets were primarily sold in groups of four in advance online, and patrons had to order refreshments from servers rather than make trips to and from the bar. And as with all indoor dining at the moment, masks were encouraged but not required while seated. Those protocols are likely to remain in place for the foreseeable future.
I showed up a little after 9 p.m. to catch the first of local jam band Swimmer's two sets. I was pretty shocked to see that the restaurant side of Nectar's had been completely cleared out. Ghosts of the pools tables that used to occupy considerable space were visible on two untarnished blocks of linoleum.
Naturally, the action was happening on the bar/performance side of the club. Swimmer took the stage just after I walked in. Most of the tables were already full by then. The club's vice president of business development, Brian Mital, confirmed that the shows did indeed sell out.
"I think people are just excited to see live music again, even at a lower, kind of weird capacity," said Swimmer's Matt Dolliver by phone later. "Every one of us has learned to adjust this year. It's better than not having music, you know?"
Indeed, a sold-out show does suggest that people are psyched to get back to rocking out. However, I'm of a different mind about it.
Sure, the band sounded good and everything, and people seemed happy. I'm not here to take anyone down for having a good time. But there was an indefinable psychic energy clouding up the place. Watching 40-odd patrons more or less sit quietly while a rambunctious band tore up the stage felt utterly strange. The event seemed neutered, like it was missing the wild, visceral passion that you'd normally feel at a rock show. That isn't a slam on Swimmer or Nectar's. I don't think there was anything the band or venue could have done differently or better. Nor is it a slam on the audience for not being visibly psyched enough.
But all in all, the experience felt like eating a fat-free, low-carb ice cream sundae: It kind of satisfies the craving but is not nearly as delicious as it could be. Personally, I'd rather wait for the real thing.
Put Up a Parking Lot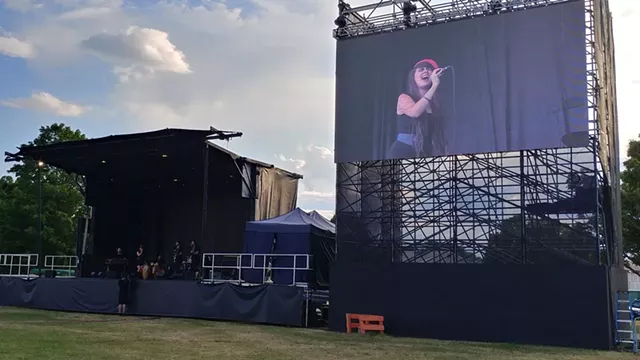 Jordan Adams
Kat Wright performing at Higher Ground's Drive-In Experience
On Sunday, I checked out Higher Ground's Drive-In Experience with Kat Wright at the Champlain Valley Exposition in Essex Junction. With an eye-popping $99-per-carload price tag, the show had an even longer list of guidelines and restrictions, which were explained via FAQs on the venue's website. Most notably, attendees were allowed to bring lawn chairs and sit immediately outside their vehicles but were required to wear masks when visiting restrooms or patronizing the handful of food vendors present. Almost everyone appeared to enjoy the show from lawn chairs and picnic blankets, rather than inside their cars.
Vibe-wise, things were pretty great. The show was well attended — I counted more than a hundred cars. People seemed to fully respect the rules and wore masks when venturing off for refreshments. And, honestly, it felt kind of nice to have some personal space while watching an outdoor concert. The band sounded tight as always, and close-up live video displayed on an enormous screen next to the stage revealed some truly blissed-out musicians thriving in their element. That was great to see.
But there were some major issues with sound. Since the show was presented drive-in style, sound was broadcast via FM transmission so people could listen on their car stereos. Reception was crystal clear. However, the show did not have a proper PA system, so whatever sounds were coming from the minimal onstage amplification did not adequately reach the audience, most of whom were, again, enjoying the concert in the fresh air and sunshine.
To combat the low volume, many people opened their car doors and let their stereos be their own personal sound systems. But the inherent fraction-of-a-second delay on the FM broadcast, combined with the natural acoustical echo heard at any outdoor concert, created a jumbled din. It kind of made my head explode. Drums became particularly muddy, making it extremely hard to find the beat.
In an email, Higher Ground cofounder Alex Crothers explained that there wasn't a regular PA system because "a traditional concert PA creates a slew of issues: Cost and impact on community being the two biggest. We're trying to have a light touch and keep costs down.
"Everything we're doing out there is an experiment and it's going to be iterative," Crothers continued. "We're trying to think of all the potential issues and questions, but part of the process with anything new is there will be some bumps and then some evolution."
Fair enough. I understand the cost angle, and not just because of the overall economic downturn. Higher Ground isn't making money from these shows. Rather, proceeds are being directed to the Vermont Arts Council, as well as other nonprofits such as Black Lives Matter of Greater Burlington.
But to Crothers' point about impact on the community: Aren't the people of central Essex Junction used to having live music and other entertainment blaring from the Expo on the reg during the summer months? I would think so. To my knowledge, those shows have never created a disruption on par with, say, what Phish's infamous Coventry concert did to the Northeast Kingdom town in 2004.
The next Drive-In Experience features Dwight & Nicole on Saturday, July 4, which benefits the Loveland Foundation and Black Lives Matter of Greater Burlington. Let's hope the sound issues are resolved by then.
Who's Next?
I checked in with a couple of other Burlington-area venues to see whether they might be offering live entertainment anytime soon.
"We're not setting a date for reopening," said Vermont Comedy Club co-owner Natalie Miller. "I totally respect other business [opening up], and I understand financially it's a huge strain not to be open. Personally, we don't feel like it's safe yet, and we care about our customers, staff and performers more than anything."
"We have the type of business with very little wiggle room," VCC co-owner Nathan Hartswick said on the same call. "We cram a bunch of strangers in a space breathing the same air. We can't do curbside pickup of comedy."
Brian Nagle, talent booker for the Monkey House in Winooski, said that the venue will continue to have DJs perform in the bar's front window, and maybe some solo performers, too.
"It feels a little too soon [to have indoor rock shows], considering the outbreak that happened in Winooski," Nagle said, referring to the spike in COVID-19 cases that began on June 4.
I'll be keeping an eye on the ever-evolving pandemic-era live music scene. Got a tip for me? Send it my way.
Listening In
If I were a superhero, my superpower would be the ability to get songs stuck in other people's heads. Here are five songs that have been stuck in my head this week. May they also get stuck in yours.
Beyoncé, "Black Parade"
Alabama 3, "Woke Up This Morning (Sopranos Mix)"
Annie, "American Cars"
Tennis, "My Better Self"
Christine and the Queens, "Doesn't Matter"