Courtesy Of Jen Dean
Pete's Posse
Let's Dance
In case you haven't already heard, Vermont was recently selected as the primary shooting location for "The Bachelor: Winter Games," an upcoming installment of ABC television's "The Bachelor" franchise. Several competitive reality series exist in the so-called Bachelor Nation, including the flagship series, "The Bachelorette," "Bachelor in Paradise" and, as of February 2018, the new cold-weather iteration. Few details are known about the series, despite repeated inquiries from Seven Days staff — see page 40 for more on that.
Given that we're in Bachelor Nation territory, it's highly likely that past contestants from previous shows will return to compete in some "Survivor"-style sporting events to claim the ultimate prize. Not that we know what the ultimate prize will be. I mean, it can't be true love, right? That'd be too obvious. (Also, true love has no cash value.)
You're probably wondering why the hell I'm using a music news and views column to brief you on an upcoming reality TV show — especially when we've already dedicated some ink to speculation about the series. Well, it turns out that Vermont's own traditional roots trio Pete's Posse are set to make an appearance on the program. Congrats, guys!
On Wednesday, December 6, the Posse provides accompaniment for a special contra dance at the Historic Memorial Hall in Wilmington that will be taped for use on the series. The event is open to the public, and those who wish to attend can RSVP to bachelorrsvp@gmail.com. (We don't have any concrete information about how to get in on the action other than that. Sorry!)
Saint Michael's College associate professor of fine arts and expert contra-dance caller Will Mentor will direct the revelers throughout the evening.
"It's all very curious," Pete's Posse multi-instrumentalist Tristan Henderson recently told Seven Days regarding his band's unusual prime-time TV debut. "It definitely has a surreal element to it. It's most peculiar."
The Posse recently returned home from an extensive West Coast tour in November, which took them to Washington State, Oregon and Arizona. Shortly after the fellas — founder Pete Sutherland, Oliver Scanlon and Henderson — arrived home on Thanksgiving morning, they got a call from the show's producers, on Mentor's recommendation. Apparently, the group was also propositioned to participate in the show's "Arrival Celebration" parade on Tuesday, December 5, in Manchester. They declined.
"I was like, 'I don't know if I want to have my instruments in the freezing cold at a welcome march through town in December,'" said Henderson.
It's currently unknown how the event fits into the series. Is contra dancing one of the many "games" the contestants will have to play? If so, they luckily won't need expert knowledge of the dancing style, because most contra dances begin with a bit of instruction.
"The beauty of contra dance is that it's accessible to someone who has no experience," Henderson said. "That's because there's a caller who teaches the dance beforehand, and then they call the dance while the music is going on."
Enter Mentor. (Oh, my God, that rhymes!) The professor first dabbled with the discipline about two decades ago.
"I was teaching at the University of Iowa," Mentor told Seven Days during a recent phone call. "My first wife was [going to a contra dance] and then dragged me to it. After doing it for about a month, I kind of started to like it."
Mentor was as surprised as the band when he was asked to participate.
"I was in the car when the producer called me," he continued, noting that a colleague in Brattleboro recommended him after the show's producers contacted them. Mentor is not sure why he was picked over others in his field, though he half-jokingly suspects it may be because of his outlandish orange eyeglasses.
Though I think we're all hoping to see a bunch of reality star wannabes flounder their way through a contra dance, it's also possible that the event might be something the contestants simply observe.
"[The producers] asked us to promote [the event] on our social media," Henderson said. He noted that the show's bigwigs seemed to hope that circulation of the event in the band's digital spaces might drum up some experienced dancers. That would leave the contestants free to sit back and, like, canoodle or whatever they do on these shows. (Truth be told, I've never seen an episode of any Bachelor Nation program. But I think I know which one will be my first.)
"I don't have much of a handle on reality TV," admitted Mentor. "My students said that they thought this was going to be what's called a 'date night' episode, where it's just one guy and one woman."
Let's hope that's not the case, because that sounds boring AF. It would be much more interesting for audiences if our contestants got their hands dirty and learn a thing or two about do-si-dos, promenades, and swingin' yer partner round and round, rather than sat on the sidelines. And, given all the intermingling that happens between dancers during a jig or a reel, I feel like that's where the most drama will happen.
"Contra dance is a social dance," Mentor said, describing how partners navigate the step's signature two-column structure. "You kind of work your way up and down the line."
It's possible that we'll have to wait until the show airs to find out exactly what happens at the dance, as it's likely that those in attendance will have to sign a nondisclosure agreement.
"The Bachelor: Winter Games" airs in February on ABC.
Syl-ver Lining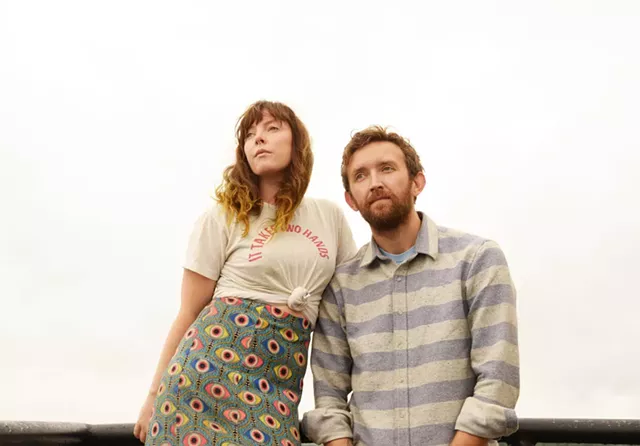 Courtesy Photo
Sylvan Esso
As we plunge headfirst into winter's dark abyss, here's a little nugget to look forward to in 2018: On Thursday, August 2, oddball electro-pop duo Sylvan Esso take over the Shelburne Museum, thanks to our friends at Higher Ground Presents.
Aside from making some of the freshest synth-pop released this year, Sylvan Esso do a really neat trick: Blink, and watch their concert tickets disappear! Seriously, folks. In May, their show at the Higher Ground Ballroom sold out so fast that not even super-savvy and attentive concertgoers (cough, cough, this guy) had enough time to react and get tickets.
Visit highergroundmusic.com for more information.
Listening In
If I were a superhero, my superpower would be the ability to get songs stuck in other people's heads. Here are five songs that have been stuck in my head this week. May they also get stuck in yours. Follow sevendaysvt on Spotify for weekly playlists with tunes by artists featured in the music section.
Fettes Brot, "Echo"
Christine and the Queens, "Tilted"
Sam & Somba, "OTW"
Corbin, "ICE BOY"
Denitia, "Waiting"