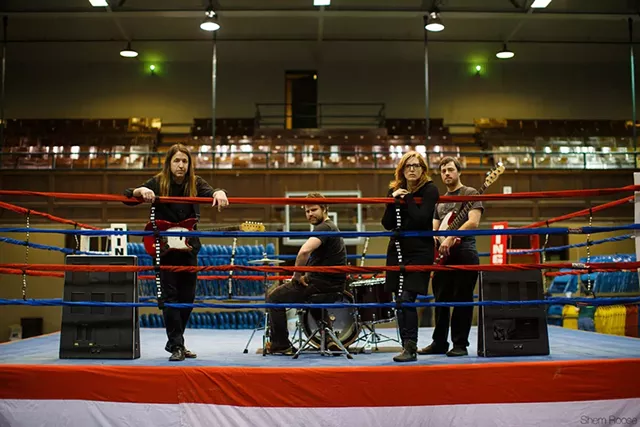 Courtesy of Shem Roose
Swale
Holy crap. Has it really been a year since Foam Brewers joined the local arsenal of craft beer purveyors? Yup, indeed it has. The sleek Burlington lakefront brewery opened its doors on April 28, 2016. In celebration of that milestone, the Foam crew hosts a birthday bash of cuckoo proportions this weekend.
The event is called One Flew Over, and it's essentially a mini music festival spread over Friday and Saturday, April 28 and 29. Those of you planning on diving into Waking Windows a little more than a week from now might think of it as endurance training for that musical decathlon. Much like the massive festival in Winooski, the Foam fest features some of Vermont's freshest and most in-demand bands and DJs. Unlike Waking Windows, it's a conflict-free event — by which I mean there's only one stage, and you won't have to make any soul-crushing choices about whom to watch and whom to skip. But in both cases, remember to stretch!
Let's start off with the best news: The Foam bash is free. That's a deep discount, given you'll likely pay a cover charge for most bands on the bill under normal circumstances.
Both days' lineups alternate between bands and DJs as the schedule progresses. If you ask me, that's an excellent way to maximize time and space. While bands set up and break down, you'll break it down with various party-starters such as WRUV 90.1 FM's DJ Mae, Retronome resident DJ Fattie B and Mixed/Methods' Jordan Barnes.
Friday kicks off with the solid rock-and-roll stylings of the Welterweights — for the uninitiated, that's a collaboration of twangy songwriters Kelly Ravin, Lowell Thompson and Erin Cassels-Brown. The Eames Brothers Band follow with their signature mountain blues.
Later on, R&B collective smalltalker take the stage. Methinks we'll hear some cuts from the group's brand-spankin'-new EP, Walk Tall. The night concludes with the only nonlocal act on the bill, New York City's Vinegar Mother. They'll keep the soulful vibes going until night's end.
Folk singer-songwriter Zack DuPont helps take the edge off the following morning — which, perhaps along with a little hair-of-the-dog, seems a fine way to ease into the day. The gentle, folksy trend continues with acoustic duo BrightBird and fingerpickin'-good bluegrass from the Tenderbellies. Then comes indie-folk singer-songwriter Henry Jamison. Fun fact about Jamison: Starting on May 9, he joins Boston's Tall Heights on a late spring tour of eastern North America.
Thanks to its location overlooking Burlington's Waterfront Park, Foam is a prime spot for sunset viewing. As the sun begins its descent into the Adirondacks on Saturday, indie rockers Little Slugger join the party. Oddball disco-punk outfit Bison swoop in to blow your face off just before Swale become Swaleoke, a live karaoke band.
My predecessor, Dan Bolles, once cautioned his readers about Swaleoke, and I feel the need to reiterate. I speak from experience when I say that singing karaoke with a live band is a different animal than simply grabbing the mic at JP's. It's much more difficult. If you think you're up to the challenge, pick a song that you can sing with your eyes closed. Personally, that's always my MO for karaoke. But it's more or less a necessity with Swaleoke, because you won't have a handy-dandy, automated video with scrolling lyrics to guide you. Sing at your own risk.
Finally, the night concludes with surf-rockers Barbacoa. If you aren't already drenched in sweat, you'll be wringing out your shirt by the end of their set.
Oh, yeah, and there's beer! And food! Check out the complete list on Foam's website. I hear their brews are in high demand, and the special offerings are likely to go fast.
Where There's a Will...
Courtesy of ReidCrosby
Willverine
The Light Club Lamp Shop's next artist-in-residence is Willverine. You might be thinking, Um ... who? Because that's what I was thinking.
If the name Willverine doesn't ring a bell, you might know the man behind the moniker, Will Andrews, from his trumpet and synthesizer work in the hip-hop jazz-rock outfit Japhy Ryder. He'll hold court with his latest project every Wednesday in May.
There's a good reason Andrews' nom de plume might be unfamiliar. Aside from a set at 2015's Waking Windows, and a recent in-studio performance on WRUV's "Exposure," Willverine hasn't really existed in a live setting. That's what makes his residency all the more exciting: Most of us won't know what to expect.
Over the last couple of years, Andrews released several Willverine EPs, including Show Up Late, which dropped at the tail end of 2016. Madaila's and Future Fields' Eric B. Maier and Willoughby Morse produced it. It's a rich collection of soulful, electronic pop with occasional dalliances into hip-hop and roots territory. Andrews' hearty baritone cuts deeply across beds of synth, leaving ample room for his signature horn. In short, it's übercatchy and smooth AF.
As for his residency, Andrews tells Seven Days via email that he plans to deliver a mix of originals and covers. Expect to hear interpretations of Rhye, LCD Soundsystem, Gorillaz and Radiohead. Also, John Mayer, apparently. No comment.
Actually, screw that. I'll comment: I'm dying to hear what American music's most celebrated hack sounds like when filtered through Andrews' hazy, downtempo filter.
Though he plans to mostly perform solo during his monthlong stint, Andrews has enlisted a few special guests to join him, namely Japhy Ryder's Pat Ormiston and Jason Thime, as well as the DuPont Brothers.
Andrews is putting the finishing touches on the next Willverine album, Save Some, which should drop at some point in the near future. Additionally, he recently penned, engineered and produced a new Japhy Ryder album. We can expect it sometime in June.
Old Soul, New Band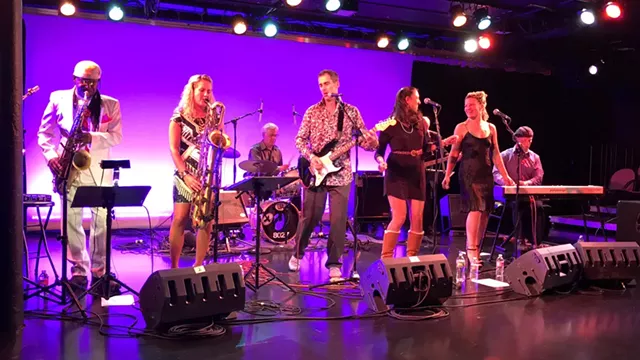 Courtesy ofJamesMatthewGallagher
Dave Keller
This Friday, April 28, local blues man Dave Keller unveils his newest project, Dave Keller's Soul Revue, at ArtsRiot in Burlington. Aside from his regular cohorts, Ira Friedman, Gary Lotspeich and Brett Hoffman, vocalists Morgan Klarich (D'Moja Drum and dance) and April Caspari (the Tender Senders) join the band, as well as the Mo' Sax Horns — aka Joe Moore, Jessica Friedman and John Harrison. Expect to hear newly invigorated versions of cuts from Keller's most recent LP, Right Back Atcha.
Listening In
If I were a superhero, my superpower would be the ability to get songs stuck in other people's heads. Here are five songs that have been stuck in my head this week. May they also get stuck in yours. Follow sevendaysvt on Spotify for weekly playlists with tunes by artists featured in the music section.
Anna Wise, "Precious Possession"
Willverine, "Wherever you go"
Herman's Hermits, "I'm Henry VIII, I Am"
D. Gookin, "Glad I Met You"James Blake, "I Never Learnt to Share"