Walking on the Moon
Brooklyn's Lady Moon & the Eclipse have achieved honorary Vermonter status. At this point, they've played all of the big rock venues, as well as some more unconventional locations. After making approximately 10 VT appearances in the last 18 months, plus a few music-writing retreats, they've solidified their standing as unofficial Vermonters. And now they return to Burlington with a three-part residency at Nectar's.
In case you're unfamiliar with the Afrobeat-R&B-fusion band, you should revisit my January 10, 2018, interview with Lady Moon herself, aka Ngonda Badila. But if you don't have time to do that right now, the most important thing you need to know about the band is that its members take their relationship with the moon quite seriously. Conceptually speaking, they imagine the band as the sun and moon, with the audience filling the role of the Earth. Collectively, an eclipse is created. It's a pretty far-out abstraction — but they've got the chops to back it up.
Since we last checked in with the Moon crew, they released the new single "Star Gazing." Slinky and horn-laden, the neo-soul jam continues the group's perpetually upward-and-outward view.
Dubbed the New Moon Residency, the triad of shows will be spread over the next couple of months, rather than occur weekly. (It'd be a tricky feat for a band hailing from six and a half hours to the south to make it up once a week.) The residency kicks off this Thursday, October 18. It continues on Saturday, November 17, and concludes on Saturday, December 8.
Additionally, each session will present special guests. For instance, Thursday's show features support from local abstract dance band Appalled Eagles.
Despite what the residency's name implies, only the final show coincides with the actual new moon, which arrives in the wee hours on the day before the show. (The October and November shows both fall within the first quarter of the lunar cycle.) According to an email from the band, the sets will be structured in accordance with the current phase of the moon. I'd normally raise an eyebrow at such a proclamation, but it seems like business as usual for the celestially minded outfit.
Gasping for Breath
Halloween doesn't arrive until the end of the month, but the horrific holiday seems to creep into every aspect of life during October. As my mom lamented to me last week, all of her home and design magazines this month are full of recipes for bat-shaped cookies and skeleton garland craft projects. She couldn't care less.
Unlike my dear mother, I'm a big fan of all things creepy, crawly and what have you. I've been binge-watching tons of horror movies and TV shows — while making sure to balance them with plenty of "Seinfeld" so I don't give myself too many nightmares. (I'm not joking. I'm very prone to night terrors, and watching people maim each other and get possessed by the devil takes its toll on my poor impressionable brain.)
To get a jump start on Halloween havoc this weekend, you might want to stop by Radio Bean on Friday, October 19, for Doctor Gasp's Annual Halloween Special. For the 16th consecutive year, New England Americana artist Dan Blakeslee ditches his countrified rock catalog in favor of something a bit more ghoulish.
You can listen to a sampling of what to expect on Vampire Fish for Two!, Doctor Gasp's spook-tacular compendium of creepiness. The artist croons about devilish delights such as werewolves, vampires and all manner of creeps. The lo-fi recording captures a deliciously kitschy B-movie vibe, like the soundtrack to some long-lost holiday special from the 1970s. Stream/download it on Bandcamp. Better yet, pick up the newly released vinyl version at the show. Blakeslee recently pressed the 2013 record to wax.
Burning Up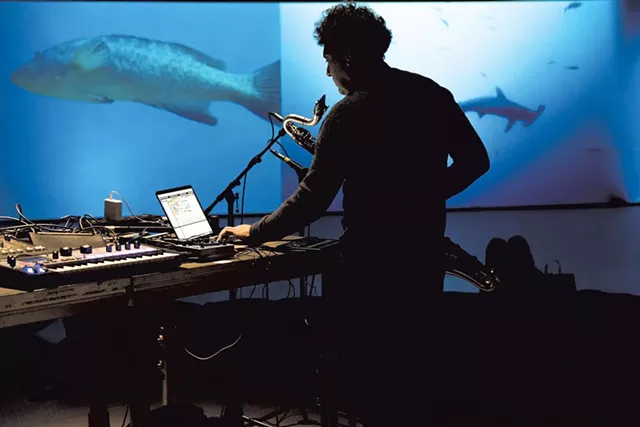 You all felt that blistering heat this past summer, right? Rising temps are real and causing destruction all around us — not that I'm into catastrophizing or anything. In reaction to the obvious signs of climate change, a group of like-minded academics and artists are banding together for the Feverish World Symposium this weekend in downtown Burlington. Seven Days' assistant editor Elizabeth M. Seyler details the sprawling event here.
One facet of the three-day summit is a special concert on Saturday, October 20, at Burlington City Hall Auditorium, which aims to seek "refuge from a feverish world in trans-musical encounters." The one-off event features self-proclaimed "interspecies" clarinetist David Rothenberg. Perhaps you're familiar with the artist's book Bug Music, which explores the relationship between the sounds and movements of insects and the music we make? I wasn't, but I'm adding it to my list of must-reads.
Rothenberg joins cellist and composer Anne Bourne, known for her work with singer-songwriter Jane Siberry as well as abstract composers Fred Frith and John Oswald. Heading up the local contingent of collaborators are Community of Sound founder Gahlord Dewald, tantric-techno duo Metamorph and new folk-punk outfit Marxist Jargon.
Big Band on Campus
The University of Vermont's FallFest hits Patrick Gymnasium on Friday, October 19. The yearly concert usually brings in heavy-hitting bands and artists, and this year's lineup is straight heat. Headlining duties fall to laid-back rockers Dr. Dog. Indie-pop sensation Frankie Cosmos fills out the evening's middle portion, while UVM rockers Father Figuer take on the opening slot.
Despite the location, the event is open to the general public. Just expect to pay a bit more than the college kids do.